Canopy Class Schedule
By |
Check out what is happening in October at Canopy!
Canopy is open from 10AM to 4PM. Feel free to come by and visit! As a reminder, Canopy is for men and women with any kind of cancer, as well as their families! Please make sure to wear a mask (one can be provided to you if you do not have one) and we will love on you from a distance!  You still must RSVP to attend classes. This allows us to plan and make sure every adheres to social distancing.
For more information and to RSVP, please call the Canopy front desk at 713.897.5939
Remember, we are still here for each and every one of you.  We do also have a support group that is not listed on the schedule, as they are meeting via Zoom, and the times and days move. It is a group for guests living with Stage 4 cancer. If you are interested in participating in this group, please reach out to Alex Frenzel at: thefrenzels@yahoo.com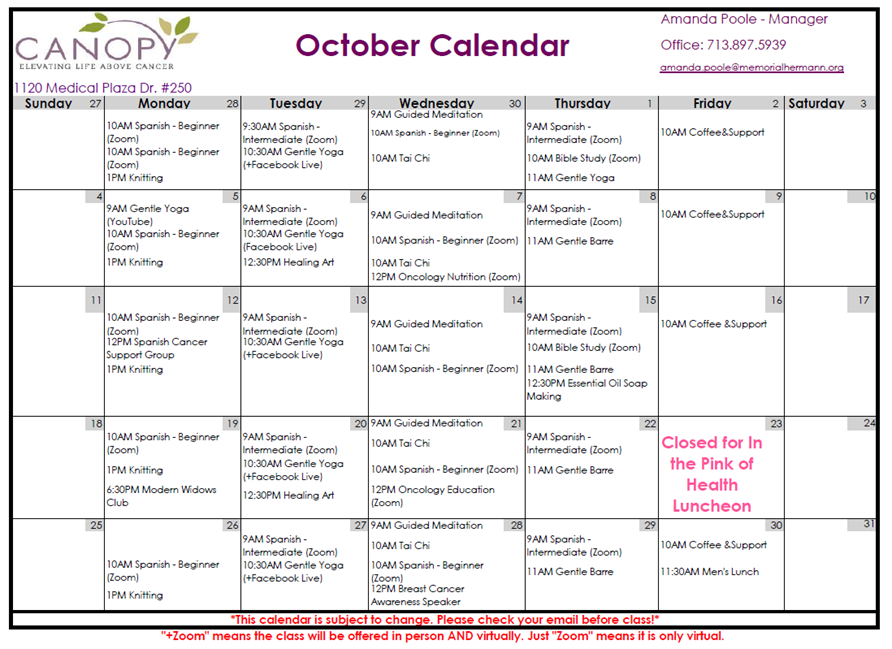 SPECIAL CLASSES
October 15th at 12:30PM will be have a class making Pumpkin Spice Essential Oils hand soap! Space is limited to 10 participants, so you MUST RSVP to attend.
UPCOMING CLASSES (October 19th – October 23rd)
10AM – Spanish for beginners: Please email Cleo Tilde at  tildeken@yahoo.com if you're interested in participating.
1PM — Knitting
6:30PM – Modern Widows Club
9AM – Spanish for Intermediates: For Zoom meeting info, please email Cleo at tildeken@yahoo.com
10:30AM — Gentle Yoga with Nuchapan Chianrapatanakom: This will be in person AND via Facebook Live. Please go to Facebook, add Nuchapan as a friend, and go to her page at 10:30 to follow along!
9AM – Guided Meditation: You are welcome to come to Canopy (must RSVP) or view from your home via Zoom.
10AM – Spanish for Beginners: For Zoom meeting information, please email Cleo at tildeken@yahoo.com
10AM – Tai Chi
12PM: Oncology Education: Join us for a virtual presentation by CanCare.  Kristy from CanCare will be speaking on peer support programs (support for survivors, volunteer opportunities for those who want to help others through treatment). Meeting information is here: Meeting Link Meeting ID: 842 0189 3426 Passcode: 263269
9AM – Spanish for Intermediates: For Zoom meeting info, please email Cleo at tildeken@yahoo.com
**Please note there will NOT be Gentle Barre today**
CLOSED FOR IN THE PINK OF HEALTH LUNCHEON
Canopy is a cancer survivorship on the campus of Memorial Hermann The Woodlands. Canopy is open to men and women, no matter where you were treated, and for any kind of cancer. If your life has been impacted, whether you were the patient or the caregiver, you have a safe haven at Canopy.
Learn more about Canopy Cancer Survivorship Center at https://bit.ly/HelloCanopy
Questions? Call Canopy Manager Amanda Poole at 713.897.5938 or the main number at 713.897.5939. you may also email Amanda.Poole@memorialhermann.org for more information.
As a caring community of hope, healing and empowerment, Canopy enhances the quality of life for individuals affected by cancer and for those who support them during their journeys. Memorial Hermann The Woodlands Medical Center is proud to introduce Canopy – a first-of-its-kind cancer survivorship center in the greater Houston area. At Canopy, there are a wide variety of programs and services addressing the emotional, physical and social needs of those touched by cancer.