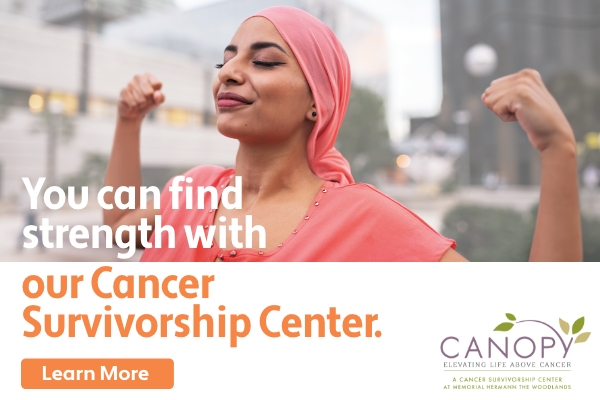 Canopy Classes and Events
By |
[September 2023] September is full with programs and events at Canopy Cancer Survivorship Center! Check out the September calendar for events and learn how to join here.
Canopy is a cancer survivorship on the campus of Memorial Hermann The Woodlands Medical Center. Canopy is open to men and women, no matter where you were treated, and for any kind of cancer. If your life has been impacted, whether you were the patient or the caregiver, you have a safe haven at Canopy.
Upcoming September Events:
Every Friday at 10am – Coffee and Support
9/11- Cancer Orientation for Newly Diagnosed patients and caregivers.
Every 2nd Tuesday at 12pm – Caregiver Support Group
9/12 2-4pm – H-E-B Chef Cooking Connections – Taste of Autumn
9/19- 10AM- Turkish Cooking Class
Every 3rd Tuesday at 2pm – Coping with Changes Grief Education
and more!
Canopy Cancer Survivorship Center invites you to participate in a quick survey aimed at capturing demographic data to help us build and assess our programs. This information will be critical in helping us better understand the needs of our community and tailor our programs to best serve our community impacted by cancer.
Your participation is completely voluntary and your responses will be kept confidential. Thank you for taking a few minutes to take this survey.
Community Needs Assessment- Canopy Survey (surveymonkey.com)