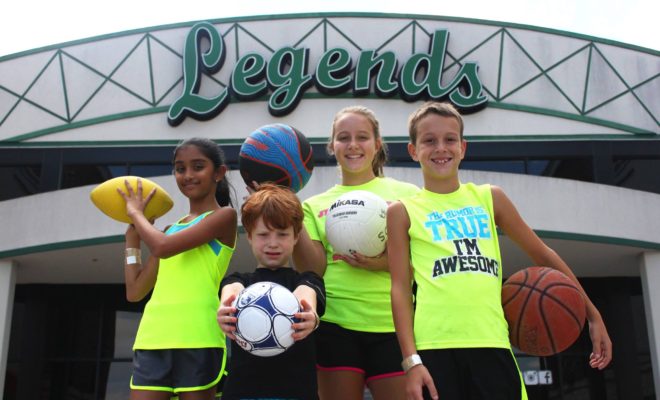 Business
10 Year Anniversary of Largest Sports Complex in South Texas
By |
When Legends Sports Complex opened its doors 10 years ago, it was the first of its kind. It all begun in 2005, when Dr. Richardo Mora and his wife Gina, had a vision to build their own baseball academy in The Woodlands, TX.  Dr. Mora partnered with like minds whom raised the capital and obtained 10 acres of land. They then hired a consultant that expanded their vision to something bigger, a mega sports complex. The partners then travelled the U.S. to view other complexes and upon returning to Texas, they decided to purchase an additional 5 acres of land to complete the 15 acres that surrounds Legends' 100,000 square foot building.
Legends' mission from day one was to become a place where families come together and stay together.  Legends had become a facility in which its members can enjoy youth and adult programs, fitness, sports performance and a variety of community, regional and national events.  In the past 10 years Legends has become the 2nd home for many athletes due to the amount of time they spend training to participate in the Olympics, college sports, and professional sports.  Legends has also become a favorite spot for professional athletes to host their camps and clinics; such as James Harden, John Lucas and Skylar Diggins, as well as, various guest appearances from the Houston Dash or Dynamo and facility friends like Super Bowl Champion Jeremy Parquet giving the football players a pep talk during camps.
"I choose Legends because it's a place where my entire family can be active and involved in fitness.  It has the absolute best facilities and staff in the Houston area and the environment invites and fosters a sense of community.  I love to tell everyone I know about Legends Sports Complex and will continue to support their growth and programs."  – Haley Carter, retired Houston Dash Player, Assistant Coach of the Afghanistan Women's National Soccer Team, Marine and Legends Member.
"My wife Kristen and I choose to entrust our boys' basketball development at Legends because we trust those in charge and the facilities are unparalleled.  It's a family environment to me and they've always been consistent and caring to my family." – Jeremey Parquet, Super Bowl Champion and Legends member
Legends Sports Complex partnership has shown great commitment to improving the facilities so that they can continue to make a positive impact on the community for the next 10 years and beyond.  Latest renovations include: updates to the basketball courts, new indoor turf field, new indoor batting cages, and brand new state of the art fitness equipment.  Still on the list of updates for this year are updating the outdoor multipurpose field, the 3 sand volleyball courts and an outdoor running track.
"I choose to give lessons out of Legends because of the kind and helpful employees and the professional atmosphere."  – Thaddius Lowry, White Sox pitcher and Legends Baseball Instructor
Learn more about Legends Sports Complex at TheLegendsSportsComplex.com