Submit an Event
We love working with businesses, non-profit organizations and the community to effectively promote their events in The Woodlands and Montgomery County area. Please contact us at info@hellowoodlands.com for questions, for current advertising and sponsorship opportunities, and to promote your event!
Advertising: Deluxe calendar listings and featured packages include enhanced listings with event photos, event links, social media promotions, e-newsletter promotions, and are included in our 31 Things To Do Guide.
Share and tell thousands of local residents about your upcoming event! Hello Woodlands loves to share the news about…
Grand Openings and Anniversary Events, Festivals,
Conventions and Conferences,
Galas, Balls, and Nonprofit Events
Themed and Holiday Events
Marathons, 5K's, Walks, and Health Events
Local Workshops and Classes
Exhibits and Art Galleries
Concerts, Bands, and Performances
Games and Sporting Events
Special Events and more!
Hello Woodlands does NOT promote: political campaigns, parties or groups; MLM events or companies; non-family friendly content.
Free Listings: Hello Woodlands is a free resource to the community and adds free special events that are open to the public as simple calendar listings. A simple calendar listing includes the event title, description, date, time and location. Free community events must be submitted on the 15th prior to the month of the event (example: May 15th deadline for June 1-30 event, June 15th deadline for July 1-31 event) for consideration and are added at no extra charge on a case-by-case basis.
***NOTE: Submitting an event does NOT guarantee addition to the website calendar. Free listings DO NOT include social media or e-newsletter promotions.***
Please email us at info@hellowoodlands.com to submit your event or contact us for advertising information.
Did you know Hello Woodlands reached OVER 1.5 million online users last month, has OVER 50,000 social media followers and OVER 13,000 email subscribers?!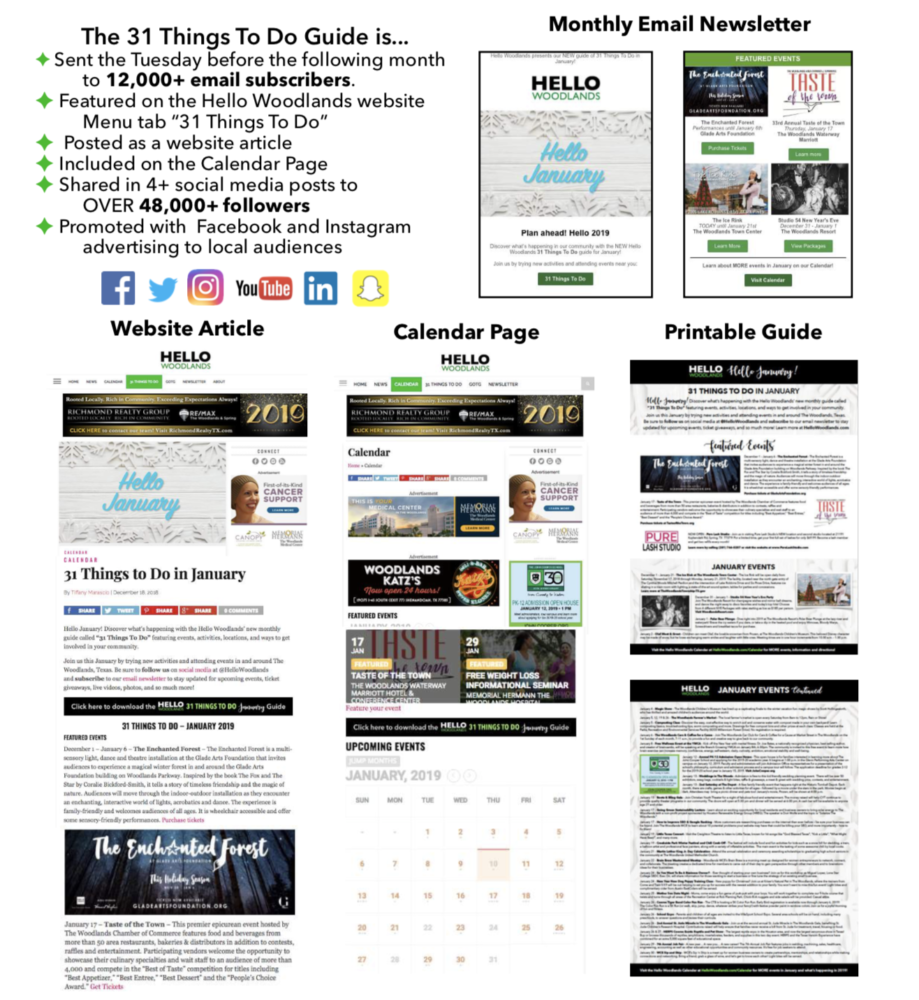 Advertise your event on our website, online interactive calendar, social media, 31 Things To Do list and email newsletter. Contact us by completing the form below or email info@hellowoodlands.com for more information. We look forward to sharing the news about your event today!
Articles: We do NOT charge to publish news or articles. We believe in free news and do not offer campaigns for paid or featured articles. Please send all press releases and news to info@hellowoodlands.com.