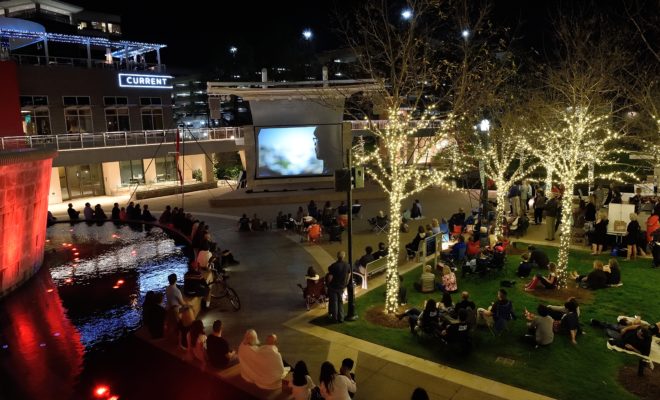 Calendar
2nd Annual Inspire Film Festival coming to The Woodlands
By |
THE WOODLANDS, TX – The 2nd Annual Inspire Film Festival on President's Day weekend, February 15-19, 2018 in The Woodlands. The festival will include 13 feature length films, 18 shorts, panel discussions with the film makers, a grand VIP party, after hour socials, live performances and much more.
The weekend will kick off on Thursday night, February 15th on Waterway Square with short films being shown in a free, family friendly event. The short films night is followed by a VIP Party for sponsors and patron pass holders. Thursday night's events are generously sponsored by The Woodlands Arts Council and the VIP Party is co-sponsored by Grand Central Park.
"We see this as a mutually beneficial partnership that supports an organization that is closely aligned with our mission to provide regional, cultural and educational enrichment to our community," remarks Mike Bass, executive director of The Woodlands Arts Council. Inspire also is being sponsored by local businesses and organizations such as Strike, Greater Houston Neurosurgery Center, The Woodlands Financial Group, Woodforest Financial Services and Woodforest National Bank, Mercedes-Benz of The Woodlands, Stibbs and Co., Avanti Senior Living, 30 Degrees North, The Woodlands Convention and Visitor's Bureau, Efficient Wealth Management, George Lindahl, Adcetera and Jess Bailey Law Firm.
Attending a film festival is a different experience than going to a theater to watch a movie. Not only do guests enjoy the films, but after each film there are Q&A sessions with the filmmakers and film subjects, symposia on related topics and events built to complement the film screenings. This year there are plans to feature 15 full length documentary films and 20 short films.
Weekend passes range from a $125 festival pass that gives the holder entry into all IFF theaters and panel discussions; a Patron Pass for $300 that provides admission to all IFF theaters, panel discussions, and the VIP Opening Night Party; and student passes for $50 which provides admission to all IFF theaters and Panel Discussions.
To purchase weekend passes for the Inspire Film Festival, visit www.InspireFilmFest.com, and for sponsorship opportunities please contact Ann Wolford at awolford@thewolfordgroup.com.