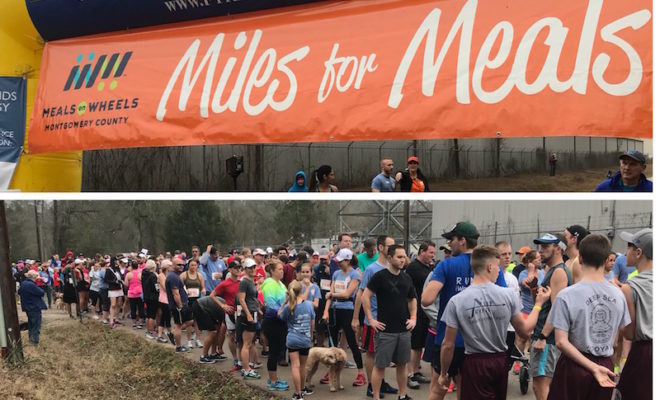 Fitness & Sports
2nd Annual Miles for Meals 5K raises over $54K
By |
Conroe, TX – A record 651 people signed up for the second annual "Miles for Meals" 5K Run/Walk held Saturday, February 17 at B-52 Brewing Company in Conroe, which raised $54,800 for Meals on Wheels Montgomery County (MOWMC).
"Together, the sponsors, runners and volunteers made this event a success, raising $16,000 more than last year," said Bonnie Pfrenger, Director of Development for Meals on Wheels Montgomery County.  "With the large influx of seniors seeking service since Hurricane Harvey, these funds will be a big help."
The mission of Meals on Wheels Montgomery County is to foster the independence and dignity of homebound seniors in Montgomery County by providing them with nutritious meals, transportation and caring connections.
Everyone who ran, walked or strolled were winners as each received a souvenir B-52 mug and two pints of craft beer, root beer or lemonade. Many stayed after the race as the sun broke through the clouds and enjoyed the fare from the food trucks Space Lobos (coffee and breakfast), Cajun Asian, and Refill Station (full service pizza).
"We are delighted by the number of repeat participants," said Pfrenger. "In fact, Casey and Alan Gaska of the Goose's Acre Running Club competed last year when Casey was pregnant. This year, all three of the Gaska's ran."
"Volunteers are the pillar of our organization for both meal delivery and events allowing us to keep administrative costs at less than ten percent," she continued. "We have more than 180 volunteers who deliver meals to the homebound seniors. One of our longtime delivery volunteers, Jim Braden, also ran in the race and came in first in the men's 70 plus group!"
This year, the event was chip timed which attracted many more fierce competitors.  Mark Amann of Conroe, who won last year, was the fastest runner again this year with a time of 1.17.31.20. The Magnolia ISD Navy JROTC team, headed by Commander Kevin Bedell, took an impressive array of honors.
The first place finishers were:
Under 15 yrs old: Johnathan Cavallaros with the JROTC, Megan Schmidt from Magnolia 15-19 yrs old: Keaton Strait from Magnolia, Tabatha Ford with JROTC
20-29 yrs old: Mark Amann, Kristen Hanselka of New Caney
30-39 yrs old: Christopher Wilson of Conroe, Clair Barrie of Houston
40-49 yrs old: Chris Strait of Magnolia, Shannon Beck of Montgomery
50-59 yrs old: Kevin Bedell of JRTOC, Mary-Ellen Wilderman-Hay of Spring
60-69 yrs old: Keith Gordon from Sheffield, England, Linda McCall of Conroe
70-79 yrs old: Jim Braden of Spring
Full results can be seen at https://www.mowmc.org/miles-for-meals.
Participant Mike Fortner of The Woodlands said, "This was my first time to run the Miles for Meals 5K. I was impressed with the course and the organization, but mostly with how friendly the entire crew was. Even the neighborhood residents were out cheering on runners and giving high fives. I'll definitely come back."
Serving on the Miles for Meals event committee were Kevin Baker, Evan Blair, Carrie Hyman, and Amy Wyrick.
This year marks Meals on Wheels Montgomery County's 45th anniversary.  To find out more about Meals on Wheels Montgomery County and how to become a partner in this anniversary celebration, visit www.mowmc.org.