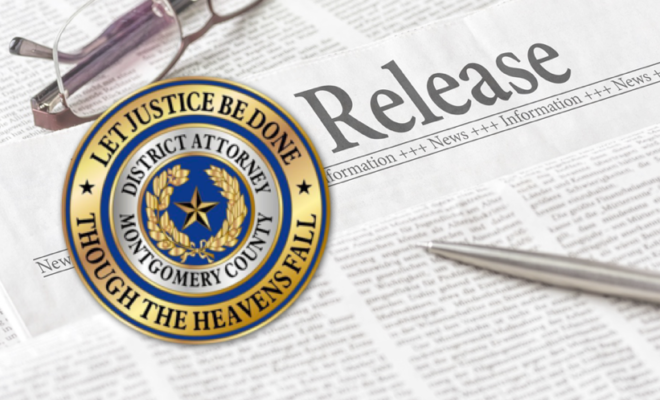 News
30 Years for Aggravated Robbery of Shenandoah Denny's
By |
On Thursday, November 21, 2019, in the 435th District Court with Judge Patty Maginnis presiding, a jury of Montgomery County citizens sentenced Tomell Thomas, a resident of Harris County, to 30 years in prison for two charges of Aggravated Robbery. This was after Thomas entered a plea of guilty to the charges on Monday, and sentencing evidence was presented by both the prosecution and defense.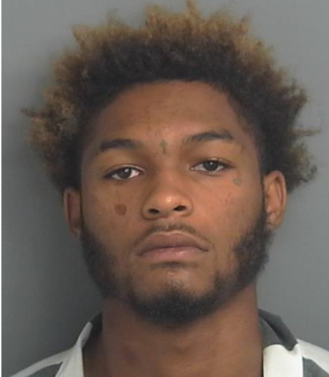 The aggravated robbery occurred on September 27, 2018. Prior to the robbery, Thomas, his juvenile co-defendant and another individual were observed on surveillance video casing the Denny's restaurant located near Research Forest and Interstate 45 in the Woodlands. Twenty minutes later, Thomas and another armed man went into the Denny's brandishing pistols. Inside, Thomas forced one female employee to the ground at gunpoint, then turned to another female employee and held her at gunpoint while she emptied out the safe. Before leaving, Thomas also robbed two elderly patrons at gunpoint.
After running out of the restaurant, the robbers drove away in a stolen SUV. When an officer attempted to conduct a traffic stop on the vehicle, Thomas and his co-defendant led police on high speed pursuit. Officers from the Shenandoah Police Department, Oak Ridge North Police Department, Texas Department of Public Safety participated in the 20 plus mile chase. Near Bush Intercontinental Airport in Houston, the stolen SUV struck a curb, blew out its tires and all three fled on foot. Hours later, Thomas was located and placed under arrest for the aggravated robberies. In a later interview done by detectives with the Shenandoah Police Department, Thomas confessed to his involvement in the crime.
During the trial, Assistant District Attorney Philip Teissier presented evidence of Thomas' lengthy criminal history and violent actions. The prosecution produced evidence that the Defendant had previously been incarcerated for another violent robbery involving a firearm. Because of that previous conviction, Thomas faced a punishment range of 15 to 99 years, or life, in prison.  In addition to the prior charge of Aggravated Robbery, the evidence showed that Thomas was also previously convicted of the felony offenses of Escape from Custody and Assault on a Public Servant, of the misdemeanor offenses of Attempted Theft from Person, Possession of Marijuana, Trespassing and Attempted Burglary of a Railcar. Evidence was also presented that the Defendant had injured a Montgomery County Jail employee.
This case was a multi-agency effort to get a violent individual off the streets. The Shenandoah Police Department, Oak Ridge North Police Department, Texas Department of Public Safety, Houston Police Department and the Montgomery County Sheriff's Office assisted in investigating this case and presenting the evidence at trial. Charges for the juvenile co-defendant were referred to the County Attorney's Office in Montgomery County.
Assistant District Attorney Philip Teissier shared, "I am proud that the Jury saw how dangerous of a person Tomell Thomas is and took their sentencing responsibilities seriously. The community will be able to sleep safer at night knowing that this violent offender is behind bars. Hopefully during his time in custody, Thomas will learn how truly dangerous his actions were."
District Attorney Brett Ligon shared, "We have seen a number of younger offenders committing violent crimes in Montgomery County.  What those younger offenders seem to have not yet gotten but will absolutely learn is that committing serious violent crimes in this County will result in serious consequences."
Source: Michael R. Holley, First Assistant District Attorney, Montgomery County District Attorney's Office