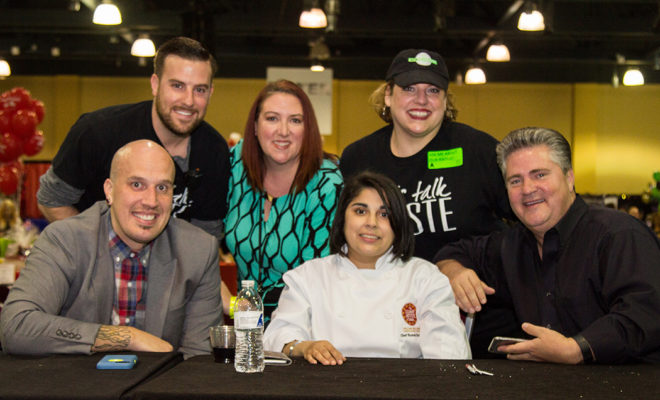 Calendar
31st Annual Taste of the Town Announces Restaurants
By |
The Woodlands Area Chamber of Commerce's 31st Annual Taste of the Town presented by Planet Lincoln and The Woodlands Convention & Visitors Bureau will be held on Thursday, February 9, 2017 from 4:00 pm – 9:00pm at The Woodlands Waterway Marriott Hotel & Convention Center.
General admission tickets are $30 in advance or $35 at the door. Ticket packages are also available at www.TasteoftheTown.org.
Taste of the Town is the premiere culinary event of South Montgomery County attracting thousands of people from across state and beyond. For one low price, attendees can sample mouth-watering appetizers, entrees, desserts, pastries, and beverages from some of the area's finest restaurants, caterers, bakeries, deli's and beverage companies.
Guests will find the following restaurants and companies at Taste of the Town 2017 booths (as of February 1, 2017):
Babin's Seafood House, Black Walnut Café, Bob's Steak & Chop House, Brio Tuscan Grille, California Pizza Kitchen, Carrabas Italian Grill, Conroe's Incredible Pizza Company, Craft Grill, Dairy Queen, Del Frisco's Grille, Edible Arrangements, Faust Distributing Company, Freebirds World Burrito, Fuddruckers, Goode Company BBQ, Goode Company Kitchen + Cantina, Grotto Ristorante, Guri do Sul Steakhouse, HEB, Huti's 5 Free-fore Grill, Jersey Mike's Subs, Johnny's Italian Steakhouse at Holiday Inn Suites – Shenandoah/The Woodlands, Kangen Eco Water, Kirby's Prime Steakhouse, Kroger, La Cantina Mexican Grill, Landry's Seafood House, Macaw Confections LLC, Mamacitas Mexican Restaurant & Cantina, Marble Slab Creamery at Cochran's Crossing, Morton's Grille, Nick's Fish Dive & Oyster Bar, Nothing Bundt Cakes, P.F. Chang's China Bistro, Pepsi Beverage Co, Schilleci's New Orleans Kitchen, Southern Star Brewing Company, Sweet Revenge Bake Shoppe, The Refuge Steakhouse & Bourbon Bar, The Woodlands CrawPHish Festival, The Woodlands Waterway Marriott Hotel & Convention Center, Trader Joe's, Truluck's Seafood Steak & Crab House, vomFASS The Woodlands, Which Wich Superior Sandwiches & Wild Stallion Vineyards.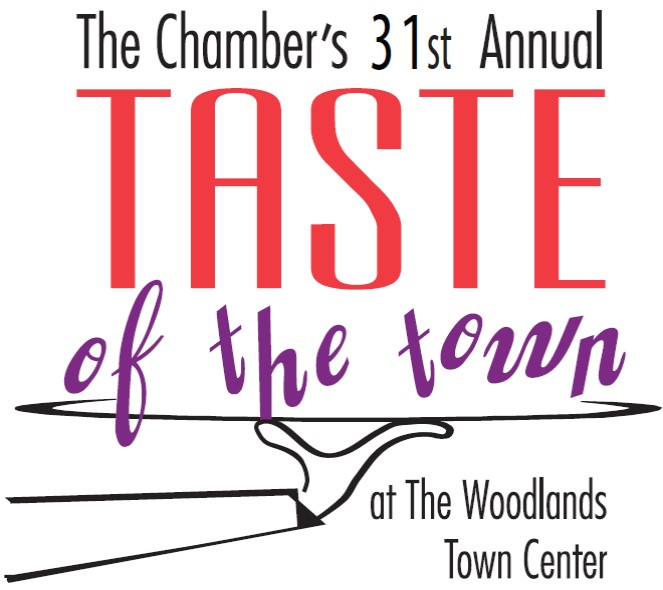 The Woodlands Area Chamber of Commerce is proud to announce the sponsors that make this event possible.
Iron Chef & Underwriting sponsors are Planet Lincoln & The Woodlands Convention & Visitors Bureau. Executive Chef Sponsor & evening host is The Woodlands Waterway Marriott Hotel & Convention Center. Waste Connections of Texas serves as the wristband sponsor again in 2017. Live entertainment throughout the evening is brought to you by Johnson Development Corporation. Gourmet Chef sponsors include HEB, Kroger, Pepsi Beverage Co., Woodlands Church & Wright's Printing & Marketing.
Throughout the night, attendees can purchase raffle tickets to win amazing prizes. Sponsoring the raffle tickets in Renewal by Andersen and sponsoring the raffle ticket booth is Fox Travel / American Express.
The Mobile Chef sponsors for 2017 are Berryhill Baja Grill & Russo's New York Pizzeria. Companies sponsoring as Friends of Taste are CenterPoint Energy, Consolidated Communications, Fox Travel / American Express, I Promote You / Paragon Independent Insurance Agencies, Inc., Just Cats Veterinary Services, Mercedes-Benz of The Woodlands, Privileged Productions & Shell Federal Credit Union.
Amerigo's Grille sponsored the VIP Reception for participating restaurants, companies and sponsors on Monday, January 30. The VIP Lounge at Taste of the Town is hosted by Market Street – The Woodlands, Mid America Mortgage, Inc. and Republic Payment Systems / The Republic Grille. The VIP Lounge is open to participating restaurants, companies, sponsors and Chainman's Circle Level Chamber members.
KHOU serves as the exclusive television media sponsor. Other print, radio and online media sponsors include Community Impact Newspaper, Dock Line Magazine, Greensheet Media, Hello Woodlands, K STAR Country Radio 99.7 FM, Link Magazine/ Graphic Design FX, Lone Star Community Radio, PR Marketing & Publishing, LLC./ Reviewit Magazine, The Villager, WoodlandsHits.com and Woodlands Online.
Once again, Taste of the Town is giving back to the community by collecting non-perishable canned food items in partnership with Woodlands Church and distributing to local charities in need. Donations will be accepted starting in November up until February 9th.
The "Best of Taste" contest is scheduled again in which local celebrity judges will sample and score each booth on their dish.
"Planet Lincoln is excited to be a presenting sponsor of this year's Taste of the Town hosted by The Woodland's Chamber.  Planet Ford Lincoln, a family owned and operated dealership, cherishes such opportunities to share the exceptional experiences of the all new Ford and Lincoln line of vehicles including the new 2017 Ford F150 and the new 2017 Lincoln Continental, both are designed to surely impress."  said Shawn Burns, Operating Partner, Planet Ford Lincoln.
"Our award-winning restaurants play a key role in creating the destination experience that is unique to The Woodlands.  The Woodlands Convention & Visitors Bureau, which promotes the area as a weekend getaway and meetings/conferences destination, is proud to participate in Taste of the Town to celebrate the area's diverse culinary offerings which continue to attract visitors from across the region and beyond" said Nick Wolda, President of The Woodlands Convention & Visitors Bureau.
Taste of the Town is produced by The Woodlands Area Chamber of Commerce and a team of Chamber volunteers. The Woodlands Area Chamber of Commerce event staff includes Angela Storseth-Cooper, Director of Special Events & Governmental Affairs; Carmen Smiley, Event Coordinator & Lupe Cuellar, Event Coordinator. The Taste of the Town volunteer Team Leader is Russell Kalousek of Link Magazine/ Graphic Design FX and co-Team Leaders are Debbie Kaschik of The Woodlands Young Learners Academy and Dione Booker of Gold's Gym The Woodlands/ Magnolia.
Proceeds from this event help create opportunities for business success and serve as an effective catalyst for the economic growth and prosperity of our community.  If you are interested in sponsoring or attending this event, please contact the special events department at The Woodlands Chamber, (281) 367-5777,  events@woodlandschamber.org, or visit www.woodlandschamber.org or www.TasteofTheTown.org for more information.