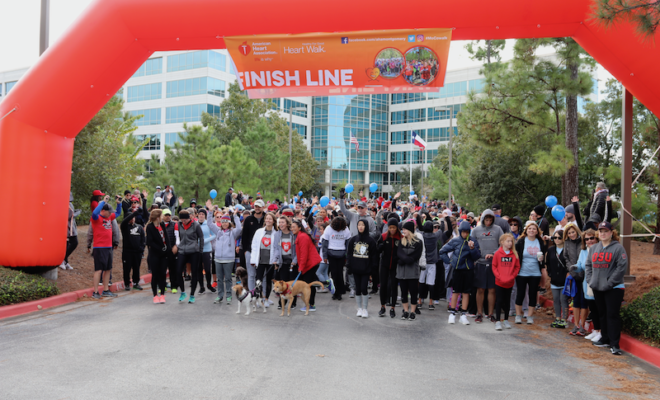 News
American Heart Association Montgomery County Heart Walk 2017
By |
The American Heart Association Montgomery County's Heart Walk was held on Saturday, October 28, 2017 at Alight Solutions The Woodlands. Opening Ceremonies for the Heart Walk began at 8:15 a.m., the Kid's 100 Yard Dash at 8:45 a.m. and the Heart Walk at 9:00 a.m.
Watch what happened as Hello Woodlands was LIVE on scene at the starting line of the Heart Walk:

The American Heart Association's Montgomery County Heart Walk was a three-mile, non-competitive walk with the theme "Healthy for Good" that promoted walking as part of a healthy lifestyle.
Cardiovascular diseases and stroke continue to be the No.1 and No.5 leading causes of death in America, and while over 80 million Americans are affected by one or more forms of heart disease, up to 80 percent of these diseases are largely preventable. Research shows that walking for 30 minutes a day can reduce the risk for developing heart disease.
The American Heart Association Montgomery County Heart Walk hosted thousands of Montgomery County residents including CHI St. Luke's Health as the 2017 Heart Walk Chair, Heart Walk Co-Chair Thomas M. Smouse, local sponsors and vendors.
View photos and videos from the event on the Hello Woodlands Facebook page!

The Heart Walk was free, but allowed participants to host fundraisers online and raised over $278,000 for the American Heart Association Montgomery County. For more information, visit www.montgomerycountyheartwalk.org.