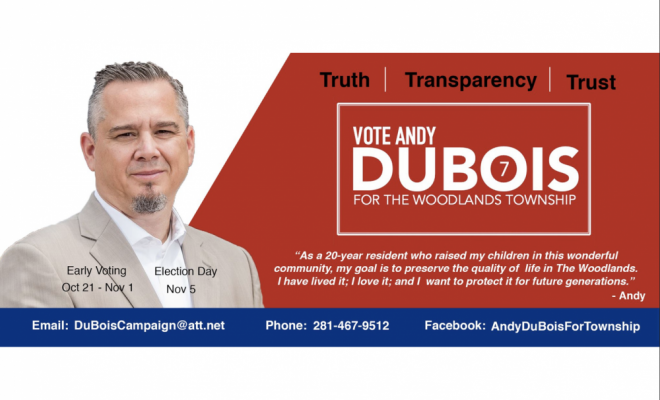 Andy DuBois: The Woodlands Township Candidate
Please note that Hello Woodlands is an unbiased, nonpartisan news source that does not support only one party or candidate. We do not accept or receive advertising or funding from any candidate, party or group. We believe in providing the community with educational information, credible facts, thoroughly researched topics and articles, and to be a voice for ALL members in our community.
Hello Woodlands gave the opportunity to candidates running for The Woodlands Township Board of Directors to complete a written interview including the same 10 questions. View candidate's responses to our questions, if provided.
Each position has a two-year term, is an unpaid volunteer position, and is elected at-large by voters in The Woodlands Township in both Montgomery County and Harris County. The election is scheduled for November 5, 2019. Voters must be registered to vote for The Woodlands election.
THE WOODLANDS TOWNSHIP BOARD OF DIRECTORS – 2019 CANDIDATE
Andy DuBois is running for the Township Board Position 7.
1. Share your background. What originally brought you to The Woodlands?
My late wife Cindy and I moved to The Woodlands in 1999 for job opportunities, the exceptional public school system and the immense offerings of this master-planned community brought us here.
Cindy worked for several years for The Cynthia Woods Mitchell Pavilion as the Director of Marketing and Education before passing away from terminal cancer in 2013. She was heavily – and passionately – involved in the arts, growing the the ever-popular Children's Festival, serving as an integral volunteer in the early years of the very successful Woodlands Waterway Arts Festival and working directly with the Pavilion Partners to raise money for educational programs and scholarships.
We raised our two children here (they were 15 and 11 years old when Cindy passed away).
I worked for a quarter-century in the media industry, serving in various editor positions with Houston Community Newspapers & Media Group, including The Woodlands Villager and The Courier of Montgomery County between 1999 and 2018. I was involved with Conroe Noon Lions Club, Leadership Montgomery County as well as other community service-oriented groups. I also moderated numerous political debates and forums to educate voters on the candidates and issues.
I now work for Montgomery County Precinct 3 Commissioner James Noack's Office as the manager of precinct projects, where I started in 2018.
I remarried in 2017, and my wife Kirsten and I raise our four children together in a wonderful blended family.
We have been involved in many recreational activities and programs, including as volunteer coaches and managers, with such programs as YMCA recreational sports, ORWALL baseball, RUSHDynamo-Dash soccer and the Highlander Wrestling Club.
I was born in Austin, grew up in San Antonio and then attended and graduated from The University of Texas in Austin.
2. How do you contribute, give back and make a difference in our community?
Through our commitment to nonprofit and community service-oriented organizations. Our jobs also have provided us the opportunity to promote, educate and support numerous organizations through the years.
3. Why do you enjoy living (and/or working) in The Woodlands?
The Woodlands is absolutely the best place to live in Texas, and therefore the world. It offers everything needed in a community – from great jobs to top-notch education opportunities, amenities, exceptional public safety services and healthcare systems, arts and entertainment, friendly neighbors and great families. We are in close proximity to virtually any business we'll ever need, an international airport for easy travel all over the world, college and professional sports teams, museums and diverse cultures.
4. How has The Woodlands helped and impacted you?
We have met so many wonderful and caring people who have moved here from various states and countries. It is truly a melting pot of great human beings.
The biggest impact this community had on me and my family was when our friends and neighbors came together to support us as my late wife battled cancer – organizing a meal train, supporting our children and comforting all of us through this most difficult time in our lives.
In addition to the gift of all of these friends, The Woodlands has provided exceptional opportunities for our children through the public school system, church and recreational activities that will help shape them into contributing members of our society.
We also have been blessed with professional careers that have helped us provide for our family, grow individually and contribute to the community in various ways.
5. What motivates you to run for The Woodlands Township Board of Directors?
I want to serve this community that has provided so much to me and my family through the years. I am motivated to put residents first by improving the amenities and services in The Woodlands, while also protecting our neighborhoods and pocketbooks
6. What are 5 things that you want voters to know about you (personal, points, views, experience, etc.)?
A. My family has lived in this community 20 years and we are embedded here through our involvement with children's activities, schools, extracurricular programs, our church, community service organizations, friends and family. We are committed to living here and bettering not only our lives, but the lives of our friends and neighbors.
B. I am passionate about our community parks, pools and pathways and will ensure that they remain some of the best in the nation. I also want to ensure that recreational programs, such as youth swim teams, are getting the necessary coaches and equipment for the fees parents pay.
C. Our family has three rescue dogs and always has adopted pets in order to provide them loving homes.
D. My wife Kirsten and I love to cook for family and friends while enjoying conversation and games with them.
E. We enjoy family trips to the beach in the summer and the mountains in the winter. We are an active family who love the outdoors.
7. What makes you unique in comparison to other candidates?
I did not seek support from any PACs, VACs or board members before deciding to run for the township. I am an independent thinker who will put residents first.
I am the only candidate who has covered government, infrastructure, business, the economy and politics in this community for two decades.
I also am the only candidate pushing for a homestead exemption to further save taxpayers money.
8. What are your views on incorporation?
I oppose rushed incorporation because it will drive up costs and therefore our taxes, while providing no new or improved benefits and services.
We are protected from annexation by Houston and Conroe through 2057 because of our Regional Participation Agreement; and recent legislation gives residents the power to reject annexation efforts forever after.
There are no benefits to incorporation at this time.
9. If elected, what would your top 3 priorities as a Township Board of Director? How would you work to impact/shape the future of The Woodlands?
1. With the push to put incorporation on the ballot in 2020, educating voters about the costs, tax impact and any improved services associated with incorporation is the No. 1 priority.
2. Improving, maintaining and protecting our amenities and services.
3. Working with the Chamber of Commerce, Economic Development Partnership and Visit The Woodlands to improve businesses and tourism in our community, which will continue to grow sales tax and hotel occupancy tax revenue, thus easing the burden on residential property taxes and opening the door to implement a homestead exemption.
10. Would you like to share any other words or a message to The Woodlands community?
I strive to provide the highest level of truth and transparency in government by serving on the board with the highest level of ethics and integrity. I will embrace this volunteer, nonpaid elected position with the sole purpose of representing the residents, local business owners and companies.
Learn more at www.facebook.com/andyduboisfortownship/
2019 CANDIDATE FORUM
The Woodlands Area Chamber of Commerce's Business Advocacy Council hosted a candidate forum for the 2019 race on Tuesday, October 15, 2019 from 4-6 p.m. at the Chamber's Lakeshore Boardroom, located at 9320 Lakeside Blvd. in The Woodlands.
Three at-large positions on The Woodlands Township Board of Directors will be elected in the November 5, 2019 election, designated as positions 5, 6 and 7.
Watch the video of the forum on the Hello Woodlands YouTube Channel below: