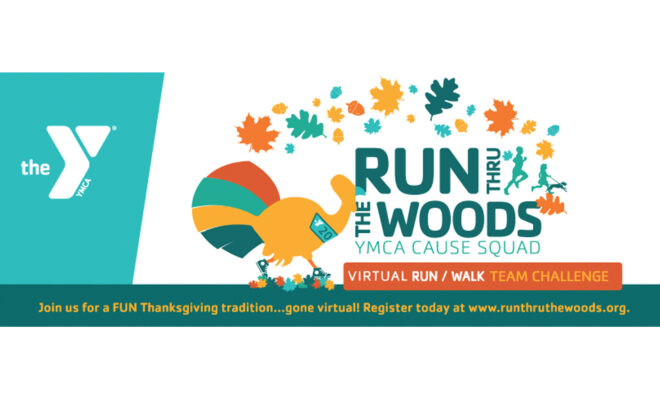 Events
Annual YMCA Run Thru the Woods to be Virtual in 2020
By |
THE WOODLANDS, TX – Out of an abundance of caution, this year's annual YMCA Run Thru the Woods has been transitioned into a virtual event for 2020. Celebrating 31 years Running for a Cause, Run Thru the Woods is an annual Thanksgiving tradition in South Montgomery County. Even though we cannot all gather together and celebrate in person, the tradition will continue.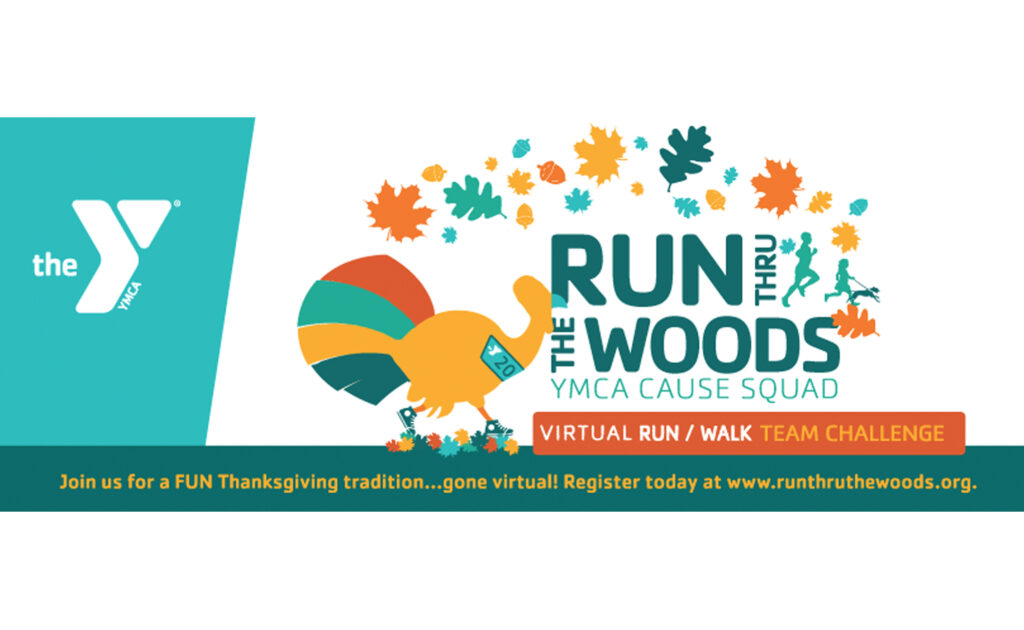 A virtual event provides the participant all the fun swag of an in-person event (shirt, bib, finisher medal, results, awards, etc.), but now participants can choose the location, date and time to complete the event. Choose a route in your own neighborhood, discover a new trail or run while you are out of town visiting relatives. No need to wake up early Thanksgiving morning, worry about inclement weather, stress about finding a parking space or spend time waiting in line. Involve the entire family, including the pets, and get creative! Kids can draw the Start/Finish Line and hold up a finish line tape for each participant to run through, take finish line selfies, and wear costumes. The non-runners of the family can now take on the role of cheer team, man the water stops, take pictures, etc.
The virtual event concept puts more emphasis on the cause and gives runners a greater sense of purpose. YMCA Run Thru the Woods benefits the YMCA Annual Campaign, which ensures everyone, regardless of age, income or background has the opportunity to learn, grow, and thrive at the YMCA. Now more than ever, the community needs the YMCA. And more than ever, the YMCA needs the community's support to continue to meet the needs of our neighbors.
The annual event has been a source of fundraising for local youth charities for 30 years raising more than $2.6 million dollars. Generous sponsors who have supported Running for a Cause include: Huntsman, The Woodlands Township, Texas Children's Hospital The Woodlands, Memorial Hermann The Woodlands Medical Center, Houston Methodist Hospital The Woodlands, Alight Solutions, The Cynthia Woods Mitchell Pavilion, Gullo Auto Dealers, Papa Johns, Repsol, MD Anderson, Fleet Feet, Market Street, Raising Canes, Pepsi Beverages, Spectrum Events, Bayside Printing, Academy, Woodlands Online, and Chick-fil-A.
The 31st annual YMCA Run Thru the Woods Virtual Run/Walk/Team Challenge Event Dates are November 14 – December 5, anytime and anywhere. Designed for a wide variety of participants, categories include a 1 mile Children's Race, for ages 12 and under; a 5 mile Race; a 3 Mile Race and the 3 Mile Walk. New this year includes a 10 Mile Race; Super Triple 18 Mile Challenge; and a Team Challenge which is designed for running/training groups, social running groups, corporate teams and family/friends teams. The team component gives runners a way to share the experience with their running friends. Due to self-isolation and social distancing, many runners are craving the connection and community. They miss their "Running Buddies." Team members tally their race times together to qualify for the fastest team award.
Traditional awards will be presented to the overall top 3 finishers and the top 3 finishers in each age group, male and female, for all categories. Non-traditional awards will also be available such as Best Finish Line Selfie, Themed Costumes, Coordinated Pet Costumes, Creative Course Maps and more. Participants will be responsible for reporting their results. Many apps are available to record race times and map out a course. A Finisher's medal will be available to everyone and will be included in race packets, along with a commemorative shirt and race bib.
"Over the years, this popular holiday event has never lost touch with its mission: To provide a SAFE, fun community event for all ages and all levels, promoting youth development, healthy living, community service and social responsibility as well as raising awareness and funds for the deserving youth organizations the event supports. Give back, give thanks, let's run and have fun! 2020 is no different. YMCA Run Thru The Woods is a great way to kick off the holiday season," said Roxanne Davis, Race Director and Community Liaison of The Woodlands Family YMCAs. "Though we will all be social distancing this year, there's the excitement of thousands of people pulling together with purpose, and it's a great way to spend time with family and friends, to encourage each other, and give thanks and support local nonprofits, including the YMCA. I have had the privilege to be involved and watch the event grow since 1994! We live in a very generous and caring community."
Registration is available thru November 11th. To be eligible for awards, results must be reported by December 5th. Drive through packet pick up will be scheduled the week of November 11th at the Shadowbend YMCA. To learn more and register for YMCA Run Thru The Woods, visit runthruthewoods.org.
Sponsorship opportunities available. Contact Roxanne Davis, Race Director, 281-681-6730.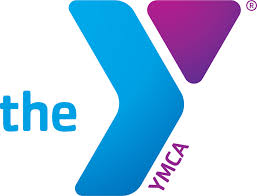 First organized in 1886, the YMCA of Greater Houston is one of the city's leading nonprofits dedicated to strengthening communities through youth development, healthy living and social responsibility. The YMCA, a United Way of Greater Houston agency, seeks to serve all – regardless of age, income, faith or background and we welcome everyone. In the greater Houston area, 29 YMCA centers, one overnight camp and hundreds of program sites nurture the potential of children and teens, improve the city's health and well-being, and provide opportunities to give back and support neighbors. Anchored in the Houston community, the Y has the long-standing relationships and physical presence not just to promise, but to deliver lasting personal and social change. To learn more, call 713-659-5566 or visit ymcahouston.org.