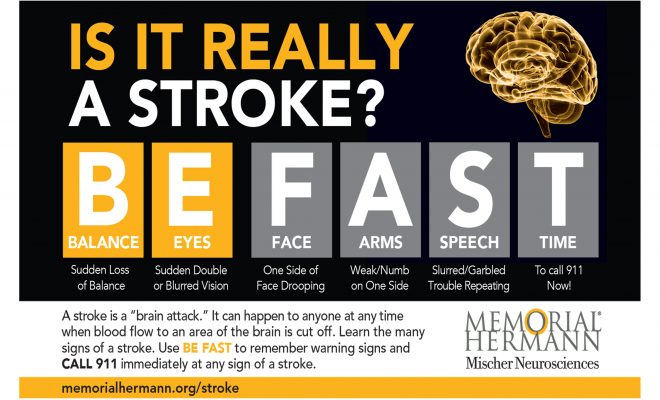 Health
Be Stroke Aware & Prepared for Stroke Awareness Month
By |
A stroke is a life-threatening emergency, and what you don't know could hurt you or a loved one.
Stroke is the fifth leading cause of death in the U.S. and a leading cause of adult disability. While a stroke can happen to anyone, at any time, there are ways you can reduce your risk of a stroke or minimize the effects of a stroke, should one occur.
First, what is a stroke?
A stroke is a sudden interruption of blood supply to the brain. There are two major types of stroke. The most common type, an ischemic stroke, occurs when an artery is blocked by a blood clot and may result from clogged arteries, called atherosclerosis. A hemorrhagic stroke occurs when a blood vessel in part of the brain bursts open (a brain aneurysm), causing blood to leak into the brain.
Reduce Your Risk for Stroke.
While not every stroke can be prevented, you can reduce your risk. Don't smoke. Maintain a healthy body weight. Exercise regularly. And eat a diet rich in fresh fruits and vegetables, fish and whole grains.
Your risk of having a stroke is greater if you have certain health conditions, including atrial fibrillation (an abnormal heart rhythm), heart disease, high blood pressure (the No. 1 risk for strokes), high cholesterol or if you have a BMI (body mass index) of 30 or higher. If this describes you, see your doctor regularly and take all prescribed medications. By managing these underlying illnesses, you can reduce your chances of stroke.
Know the Warning Signs. And BE FAST.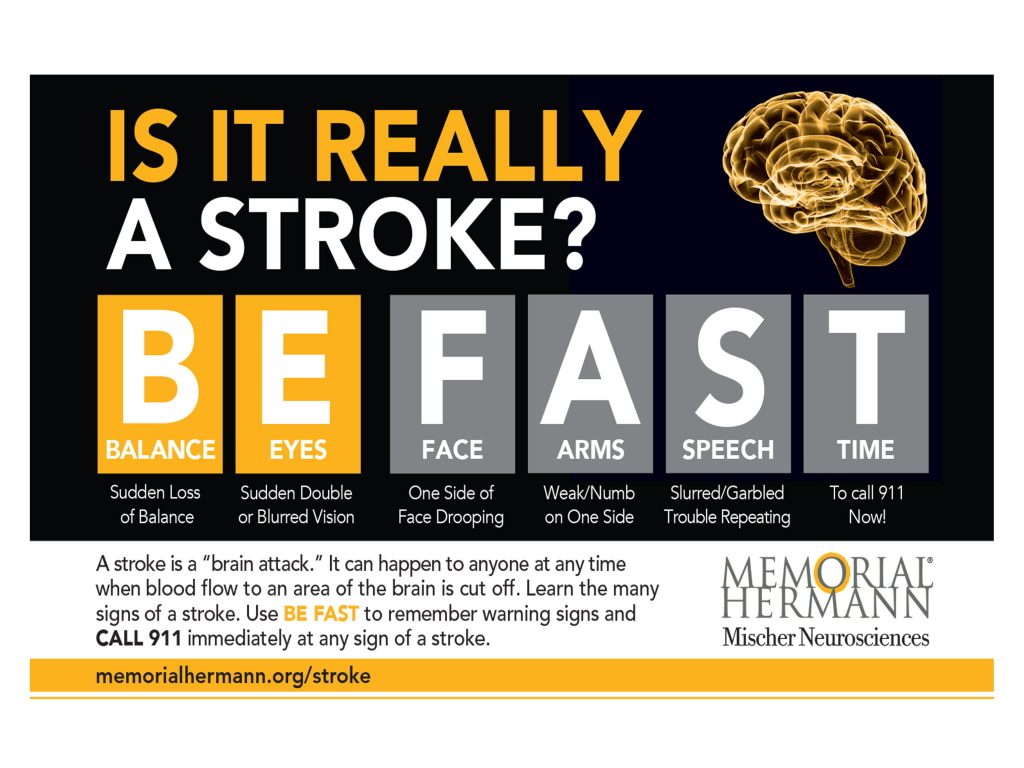 A stroke requires immediate medical attention. If someone exhibits one or more of these symptoms, call 911 right away. By knowing and sharing the warning signs of stroke, you could save a life.
Seek the Highest Level of Care.
When it comes to stroke care, speed and expertise matter. At Memorial Hermann Mischer Neurosciences, our dedicated stroke network has the experience and equipment to diagnose and treat strokes quickly and accurately, to help prevent long-term effects.
The Joint Commission and Det Norske Veritas (DNV GL) certify hospitals that meet certain standards for care of acute stroke, designating them as Comprehensive Stroke Centers (CSCs) and Primary Stroke Centers (PSCs). Both are advanced designations, but CSCs are the most advanced.
Mischer Neuroscience Institute at Memorial Hermann-Texas Medical Center is a CSC, the first stroke program in the region to meet such standards. In addition, nine Memorial Hermann hospitals are PSCs – including Memorial Hermann The Woodlands Medical Center.
Being Stroke Aware Shows You Care.
Reducing your risk of stroke and knowing how to react to one are the best ways to show your loved ones you care. To learn more about stroke, visit memorialhermann.org/stroke.
For more information or to schedule an appointment with a neurologist in The Woodlands, visit memorialhermann.org/stroke or call 713.897.5900.