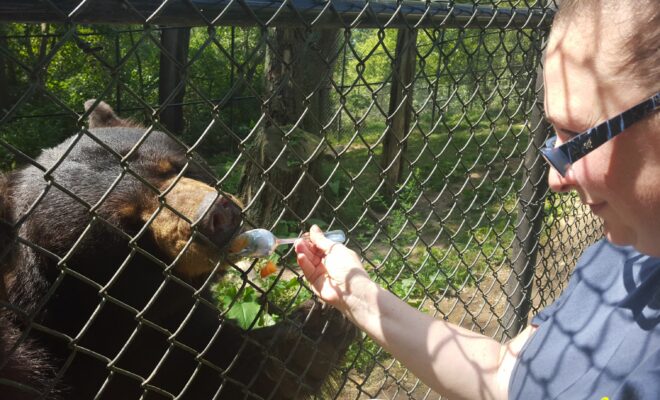 Events
BEAR Crawl to raise funds for Local Animal Sanctuary
By |
MONTGOMERY, TX – Would you be surprised to learn that some residents in our area have kept tigers, bears, or other large dangerous carnivores as pets? On Mother's Day an escaped pet tiger was in someone's front yard in Houston.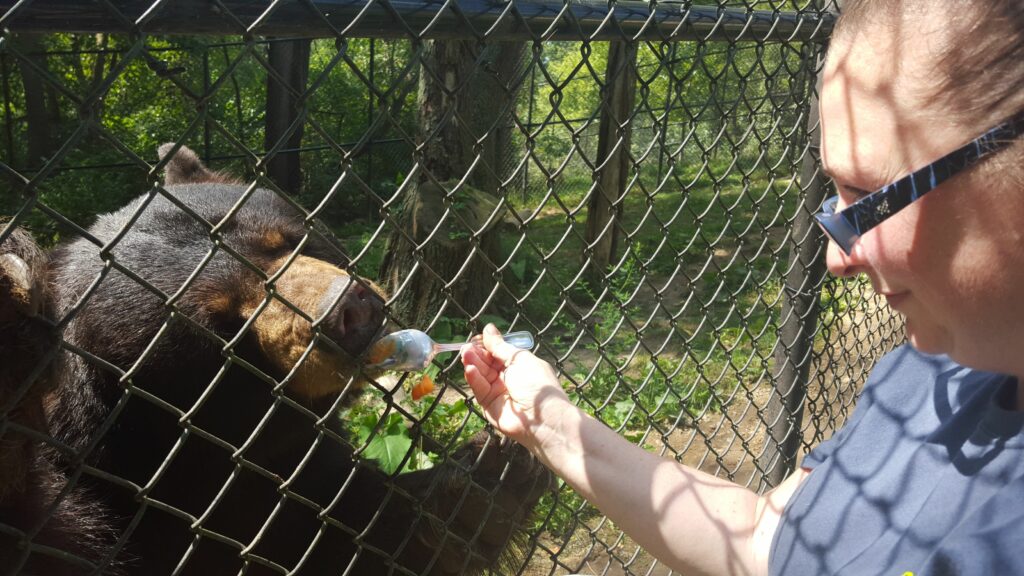 The owner loaded the big cat in a car and sped away before police officers could arrive. This is the 4th tiger in Texas since February of this year. If there was a functioning animal rescue sanctuary the large cat could stay in a safe environment while awaiting the court outcome.
Did you know that there are nearly 1,000 bears living in substandard conditions in residential backyards as pets, or roadside attractions, and in need of placement bought out of the exotic pet trade? Many animal facilities across the country, housing large exotic animals and wildlife, have been closed due to lack of finances (due to COVID). This leads to lack of appropriate care, and neglect. Bears can consume 40 plus pounds of fruits and vegetables along with fish, nuts, bugs, and other animals (including feral hog piglets) per day when preparing for hibernation in the winter months, even in captivity.
Many people do not realize you can buy a bear cub from a breeder for $500 and have it as a pet in your home. This is the same with tigers (as low as $1000) and many other wild exotic animals. The bears, tigers, and monkeys are bred for profit right here in this country including in Texas. All the animal rescue sanctuaries remain full and there continues to be a need for additional neglected large animals. The alternative to a sanctuary is euthanasia.
The mission of Bears, ETC is to establish a Bear and Exotic Animal Rescue Sanctuary in Montgomery County, connecting people with nature through education and awareness. The hope is to build the nation's first state of the art Bear Sanctuary, providing a safe place for neglected, abused, and unwanted bears, that are a part of the exotic pet trade. The sanctuary would provide a permanent refuge for displaced, captive-raised exotic animals kept as "pets" or retired from performance. 
Bears Etc. is a 501c3 non-profit organization founded in 2017 by Kati and Ambrose Krouse to "Leave the world better than they found it by giving animals, and people, a PEACE of the Wild!" They rescue exotic animals, specifically bears, out of the exotic pet trade and educate the public by connecting people with nature. The organization exists to provide a permanent, community-based, self-sustainable refuge for displaced exotic and wild animals and educate others about the natural world.
Kati Krouse, Executive Director of Bears, Etc., is very active in animal advocacy. The Big Cat Public Safety Act would prohibit private individuals from possessing lions, tigers, leopards, cheetahs, jaguars, cougars, or any hybrid of these species. This prohibition would only apply to big cats kept as pets. Sanctuaries, universities, and zoos would be exempt from the law if passed. Through advocacy, the hope is to add bears to this list.
Kati and Ambrose are both members of the Texas Black Bear Alliance where Kati has been appointed on the Board of Directors, promoting the restoration of black bears in appropriate habitats throughout Texas through cooperative partnerships using education, research, and habitat management.
Bears ETC is a fulltime operation, but Kati and Ambrose Krouse also have employment in the community making ends meet until the sanctuary is operational, sometime in the future. Kati is a professional groomer, pet sitter, and dog trainer while Ambrose works in A/C and Heating. Additionally, they also help local dog rescues by fostering (specifically bottle baby puppies), helping with vet tech work, and grooming foster dogs. Kati has been called to rescue parakeets, finding homes for dogs, tigers, parrots, wolves/wolf dogs, monkeys, and occasionally alligators.
"The exotic pet trade is a $15 billion a year industry in the US," said Kati Krouse. "The illegal exotic pet trade is second only to drugs; surpassing illegal guns over the last few years. There is no true bear sanctuary focused on bears in the exotic pet trade in the US. Other areas of the world-Romania, Asia, India, and the United Kingdom all have large animal sanctuaries. In 2010 the Houston SPCA flew a bear to a sanctuary in Romania after not being able to find placement in the United States for her. Bears Etc. is a solution for the captive bears in need of placement."
"Once built, the Bear Sanctuary will attract up to 50,000 visitors a year," continued Kati Krouse. "This will be a huge benefit to the hospitality, restaurant, and hotel industries in our community. I am a member of the Montgomery, Conroe, and The Woodlands Chambers of Commerce and know that small businesses can benefit from an unusual tourist venue."
What can you do? Be a part of the Solution! The Inaugural Bear Crawl, sponsored by Office Evolution (Conroe/Woodlands) is Saturday, May 29, and Sunday May 30 from noon-6:00pm with some of the best Wine, Beer, and Whiskey tasting in the County! Enjoy tasting the spirits from eight local venues-Whitley Vineyards (Montgomery), Blue Epiphany (Conroe), The Ferm Meadery (Conroe), Southern Star Brewery (Conroe), Frankenboltzzzz Brewing Company (Montgomery), B-52 Brewery (Conroe), Bartlett's Distillery (Conroe), and H-Wines (Montgomery).
Purchase tickets online via the Facebook Page: www.facebook.com/Bearsetc, the website: www.bearsetc.org/events, or visit one of the participating venues during the event to register. Tickets are $50 per person and each participant will receive a souvenir glass, passport, and wristband to start their 2 tastings at any location. (Sunday only for Whitley Vineyards and Sat. only for Bartlett's Distillery). 
The suggestion is to visit the Conroe sites on Saturday and the Montgomery sites on Sunday. This helps curtail over-serving and a designated driver is encouraged. Texas Brewery Tours is offering bus transportation for both days for $75/person for a total of 14 riders with a percent of the cost benefitting Bears, ETC. To reserve a seat call (713) 489-1586.
 
Funds will help secure a property for a Bear and Exotic Animal Rescue Sanctuary to provide a permanent, community-based, self-sustainable refuge for displaced exotic and wild animals and educate others about the natural world. The sanctuary will include tigers, cougars, and bobcats and allow animals to live in a natural habitat the remainder of their life and give them their own PEACE of the Wild.
Bears, ETC is looking for a minimum of 20 acres for the sanctuary. Property must be 20 miles from the nearest school and 1000 feet from the nearest residence to maintain safety protocols. A Meet and Greet with the Executive Director of Bears, ETC is scheduled for Saturday, May 22 at 3:00 p.m. with Kati Krouse at Vernele's New Orleans Bakery and Café, located at 330 N. Main in Downtown Conroe. See the paintings animals did with their feet!
"Come out to the Bear Crawl while having a great time with family and friends knowing you are contributing to a PEACE of the Wild and a SAFE place for animals," said Kati Krouse. "All proceeds from the event go into our capital campaign to purchase a property in Montgomery County. Help us build the nation's first bear sanctuary and the bears that are in dire need of placement. Help us give them a PEACE of the Wild!" Learn more about Bears ETC by visiting their website www.bearsetc.org or at info@bearsetc.org.