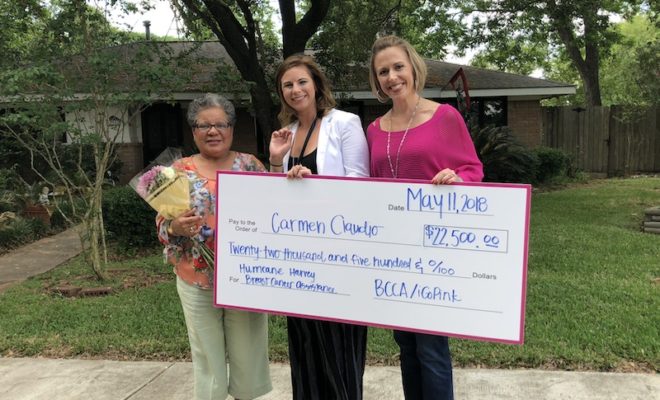 Hurricane Harvey
Breast Cancer Charities of America Aids Patients Affected by Hurricane Harvey
By |
THE WOODLANDS, TX – As the one-year anniversary of Hurricane Harvey approaches, The Breast Cancer Charities of America announced that the organization has awarded over $66,000 to support local breast cancer patients directly affected by Hurricane Harvey.
"Imagine having breast cancer and then losing everything in Hurricane Harvey," said Erica Johnson, founder and CEO of The Breast Cancer Charities of America. "This is what we witnessed first-hand in the days following Hurricane Harvey. Local breast cancer patients reached out in tears saying they lost everything; didn't have a car to get to treatment, a home to sleep in or as the months progressed, patients couldn't afford both treatment and their home repairs, so they were living in black mold while trying to get well. We couldn't let that happen."
As the local Houston community came to the need of many people impacted by Hurricane Harvey, The Breast Cancer Charities of America saw an immediate need from local breast cancer patients and jumped to help; holding fundraisers, events and directing funds to breast cancer patients impacted in the Houston area through their iGoPink Emergency Financial Assistance Program.
"I was supposed to be having a lot of tests done, but then Harvey came along, and we lost everything," said Carmen Claudio, local breast cancer patient and recipient. "When I was finally able to get back into the hospital, they gave me the application for the iGoPink Emergency Financial Assistance. When the iGoPink staff came out for a home visit, I was never expecting to be surprised with such a wonderful gift."
Carmen, one of many individuals affected by Harvey, had over 4 feet of water in her home and lost close to everything after being diagnosed with breast cancer only one month earlier. After the water receded, Carmen was left with an unlivable home, no furniture, and breast cancer treatment bills were mounting. The iGoPink Emergency Financial Assistance Program allowed Carmen to continue with treatments by paying her medical bills and providing her with necessary home repairs and essentials to get back on her feet.
"Despite being a national non-profit, we are here for our community," said Erica Johnson. "Love your neighbor; it was our calling to do so during such a tragedy and we made a tremendous impact on the lives of many women in Houston area."
The Breast Cancer Charities of America is a non-profit organization with new global headquarters in The Woodlands, Texas.The Breast Cancer Charities of America is dedicated to educating and empowering women to prevent and survive breast cancer. Through their numerous program services and resources,The Breast Cancer Charities of America is able to partner with over 523 hospitals nationwide to serve women. For more information about The Breast Cancer Charities of America and the local and national program services they offer, visit www.iGoPink.org