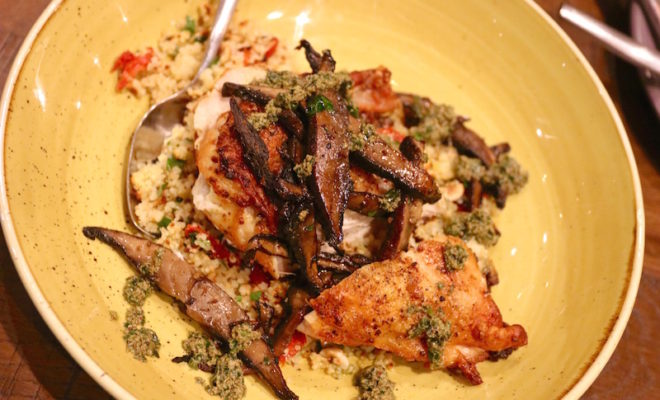 Events
A Feast of Flavors at Broken Barrel
Opened in February 2017, Broken Barrel is the lifelong dream of Executive Chef and owner Hilda Ysusi. At only 27, Chef Ysusi has travelled the globe, trained at the Culinary Institute of America in Hyde Park, worked at notable establishments, and found her home here in Texas in The Woodlands.
With a spectacular lake view in Hughes Landing's Restaurant Row, Broken Barrel offers menu items inspired from a variety of culinary styles combining Asian, Latin, and Mediterranean influences. Guests can enjoy shareable small plates, fresh cheeses and charcuterie, a diverse wine list, a full bar menu with a focus on infused gin cocktails, and more. Broken Barrel is open for lunch, dinner, and now Saturday and Sunday brunch with seating both indoors and on the patio overlooking the lake.
The Hello Woodlands team had wonderful opportunity to enjoy a fabulous feast on April 12, 2017 where local media from around the Houston area were invited. Guests had the opportunity to sample items from the menu including drinks, appetizers, brunch, dinner, and desserts.
The Media Dinner Menu included…
Appetizers & Drinks
Gin Features
Prickly Pear Moscow Mule
Karaage
Crispy Olives with Garlic Lemon Aioli
Paella Arancini
Brunch
Duck Quesadilla including a cheese "tortilla", pulled duck, veggies
Stuffed French Toast with cinnamon cream cheese, cornflakes crust, spiced syrup
Dinner
Patatas Bravas
Shrimp Fried Rice with Water chestnuts, peanut sauce, red cabbage slaw
Baby Beets with Orange, Greek yogurt, and crackling dust
Zucchini Salad with Squash ribbons, feta, red onion, peanuts, cilantro
Not Your Ham & Cheese with Prosciutto, goat cheese, red wine jelly
Market Fish with Greek style quinoa, Uruguayan chimichurri
Cochinitia Pibil Tostones with Fried plantains, pinto beans, house pickled onions
Spinach Stuffed Chicken with Sun dried tomato cous cous, grilled Portobello
Dessert
Donut Ice Cream Sandwich
S'mores Casserole
Hilda's talent shined through each dish that were bursting with flavor and perfectly presented. The staff was gracious and provided excellent service as we dined first on appetizers and drinks on the 4,500 square foot patio and then moved into the restaurant for dinner.
A very special thank you to Hilda and her staff for hosting a fabulous evening full of fantastic foods and fun. Be sure to view the photos from the evening on the Hello Woodlands Facebook page!

Learn more about Broken Barrel and Hilda Ysusi by visiting brokenbarrelwoodlands.com