Events
CAC's Annual Duck Race moved to August
By |
Conroe, TX – Many local residents in Montgomery County have heard about the Annual Duck Race with cute rubber ducks that float down a lazy river pool to win prizes for their "adopted" parents. After 10 years of the annual event on the 4th of July, Crisis Assistance Center has moved the event to Saturday, August 25th from 6:30 pm to 8:30 pm.
The public is encouraged to attend the 2018 11th Annual Charity Duck Race at the Rob Fleming Aquatic Center at Creekside Forest Drive. This free family friendly event (it's rubber ducks!) is a thrill to watch. The Crisis Assistance Center will launch 5,000 rubber ducks from the top of the slide and into the pool.. The crowd watches the ducks float through the pool to the finish line where someone will win the Grand Prize of a 7 Day Carnival Cruise for Two! Many other fabulous prizes will be randomly chosen from numbered ducks.
Proceeds from the Duck Race will support Crisis Assistance Center (CAC) programs which provide immediate basic needs assistance with food, clothing, utilities, rent/mortgage payments as well as long term case management to move individuals and families into self-sufficiency. Additionally, CAC offers education classes, homeless care kits, and a summer feeding program for children. CAC was very active in recent disaster recoveries in our community. All the programs promote independence to lead happier lives for our neighbors in need.
"Please join us for a splashing good time at our family friendly event" said Kathy Rifaat, Director of Development at CAC.  "We encourage individuals and businesses to adopt several ducks and be part of a friendly competition to sell the most ducks."
Ducks can be adopted and the community can be part of an existing team at www.DuckRace.com/TheWoodlands. A single duck is $5, a Quack Pack is $25 for 6 ducks, and a Flock of Ducks can be purchased for $50. Sponsors to date include presenting sponsor Praxair, Inc, Entergy, Buckalew Chevrolet, Consolidated Communications, Wiesner Auto Group, Woodforest National Bank, Braintek, Chick-fil-A of Alden Bridge, Ice Pack Store, Woody and Debbie McOmber, James and Janet Stilwell, Robert and Sheila Templeton, Carnival, Taylorized PR, WoodlandsHits.com, Silver Rock Productions, and Signs Etc. Additional Sponsorships available at www.cac-mctx.org/duck-race. Contact Kathy Rifaat at kathy@cac-mctx.org or 936-494-4412 for sponsorship information or to create a new duck adoption team.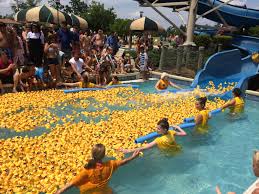 Join the Crisis Assistance Center as they bring friends, board members, volunteers, businesses, and the community together for a fun summer event Saturday, August 25th from 6:30-8:30 pm. There will be food, activities for kids, and a memorable experience you won't soon forget!
 The Crisis Assistance Center seeks to provide a loving, supportive place where people can come to get the help and resources they need during a time of vulnerability and instability.