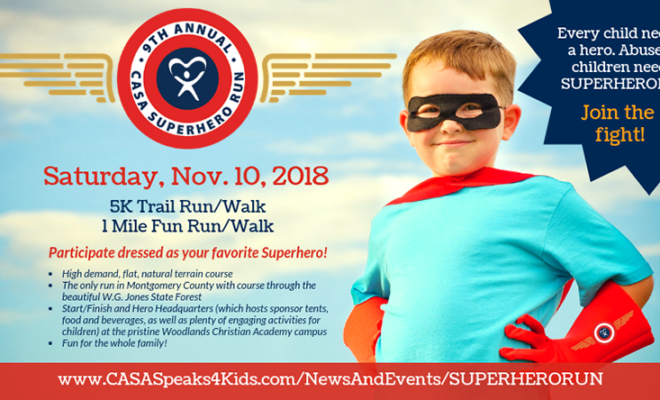 Calendar
Casa Superhero Run Supports Montgomery County Foster Children
By |
THE WOODLANDS, TX – CASA Child Advocates of Montgomery County, a nonprofit organization whose volunteers advocate for abused and neglected children in foster care, believes that all children deserve the chance to grow up happy and healthy, and they are calling on community "superheroes" to help them accomplish their mission.
Presented by Mike and Ally Seder of The Seder Group Real Estate, RE/MAX The Woodlands & Spring, the 9th Annual CASA Superhero Run/Walk will be held on Saturday, November 10, 2018. This year's event will start and finish on The Woodlands Christian Academy's campus and features a 5K trail run/walk through W.G. Jones State Forest, as well as a 1 Mile "fun run." Participants are encouraged to dress as their favorite superhero and enjoy this flat, natural terrain course. Awards will be presented for top runners by age group and gender in the 5K and there will be finisher medals for every race. Top individual and team fundraisers will also receive recognition and prizes for their efforts.
New this year, in celebration of Veteran's Day, the event will salute our nation's ultimate heroes during a special opening ceremonies tribute. All participants are also invited to visit Hero Headquarters, which will host sponsor tents, food and beverages, engaging activities for children, and lots of superhero-themed fun for a fantastic cause. The first 200 children (10 and under) to register will receive buy-one-get-one vouchers courtesy of The Cynthia Woods Mitchell Pavilion to The Woodlands Children's Festival.
When a child enters the foster care system because his or her home is no longer safe, a judge may appoint a committed volunteer to help them. That volunteer is called a Court Appointed Special Advocate or CASA. CASA Child Advocates of Montgomery County trains and supports volunteers to represent and advocate for a child's best interest in the child protection system. CASA volunteers serve as the "eyes and ears" for the judge in child welfare cases. This includes researching each child's situation and making objective recommendations to help them reclaim their childhoods from abuse and neglect. CASA volunteers are frequently the only stable presence in these children's lives as they navigate the foster care system.
Last year in Montgomery County, 681 children were served by 261 CASA Advocates – 100% of children in foster care. It costs $1,500 to provide and advocate for a child for one year.  All proceeds from the CASA Superhero Run benefit CASA Child Advocates of Montgomery County and support their mission of continuing to provide an advocate for every abused child in need.
Whether you are a competitive runner, a casual walker, or just love the idea of supporting a wonderful cause, participating in the CASA Superhero Run allows you to show your support for abused and neglected children right here in Montgomery County. Every child needs a hero…abused children need superheroes. For more information, visit www.CASASpeaks4Kids.com, email CASARun@CASASpeaks4Kids.com or call CASA Child Advocates of Montgomery County at (936) 441-5437, ext. 214.
CASA Child Advocates is Montgomery County's only organization appointed by the court to advocate for abused and neglected children. CASA Advocates speak up for the best interest of abused and neglected children who have been removed from their home and are under the Court's jurisdiction. CASA's goal is to continue to provide a court-appointed volunteer to serve as Guardian ad Litem for every child in the foster care system. For the past 26 years, CASA has been training volunteers, raising awareness in the community, and working to stop the cycle of child abuse in Montgomery County, one child at a time. Learn more about CASA Child Advocates of Montgomery County at www.casaspeaks4kids.com and on Facebook at https://www.facebook.com/CASAChildAdvocatesofMontgomeryCounty