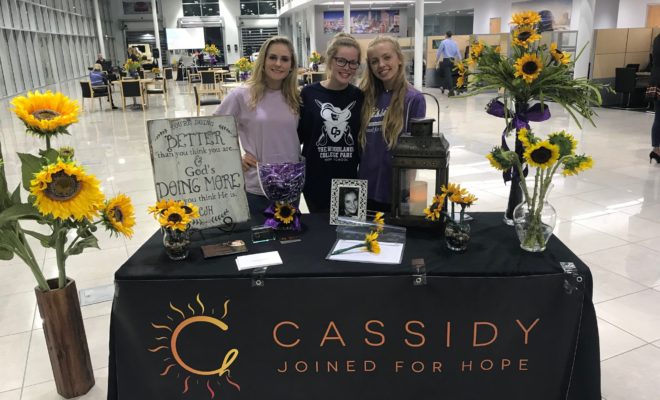 Events
Cassidy Joined For Hope brings awareness to Teen Suicide, launches School Program
By |
Cassidy Joined for Hope, a 501(C)(3) non-profit foundation focused on teen suicide prevention in the schools and community, hosted their Community Reveal on Tuesday, November 7 at Mercedes-Benz of The Woodlands.
Cassidy Joined for Hope has been working hard for the last year to bring awareness to teen suicide and at the event revealed what they are doing now, their future plans to put boots on the ground, and end this growing epidemic in our community.
Watch what happened at the event:

Kim Hess, President of Cassidy Joined for Hope and mother to Cassidy, opened the event with Cassidy's story. "Cassidy is our beautiful 16 year old daughter who tragically lost her life to suicide December 20, 2015. Cassidy was the happiest, funniest, most free-spirited person you would ever meet. Cassidy had her whole world ahead of her … yet she fell victim to suicide."
Judge Wayne Mack shared sobering statistics of teen suicide in Montgomery County. "The only thing that has shocked me while being in office is the number of suicides that we have in this county," Judge Mack shared. "Suicide is the second leading cause of death from ages 10 to 24 – more than cancer, more than illness. 5,240 attempts today in the United States. In Montgomery County since 2011, 14 children under the age of 18 have taken their lives, 148 people from ages 18 to 34, 159 people from ages 35 to 50, 163 people from ages 51 to 64, and 559 people over the age of 65 people have taken their lives."
Santino Magdaleno, a friend of Cassidy and Cavs Joined for Hope founding member, shared his story, friendship, and how students came together to help fellow students have a safe place to turn to. Santino Magdaleno shared that "Losing Cassidy was hard for me, my friends, and the community. I was so dumbfounded about the fact that a bunch of high schoolers who were left in shambles a few months ago had made something and started a conversation that no one wanted to have. High school has a good way of making you feel unimportant – no matter who you are. I think this club did really well and in making people feel like they matter."
Bob Milner, co-owner of Mercedez-Benz of The Woodlands shared, "I would like for you to be a voice to take the grassroots movement that [Cassidy Joined for Hope] has started. I would like for you to take it out into the community and share that it's ok to talk about it. We want you to bring awareness to something that too many people and children are afraid to talk about. Become a grassroots fighter for this campaign." Bob Milner and his partner not only donated the event space, but presented a $2,500 check to the cause during the night of the event.
At the end of the program, Kim Hess asked the audience and members of the community to "break the silence, join their cause, and help to put an end to teen suicide. Hess shared the announcement of continuing to spread awareness and reach teens with a suicide prevention school program. Kim Hess shared, "Moving forward – that's what we want to do as a foundation. To find ways to really reach our kids, to really make a difference, and identify the ones that really need our help. Get them counseling, therapy, into the hospitals that they need. That's where we want to spend our month. We need to get licensed therapists on board with us. We can't do it alone – there's four of us, there's a lot of you. It's important. Our kids are important. We can do this together."
The Cassidy Joined for Hope Foundation believes suicide prevention is a community effort. Learn more about Cassidy Joined for Hope and the Community Reveal at https://bit.ly/CJFHReveal