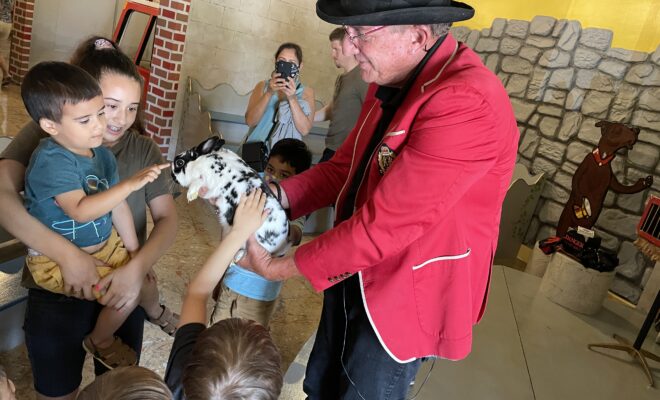 Photo Credit: The Woodlands Children's Museum
Events
Celebrate a Magical Father's Day at The Woodlands Children's Museum
By |
AbracaDAD! The Woodlands Children's Museum is celebrating Father's Day with a magical twist! On Saturday, June 18, children can create a magical day with dad by enjoying a magic show and other spellbinding activities at the museum.
Monty the Magician, an award-winning children's magician, will perform at 10:30am, 11:30am, and 12:30pm on the museum's stage. Monty has performed thousands of shows for children and is an experienced showman who enjoys interacting with families and sharing the art of magic.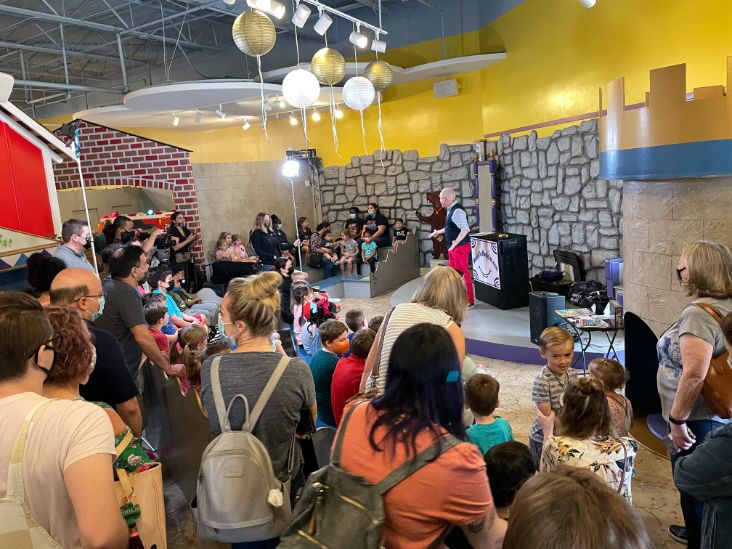 Professor Hughdini is known throughout the Houston area for his thrilling and dazzling style of magic. With over 30 years of experience, his up-close illusions and comedy is enjoyed by all ages. Catch Professor Hughdini at the museum for shows at 1:30pm, 2:30pm, and 3:30pm during Magical Dads Day.
"Magic offers the opportunity for families to experience wonderment and illusion together and to explore creative ways to make the impossible possible," stated Angela Colton, the museum's Executive Director. "Through the art of magic, children can learn sequential thinking, communication, and build self-confidence."
Also, during Magical Dads Day, families can enjoy storytime at 11:00am with a reading of This Book Is Magic by Ashley Evanson. In this interactive story, children use their imaginations and finger-play to perform charming magic tricks. Find out what happens when the tricks don't always turn out the way you expect!
Be sure to bring dad over to The Muse Art Bar too, where families can work together to create magic hats, magic wands, and a unique nuts and bolts keychain as a Father's Day gift.
In the museum's atrium, enjoy a complimentary beverage from Liquid Bean Coffee. From 10:00am – 12:00pm, choose a hot or cold latte, vanilla cold brew, or child-size smoothie. One complimentary beverage per person while supplies last.
The museum is open for summer hours beginning June 7 through August 6, 2022. Hours are Tuesday through Saturday 10:00am – 4:00pm. Closed Sundays and Mondays. Magical Dads Day is included in the price of admission, which is $7.50 for adults and children one year and older. Guests are encouraged to pre-purchase tickets online at www.woodlandschildrensmuseum.org.
The Woodlands Children's Museum is located in the Panther Creek Village Center at 4775 W. Panther Creek Drive, The Woodlands, Texas 77381. Additional information can be found online and by following the museum on Facebook @TheWoodlandsChildrensMuseum and on Instagram and Twitter @TheWoodlandsCM.
About The Woodlands Children's Museum
The Woodlands Children's Museum, a 501(c)3 nonprofit organization, was founded out of a desire to meet the community's proven need for a positive environment where children and their families can learn, play, and make special memories throughout the year. At the museum, fun and learning go hand in hand, whether children are creating art, singing along to a musical performance or conducting a science experiment. The museum also has made it a priority to bring children multi-ethnic and multicultural experiences that celebrate cultural and global differences and strengthen common bonds. Programs frequently are delivered in partnership with other nonprofit organizations, always with the goal of making a positive difference in the life of a child. woodlandschildrensmuseum.org.