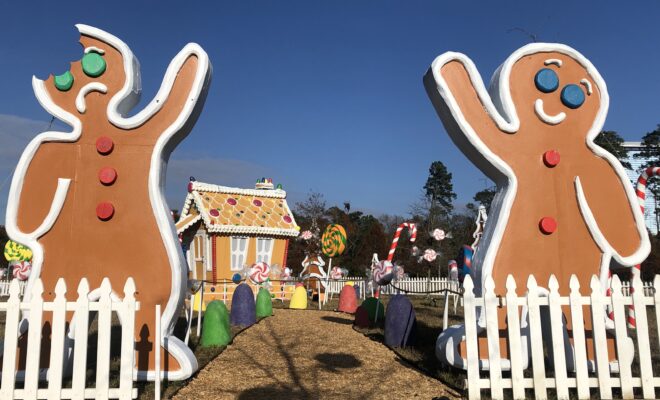 PHOTO BY TIFFANY MARASCIO, HELLO WOODLANDS
entertainment
City Place Celebrates the Season with Giant Gingerbread Village & Tree Lighting; Debuts Farmers Market
By |
SPRING, TX – The holiday season gets underway at north Houston's City Place in November with spotlights ranging from the Giant Gingerbread Village and lighting event for the floating 35-foot tree to Arnaldo Richards' Picos tamale pop-up and farmers market launch. The exciting happenings are all taking place on and around the community's popular central Plaza at 1250 Lake Plaza Drive, Spring, TX 77389.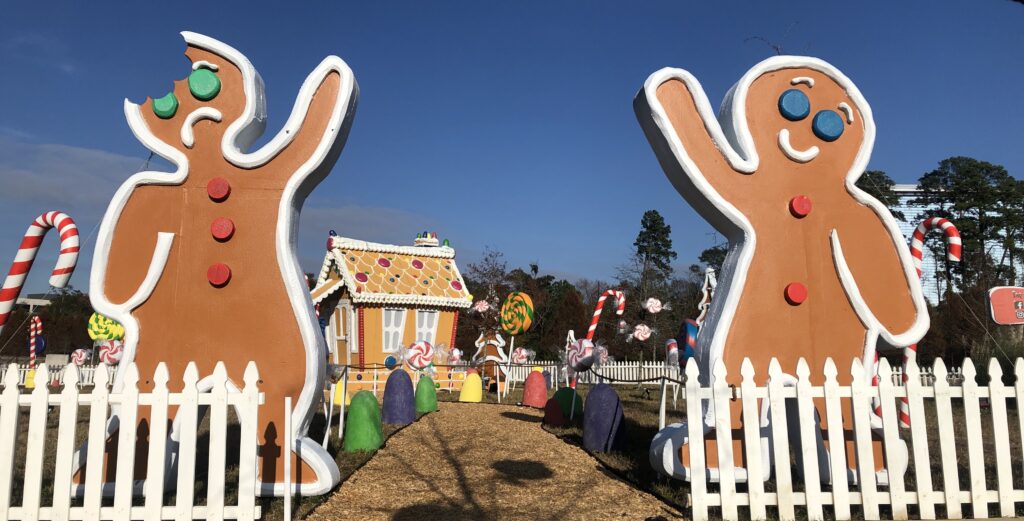 Following their collaboration in Dia de los Muertos Black Dinner, the talented team at Arnaldo Richard's Picos is making its way to The Plaza again for the official Day of the Dead with a Picos Tamale Pop-Up on November 2 from 11 am to 2 pm. The revered restaurant, which focuses on cuisine from Mexico's seven culinary regions, will be rolling out various flavors of their famed tamales, plus additional signature menu items including salsa, queso and pazole. While supplies last, guests can stop by the one-day, lunchtime activation with live music to pick up hot and ready-to-eat items, or cold packaged tamales to take home and prep later. Food orders can be placed in advance until noon on November 1 at www.toasttab.com/picos-restaurant/fulfillment.
A new addition to City Place's event roster is the Your Neighborhood Farmers Market, which will take over The Plaza each month, with the first edition on November 16 from 11 am to 2 pm. Network with neighborhood while supporting local farms and artisanal producers. Shop organic, locally grown produce, grass-fed meats, pasture raised eggs, artisan cheeses, fresh baked goods and juices, specialty prepared food, plants, natural pet treats and more.
Special events continue with the Holiday Tree Lighting celebration on November 27 from 4 to 7 pm. Take part in a countdown to the illumination of the shimmering – and floating – 35-foot Christmas landmark rising from City Place Park's main pond. The festivities also serve as the annual unveiling of the Giant Gingerbread Village with its gumdrop, lollipop and candy-cane-lined path – guarded by two giant gingerbread men – leading to a raised clearing featuring cookie trees, a 16-foot-high gingerbread house and 12-foot windmill. The free, Insta-worthy attraction is designed by the same creative team responsible for Houston's Seismique interactive art museum.
Santa and Mrs. Claus will attend the tree lighting festivities for the perfect opportunity to capture family photos, and guests can enjoy complimentary hot chocolate courtesy of the Houston City Place Marriott, along with face painters plus balloon and caricature artists, and seasonal sounds heavy on holiday classics from DJ Gilbert. Both the tree and the village will be on display through the first week of January.
Clocks are falling back and Daylight Savings begins on November 6, marked by a relaxing City Place Sunday Strolls from 4:30 – 7 pm. Participants can soak in the last of the later evening sunset and enjoy live music from rock and pop artist Felix Luna overlooking the waterfront. Live music will return to The Plaza again for a Veterans Day edition of Friday Night Live November 11 from 5 to 7:30 pm, featuring country and classic rock renditions from the Kelly Peters Trio.
It's a kid's night out on November 18 for Children's Storytime, starting at 5:30 pm. Bring the little ones for an exciting story-telling journey led by popular characters.
The Houston Center for Photography's free monthly class on Saturday, November 19 from 10 am to noon offers a perfectly timed focus on capturing holiday portraits. Guests can say goodbye to bad family photos by learning strategies for how to capture standout shots. All camera types are suitable for this workshop, but space is limited. Reserve by visiting www.hcponline.org/education/cityplace-photography-workshop.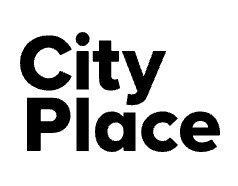 City Place – formerly Springwoods Village – is a sustainable, forward-thinking and dynamic hub for business, leisure and living located at the axis of the Grand Parkway, Hardy Toll Road and Interstate 45. Spanning 2,000 acres, protected forests and natural ecosystems coexist beautifully within an architecturally significant, built environment that has attracted major employers such as Hewlett Packard Enterprise, ExxonMobil, HP Inc., Southwestern Energy, St. Luke's Health and the American Bureau of Shipping, along with a daytime workforce approaching 20,000. Complementing two existing residential enclaves – Audubon Grove and Harper Woods – in addition to several luxury apartment communities, a new development initiative will soon add a multitude of single and multifamily housing options. Miles of trails connect an array of amenities including three Marriott hotels, more than 30,000 square feet of indoor meeting and event space, 4.75 million square feet of office space, a 150-acre nature preserve, 10-screen Star Cinema Grill dine-in theater, 38,000-square-foot 24-Hour Fitness super sport club, The Market – Houston's first LEED Certified multi-tenant retail development – and a 60-acre, mixed-use urban core that frames a programmed, waterfront plaza and park. For more information, please visit www.CityPlaceNow.com.