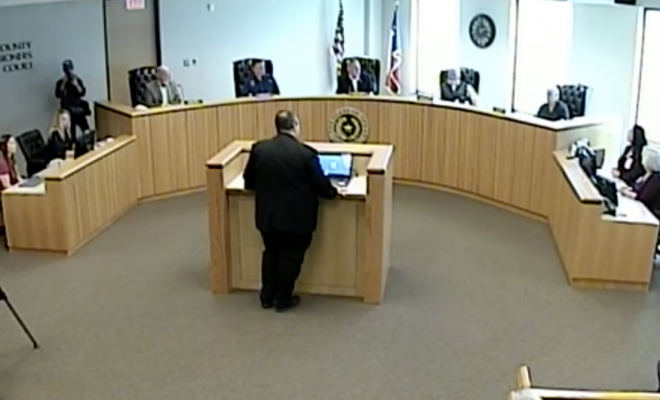 News
Commissioners Court: Declaration of Disaster for Montgomery County
By |
An Emergency Meeting of the Commissioners Court of Montgomery County, Texas is currently being held on Thursday, March 12, 2020 starting at 12 p.m. as noted in the agenda, to "discuss and take appropriate action, including immediate action, due to the imminent threat to public health and safety as a result of the spread of the Coronavirus (COVID-19) epidemic as declared by the World Health Organization as a pandemic on March 11, 2020."
See the following updates per the meeting:
All commissioners were in attendance as Judge Mark Keough begin the meeting.
Today, March 12, the county enters into substantial phases of the CDC protocol, stating recommended procedures suggested to be taken by a community.
After detailing the substantial phase recommendation, Judge Mark Keough made a declaration of disaster for Montgomery County. The State of Disaster was officially declared and confirmed for Montgomery County.
The period of the declaration of disaster typically does not continue more than 7 days. The proclamation takes place immediately, effective March 12 (stated at 12:06 p.m.)
Judge Mark Keough requested to extend the period from 7 to 30 days. The motion was voted upon and approved.
Per Judge Mark Keough, Chapter 418 Section 108, any event sponsored or permitted by Montgomery County shall cease and all public events greater than 200 in Montgomery County held at public facilities and county owned facilities shall cease.
It was requested by the Judge Mark Keough that all private facilities shall cease events greater than 250 people. Any events with 250 people or more shall cease in Montgomery County.
This order does not include law enforcement, emergency personnel, or government personnel.
It was not requested that school districts or private school districts be closed.
All Montgomery County employees shall cease travel within the next 30 days.
A discussion took place regarding the Judge and Commissioners regarding large events such as the Montgomery County Fair, weddings, and other events planned in the near future.
Based on the current health situation, the period of 30 days can be updated by the Commissioners Court.
The Montgomery County Public Health District has activated Level 3.
Melissa Miller, COO of the Montgomery County Public Health District, made a statement on the 2 presumptive cases of Coronavirus in Montgomery County. As of 10 a.m. 20 people are under monitoring. 11 persons of interest, 6 persons of interest came back negative. The goal is to slow down the virus. The more people are tested, the more people are going to test positive. The goal is to slow down the spread of the virus by limiting personal contact and public events.
Discussion held on Little Leagues, to limit the audience but not limit the games, proposal to stagger the game times and days, if possible.
The meeting has been adjourned as of 12:36 p.m.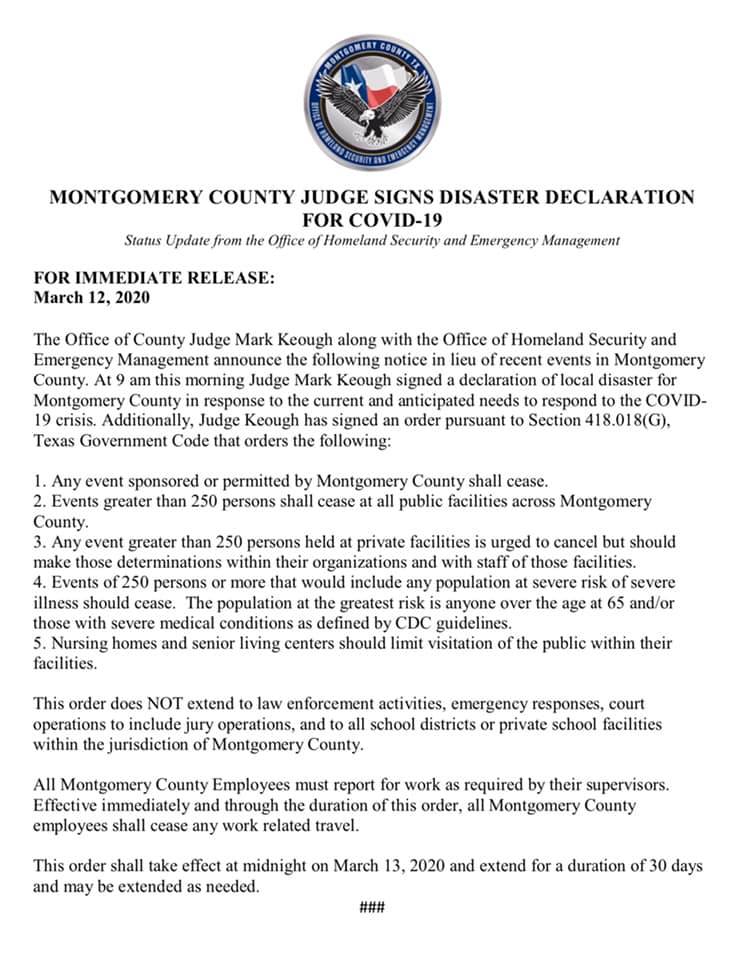 Stay tuned for more updates and view the live video streaming at https://www.mctx.org/departments/departments_a_-_c/commissioner_s_court/live_video_streaming.php