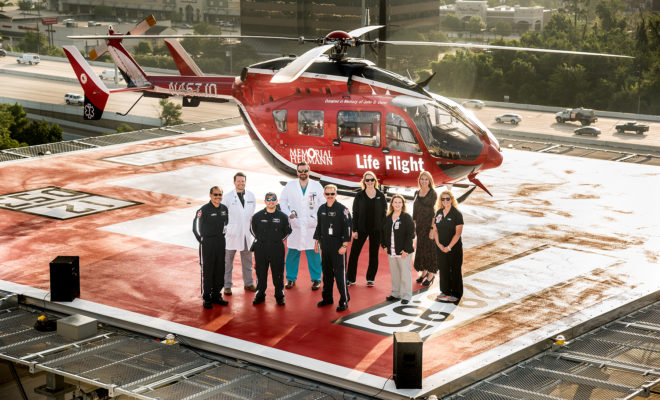 Events
Community Leaders Bless New Helipad at Memorial Hermann The Woodlands Hospital
By |
Community leaders, together with Memorial Hermann Health System administrators and affiliated physicians, gathered last week at Memorial Hermann The Woodlands Hospital to bless the facility's new helipad.  Located on the roof of the East Tower and visible from Interstate 45, the helipad will function as one of two north-side bases for Memorial Hermann Life Flight®, the health system's critical care air medical transport service – broadening the System's coverage in North Houston. Life Flight will continue to utilize David Wayne Hooks Airport in Spring, Texas, as its other base, splitting its time between the two locations each month.
"The decision to have a Life Flight base here in The Woodlands is just one of the ways Memorial Hermann is elevating and expanding essential trauma services for Magnolia County and its surrounding rural areas," said Josh Urban, Senior Vice President and CEO, Memorial Hermann The Woodlands Hospital.
Memorial Hermann The Woodlands expects to receive its official Level II trauma designation this fall, however the hospital has already been operating as a Level II, with the capability to provide comprehensive trauma care, 24 hours a day. With the exception of highly acute circumstances such as severe burns, transplants and pediatric trauma, almost all trauma care can now be managed in The Woodlands.
In the case of those limited exceptions, Life Flight will quickly transport patients to the System's Level I trauma center located in the Texas Medical Center, Memorial Hermann Red Duke Trauma Institute. "And with a base now located in Montgomery County, both response time to pick up from surrounding rural areas and the transport time downtown will be even shorter, ensuring patients are getting the critical care they need that much faster," said Urban.
Learn more about Memorial Hermann The Woodlands and Memorial Hermann Life Flight® at https://www.memorialhermann.org/locations/the-woodlands/