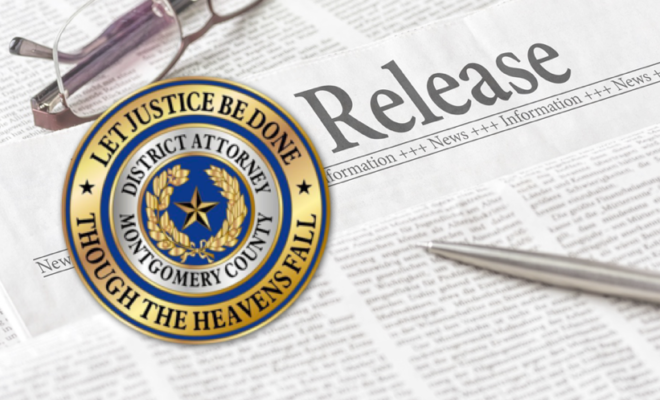 News
Conroe Man sentenced to 30 Years for Sexually Assaulting Children
By |
On Tuesday, May 11, 2021, 67-year-old Roy Fenley of Conroe, Texas, plead guilty to Aggravated Sexual Assault of a Child, a First Degree Felony in the 221st District Court with Judge Lisa Michalk presiding. He was sentenced to 30 years in prison under a plea agreement. Fenley will not even be eligible for a parole review until he is 82.
The charge stems from the inappropriate touching of several child family members and family friends.
In April of 2020, an 8-year-old family friend of Fenley's told an adult that Fenley had inappropriately touched her while moving furniture. Law enforcement was notified, and Detective B.J. O'Connor, with the Montgomery County Sheriff's Office, took over the investigation. As part of his investigation, Detective O'Connor discovered that Fenley had received deferred adjudication in 1993 for Indecency with a Child for inappropriately touching a family member. In addition, Detective O'Connor interviewed numerous people who had known Fenley throughout his life. These interviews led to the discovery of several other victims of sexual abuse by Fenley over the last 30 years. Detective O'Connor's investigation revealed that most of the girls Fenley abused were between the ages of 8 and 12.
Upon his arrest, Fenley admitted to sexually abusing several of the girls. As a result, the Montgomery County District Attorney Special Victims Unit charged Fenley with Continuous Sexual Abuse of a Child with four victims
included in the Indictment.

Prosecutor Wesley LeRouax: "Fenley did immense damage to his family for decades and pitted family members against one another, but today was the day that Fenley admitted what the victims have always known – they were telling the truth. We are confident that with this plea and sentence, Roy Fenley's life of preying upon our children has finally come to an end as he spends the rest of what remains of his life in prison."
District Attorney Brett Ligon: "Child predators cannot hide behind a pandemic. The county's law enforcement officers and our office have never stopped working to protect kids in our community, and we never will. This selfish and malevolent man violated the innocence of generations of his family, but these brave little girls ultimately made sure he can never hurt another child. I want to especially thank Detective O'Connor, the Montgomery County Sheriff's office, and the other agencies involved in this case who have continued to work every day to protect the citizens of this county."
Source: Michael R. Holley, First Assistant District Attorney, Montgomery County District Attorney's Office