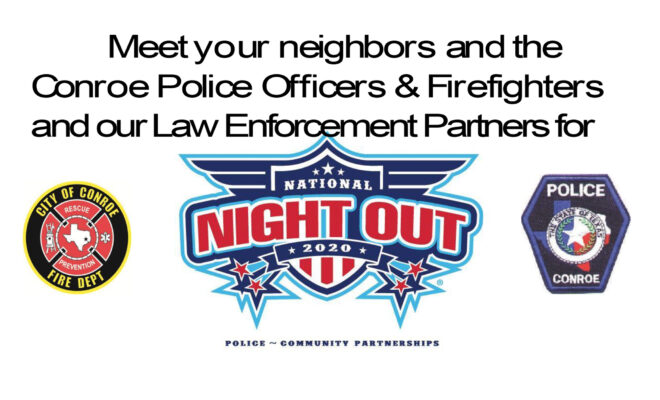 Events
Conroe PD to host National Night Out October 6
By |
CONROE, TX – The Conroe Police Department is hosting a 2020 National Night Out at the Conroe Kroger Shopping Center, located at 341 S. Loop 336 in Conroe, from 5:00 – 8:00 p.m. The event is designed for residents to meet their neighbors, the Conroe Police officers and firefighters, and law enforcement partners in a relaxed, informal setting under positive circumstances.
The fun-filled, family friendly event encourages residents to connect with their neighbors and local law enforcement, fire department, and other public safety officials. Get involved in the partnership with public safety and the local community to prevent crime and drugs in our neighborhoods.
National Night Out is a nationwide initiative to fight crime by hosting community-driven, family-friendly events. The goal is for citizens to participate in safe group activities to show they are in control of their neighborhoods. National Night Out is a national community-building campaign that promotes police-community partnerships. National Night Out culminates annually on the first Tuesday in August; however, due to the COVID-19 pandemic, the event has been postponed until October 6.
For more information, contact the Conroe Police Department at (936) 522-3237. To learn more about National Night Out, visit natw.org.
Sources: Conroe Police Department, National Night Out