Events
Conroe PD to Host Youth Citizen's Police Academy
By |
CONROE, TX – The Conroe Police Department has announced it will host its Youth Citizen's Police Academy for Conroe area youth beginning on Tuesday, October 10, 2023. Applicants must be between the ages of 16 to 18. Officer J. Farr will be the head instructor.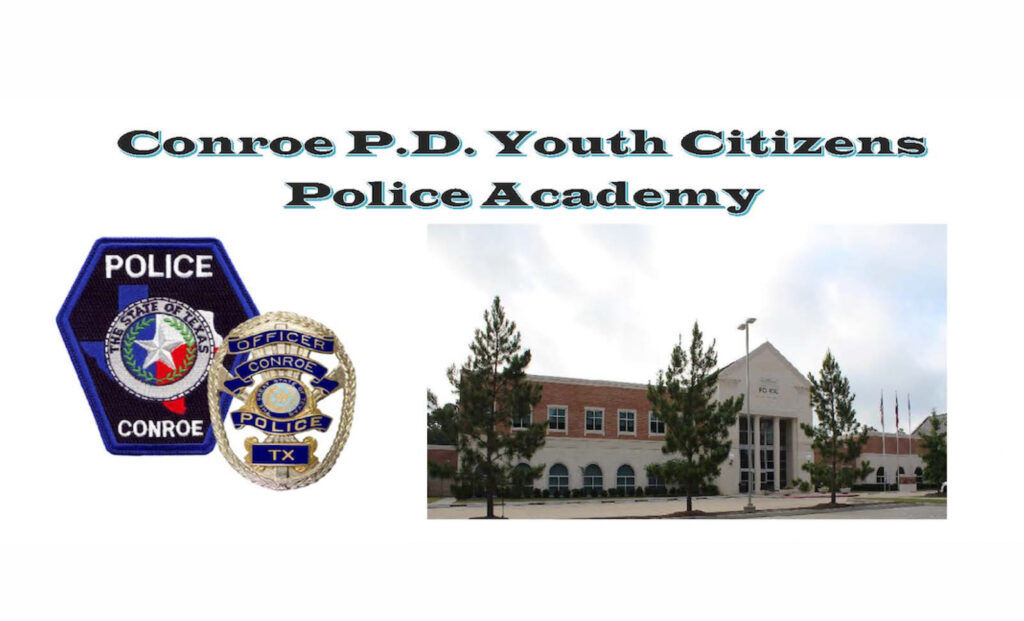 Applicants must be a student and in good standing with the community. Enrollment in the Criminal Justice program is NOT a requirement.
"The Conroe Police Department is dedicated to educating the youth of Montgomery County and we are extremely proud to host the youth citizen's police academy year after year," said Sergeant Jeff Smith, Training Coordinator, Conroe Police Department. "It's an honor for our officers to be able to pass on knowledge of law enforcement to the next generation." 
The Youth Academy is designed to give area youth a "behind-the-scenes" working knowledge of the various aspects of the law enforcement community. Participants will learn about:
Basic Patrol
Patrol Practical Application
Crime Scene Investigation
Criminal Investigations
Patrol K-9
SWAT
Classes will be held Tuesdays at 7:00pm from October 10, 2023 – December 19, 2023 (except Halloween 10/31/23 & Thanksgiving week 11/21/23).
For applications, please contact Officer J. Farr at jfarr@cityofconroe.org. For more information about the Conroe Police Department, visit www.cityofconroe.org/departments/police-department-home-page.
The deadline for applications is October 6, 2023.
Conroe Police Department is located at 2300 Plantation Dr, Conroe, TX 77301.
SOURCES: Sergeant Jeff Smith, Training Coordinator, Conroe Police Department; Conroe Police Department