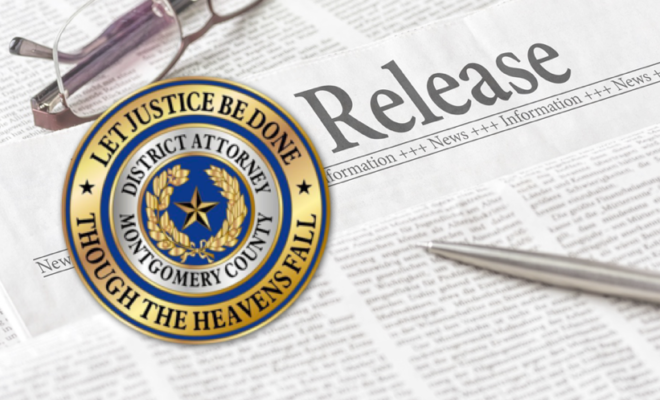 News
District Attorney Operations during COVID-19 Conditions
By |
The Montgomery County District Attorney's Office (MCDAO) remains operational and ready to serve the citizens of Montgomery County. To that end, comment on several topics is warranted:
Enhanced Punishments :
On Friday, March 13, Governor Greg Abbott declared by proclamation a state of disaster for all counties in Texas as a result of the imminent threat posed by the novel coronavirus (COVID-19). President Donald Trump likewise declared a national emergency in response to the coronavirus outbreak.
The Texas Legislature has enacted laws specifically aimed at punishing those who take advantage of others during a disaster.
Under the Texas Penal Code, the punishment range for several listed criminal offenses is enhanced to the punishment prescribed for the next higher category of offense if a person commits the offense in an area subject to the declaration of a state of disaster. District Attorney Brett Ligon is committed to utilizing this provision and prosecuting offenders to the fullest extent of the law.
By way of example, the Montgomery County District Attorney's Office prosecuted a case of looting following Hurricane Harvey. In that case, State vs. Caleb Andrew Carmichael, the defendant was charged with Burglary of a Habitation for looting homes in River Plantation. Mr. Carmichael was sentenced to 5 years prison in the Texas Department of Criminal Justice. Similar acts during a time when citizens are particularly vulnerable will be met with aggressive action by Law Enforcement and the MCDAO.
Price Gouging:
In addition to enhanced punishments during a state of disaster, any person or business selling goods should be aware that Texas law prohibits "price gouging" and subjects offenders to civil penalties. Texas consumer protection statutes provide that it is a false, misleading, or deceptive act or practice to take advantage of a disaster declared by the Governor of Texas or the President of the United States by: (1) selling or leasing fuel, food, medicine, lodging, building materials, construction tools, or another necessity at an exorbitant or excessive price; or (2) demanding an exorbitant or excessive price in connection with the sale or lease of fuel, food, medicine, lodging, building materials, construction tools, or another necessity. If a Montgomery County business is believed to have engaged in unlawful price gouging, District Attorney Ligon encourages citizens to file a consumer complaint with the Office of the Attorney General, as the district attorney's office lacks the authority to enforce those civil penalties.
Court Operations:
Consistent to Centers for Disease Control [CDC] guidelines, gatherings of 50 or more people are discouraged in order to slow the spread of the COVID-19 virus. As a result, Montgomery County Courts are amending their normal schedules to allow Defendants on bond to reset their cases to a future date to avoid individuals gathering in large groups.
Similarly, juries (but not grand juries) are being routinely reset to future dates by Montgomery County courts. Because different courts have different types of cases before them and because each judge determines how their respective court will proceed, the MCDAO encourages citizens with business before a particular court to contact that court for information about scheduling matters.
State v. La Rosa-Lopez:
On Monday, March 16, 2020, in the 435th District Court, Judge Patty Maginnis continued the trial of Manuel La Rosa-Lopez to June 15, 2020 with jury selection on June 12, 2020. Judge Maginnis continued this case mindful of the guidelines from the CDC for gatherings of people in large numbers.
Mr. Ligon would like to assure citizens of Montgomery County that in the case of State v. Manuel La Rosa-Lopez as well as other pending criminal cases that crime victims will receive their day in court even if there is some temporary delay due to the current public health situations.  Mr. Ligon wants citizens to know Montgomery County Law Enforcement and the MCDAO will continue to work hard to prosecute offenders who harm the most vulnerable members of society.
Source: Michael R. Holley, First Assistant District Attorney, Montgomery County District Attorney's Office