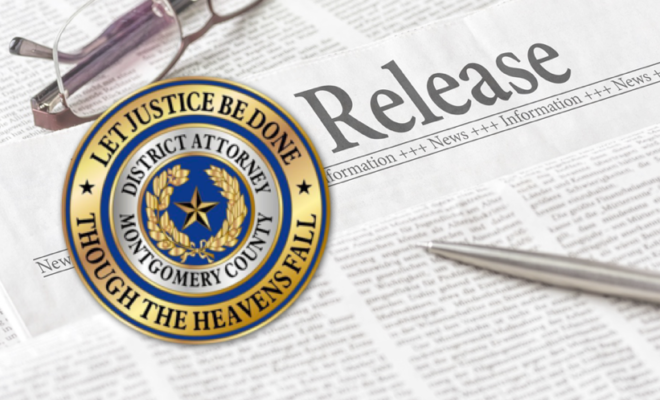 News
District Attorney warns of Online Predators as Remote Learning Continues
By |
During the first eight months of 2020, the Montgomery County District Attorney's Office has charged 60 defendants for internet crimes against children. Charges include Online Solicitation of a Minor, Possession and Promotion of Child Pornography, Sexual Performance by a Child, and other offenses directly related to online predators. The Montgomery County District Attorney's Office is a member of the Houston Metro Internet Crimes Against Children Taskforce and works with investigators from the Conroe Police Department, Texas Department of Public Safety, Homeland Security, all five Montgomery County Constables' offices and other law enforcement agencies to end the online exploitation of children.
During the COVID-19 pandemic, as families work and learn remotely, online activity has significantly increased. As such, the rise in children's access to the internet has also increased the risk of predators contacting and grooming children online. ICAC Investigators have continued to make significant arrests of suspects who are soliciting children online and exchanging images and videos of child sexual abuse. One alarming trend during the COVID-19 pandemic is a rise in the number of arrests made of suspects who have been previously convicted for offenses involving the sexual abuse and exploitation of children, and who are currently registered as convicted sex offenders.
As the school year begins and remote learning continues, children will likely be given unprecedented access to the internet. Parents should closely monitor their children's online activity. Montgomery County District Attorney's Office encourages the following practices to support safe online behavior:
The District Attorney's Office will continue to support the proactive investigation of online predators and will aggressively prosecute defendants who attempt to victimize children online.
District Attorney Brett Ligon stated, "None of us would allow a child predator to walk through our front door, but by giving a child unmonitored access to the internet, we may be unintentionally doing the same thing. Predators getting to our kids through the internet is not a new thing, but with more children online, the danger has never been greater.  Our Office will continue to assist law enforcement in stopping these predators, and we ask that you all help us in this effort."
Source: Michael R. Holley, First Assistant District Attorney, Montgomery County District Attorney's Office