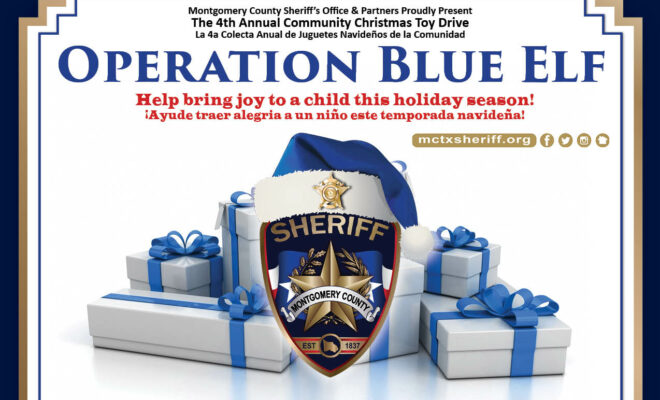 News
Donate toys to the 4th Annual Operation Blue Elf until December 6
By |
Montgomery County Sheriff Rand Henderson, The Montgomery County Sheriff's Office, and community partners are partnering for the 4th Annual Community Christmas Toy Drive, "Operation Blue Elf." Now, through December 6th, the Montgomery County Sheriff's Office (MSCO) is asking for your help to make Christmas better for our communities' children in need by donating new, unwrapped toys at one of our many drop off locations throughout Montgomery County. Community partners are working to identify children, infants to early teenagers that are in need of Santa and his Blue Elf helpers this year.
Thanks to community and business partners, Operation Blue Elf made Christmas brighter for over 1000 children last year. When it comes to showing that genuine Texas spirit, no place does it better than Montgomery County. Let's continue to show the rest of Texas how truly passionate and caring Montgomery County is. Santa and his Blue Elves need your help this year now more than ever due to COVID!
Thank you for your support, kindness, and Montgomery County style generosity! It only takes one toy donated from you to rekindle the Christmas spirit and to show we care and that they matter!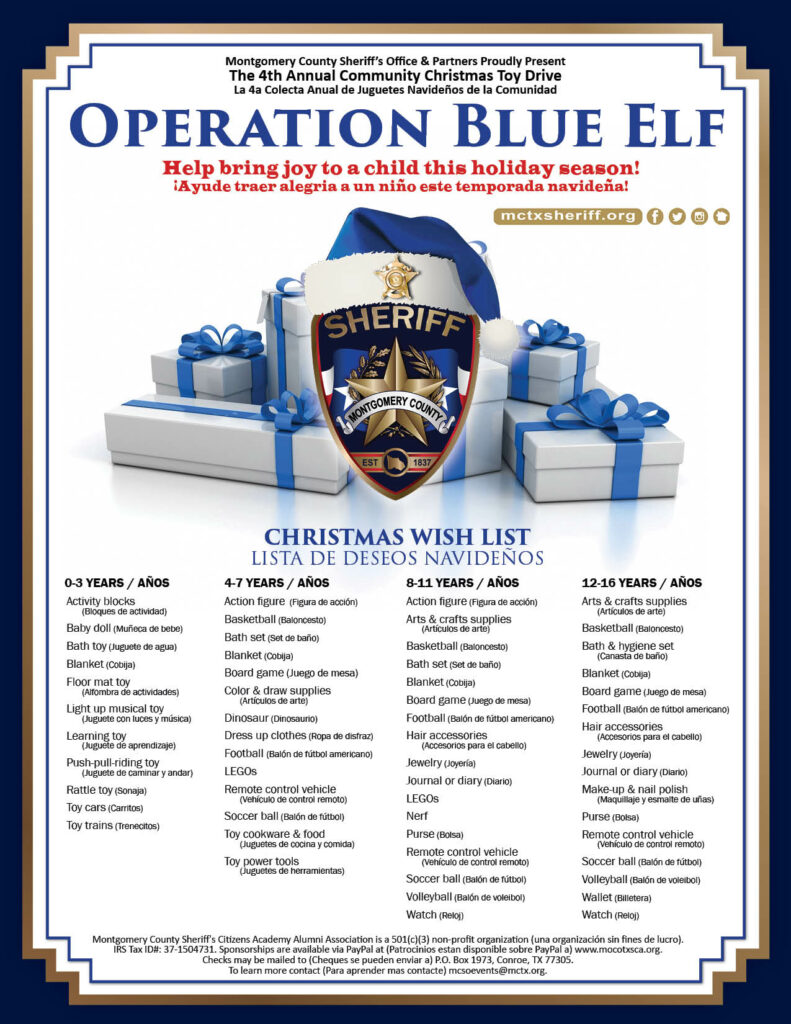 Why Operation Blue Elf?
#OpBlueElf2020 is LOCAL
Because we care about our community first and foremost, every present goes to a child who resides in Montgomery County, all nominated by their school counselors or churches.
#OpBlueElf2020 is CUSTOMIZED
We do all that we can to grant every child an item from their very own Christmas list…because, all children matter.
#OpBlueElf2020 delights in the Christmas SPIRIT
All gifts are handpicked, wrapped and opened at Santa's Wonderland….and there just might be some snow in Texas.
#OpBlueElf2020 GIVES BACK to our community
All donations come from local businesses and the community. MCSO Deputies and volunteers get to present gifts, play with the toys, and even show off some of their own toys!
#OpBlueElf2020 is THANKFUL for you
Without you, this could not be possible. Thank you Montgomery County!
These kids might not have a Christmas if it wasn't for your generous donations to Operation Blue Elf.

What can you do?
We know the holiday season is a busy time, especially for law enforcement, so we understand if you are unable to give up your time, but if you would like to contribute in some way, gift-giving is always a valuable choice. We have donation boxes set up in each district office as well as cash donation boxes. Any little bit helps and is appreciated. If you would prefer to make a charitable donation via PayPal you can do so by visiting www.operationblueelf.com
You can drop off this weekend at any of the Montgomery County Sheriff's Office stations. On Monday, MSCO will announce all of the drop off locations with our community partners.
Source: Montgomery County Sheriff's Office