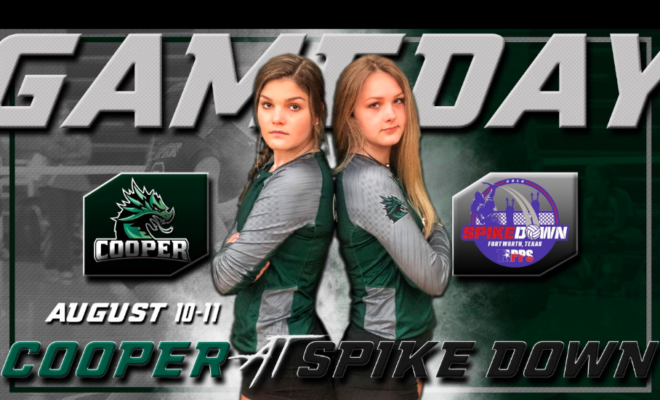 Fitness & Sports
Dragon Varsity Volleyball Starts Season Strong
By |
The Varsity Volleyball team at The John Cooper School finished fifth out of sixty-four teams at the TAPPS Spike Down Classic Tournament, Fort Worth, TX on August 10 and 11, 2018.
Coach Ray Hedden, Head Coach of Varsity Volleyball, shared, "Dragon varsity volleyball competed in the TAPPS (Texas Association of Private and Parochial Schools) Spike Down Classic, the biggest private school tournament in the nation. Last year the Dragons were the champions out of more than 30 teams. This year the tournament grew to 60+ teams and we finished in fifth place."
"We started Day 1 with pool play. We went 3-1 to win the pool that included, Tyler All Saints, Fort Worth All Saints, Fort Bend Christian and Midland Classical. Our only loss came to Ft Worth All Saints. After they dropped a match to Midlands Classical and split with Tyler All Saints, that opened the door for us to win the pool if we won our next two matches in straight sets. The team rose to the occasion and beat both teams in straight sets to advance to the platinum division (top). From there we played Woodlands Christian in Round 1. After beating Woodlands Christian, we played Hockaday. We lost in 3 and had to compete against Austin St Michaels for fifth place. This was a tough match as well, but the girls were able to win Sets 2 and 3 after dropping Set 1."
"I am excited and proud of how well the girls competed on such short practice time. They were very smart and scrappy, and simply outwilled a lot of teams to victory.  Every team we played was bigger than us, we just outplayed and outsmarted a lot of our opponents. We play with a very high volleyball IQ which allows us to get away with being the smaller team. I am looking forward to seeing improvement with more practice time."
Results from Pool Play are in! Dragons start out 3-1. #GoDragons @LSCSN @spcsports @HelloWoodlands @ConroeSports @WOLsports @VYPEPrivates @HoustonChronHS @JCS_Cheer @JCS_VolleyBall @AnnaClaireAdam1 @abbyyfrazier @3Rsports1 @woodlandsrev @Mattfrazier20 @TAPPSbiz @mia_loves_you99 pic.twitter.com/KdaUyBG61V

— Cooper Athletics (@JCS_Athletics) August 10, 2018
Pool Play
JCS vs Fort Bend–Win (21-11, 21-15)
JCS vs All Saints FW–Loss (15-21, 13-21)
JCS vs Midland Classical–Win (21-19, 21-18)
JCS vs All Saints Tyler– Win. (21-9, 21-13)
Championship Bracket
JCS vs Woodlands Christian–Win (25-22, 25-16)
JCS vs Hockaday–Loss (25-23, 23-25, 11-15)
JCS vs St. Michaels–Win (23-25, 25-22, 15-13)
Key Performances
Abby Frazier led the team both in kills and assists.
Lauren Harkness did a great job with setting.
Peyton Tague and Maddie Smith did well with their play at the net.
Hailey Huettel was great with key kills and blocks as well as energy on the court.
Anna Claire Adam played a great all around game with key kills and digs along with great passing.
Lisa Alexander led the team in digs.
Laura Weatherford was great in passing.
Next up for Dragon Volleyball:
Aug. 17-18 at CHSM Invitational Tournament
Aug. 21 at St. Agnes, 5:30 p.m.
Next up for Dragon Cross Country:
Aug. 24 Friday Night Lights at Bear Branch Sports Park, 6 p.m.
Sept. 1-2 hosting the Cooper Dragon Invitational at Burroughs Park
Next up for Dragon Football:
Aug. 17 vs. Fort Bend Christian Academy, 7 p.m. scrimmage
Aug. 24 at Second Baptist, 7 p.m. scrimmage
Aug. 31 vs. Frassati Catholic, 7 p.m.
Upcoming Varsity Sports at The John Cooper School:
Friday, August 17
7 p.m. Varsity Football vs. Fort Bend Christian Academy (scrimmage)
Learn more about Dragon Athletics and get more news and updates online at https://www.johncooper.org/Page/Athletics/News–Scores.