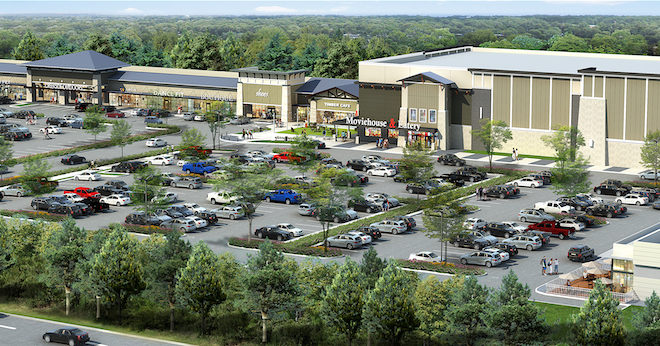 News
First Moviehouse and Dine-In Theater to open in Creekside Park
By |
THE WOODLANDS, TX – The Howard Hughes Corporation®, announced today that Moviehouse & Eatery® will open its first Houston location at Creekside Park® Village Center in The Woodlands®. The luxury, dine-in theater will be located in a new 12-acre retail development, Creekside Park West, within the center, developed by The Howard Hughes Corporation.
Moviehouse & Eatery will include 11 wall-to-wall screens, full-service food and beverage service at every luxury reserved recliner, a full bar and a scratch kitchen. The Moviehouse & Eatery will anchor the initial phase of the retail development, making Creekside Park the first village in The Woodlands with its own theater.
"Creekside Park West within the Village Center is going to be a wonderful addition to The Woodlands community, and we are excited to join as an anchor tenant," said Chance Robertson, EVP of Moviehouse & Eatery. "We feel truly fortunate to be a part of The Woodlands community and feel that Creekside Park Village Center is the perfect setting for Moviehouse to branch out into this new market. We look forward to showing our guests a great dine-in moviegoing experience combining our scratch kitchen and bar along with the latest and greatest in cinema offerings."
Along with the approximately 42,370-square-foot movie theater, Creekside Park will include new retailers, restaurants with outdoor patios and a gathering courtyard, complete with outdoor fountain seating. Creekside Park West will feature a Craftsman-style architectural design in keeping with the theme prevalent in the Village of Creekside Park.
"The Howard Hughes Corporation is extremely excited to deliver Moviehouse & Eatery for the enjoyment of our residents and visitors. A comprehensive search went into the selection of Moviehouse & Eatery, and they will be a complementary fit to Creekside Park Village Center," said Rip Reynolds, Vice President, Leasing & Commercial Land for The Howard Hughes Corporation. "Creekside Park Village Center is designed to create a unique community feeling, within a walkable setting, surrounded by amenities, shopping and dining. Residents can enjoy a community event at the center's focal point, Creekside Park Village Green, and in the near future, enjoy a leisurely stroll to take in a movie at the theater."
The development will be located on Kuykendahl Road between Creekside Forest Drive and West Harmony Place. An extended forest preserve and attractive stone wall will be placed between the development and nearby residences. Construction will begin in December of 2018 with completion slated for winter 2019.
"The Howard Hughes Corporation has increased forest preserves and building setbacks beyond the Commercial Planning & Design Standards," said Robert Heineman, Vice President, Planning & Design for The Howard Hughes Corporation. "In keeping with the vision of George Mitchell, founder of The Woodlands, Creekside Park Village Center is designed to offer community-oriented amenities for the whole family to enjoy, surrounded by a variety of housing choices."
Rip Reynolds from The Howard Hughes Corporation represented the corporation while Chris Reyes from SHOP Companies represented Moviehouse & Eatery.
For more information about Moviehouse & Eatery visit www.TheMoviehouse.com/Houston. For more information, visit www.TheWoodlands.com or follow on Facebook, Twitter, Instagram and LinkedIn.