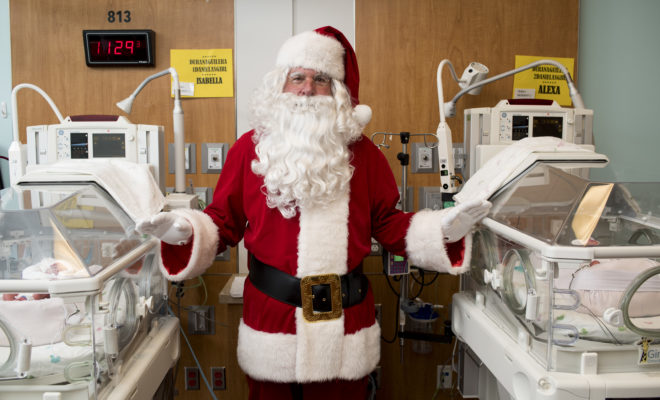 Lifestyle
Santa Visits NICU Patients and Families at Two Texas Children's Hospitals
By |
HOUSTON, TX – Patients and their families in the neonatal intensive care unit (NICU) at Texas Children's Pavilion for Women and Texas Children's Newborn Center in Houston received a special visit from Santa Claus this week. Texas Children's Hospital houses the nation's largest NICU and provides level IV care, the highest level available for premature and critically-ill newborns.
Bringing some holiday spirit to families whose babies are in the NICU this time of year, the visit was hosted by the hospital's Newborn Center Family Advisory Committee and First Memories Texas, a volunteer organization dedicated to helping families whose infants are in the NICU and Cardiovascular Intensive Care Unit (CVICU) at Texas Children's celebrate, honor and tell their children's stories through photography and album-making.
Santa Claus has a personal connection to Texas Children's – his own grandson spent over 100 days in the NICU when he was born. Below are photos and video from the visit, which includes interviews with two mothers reflecting on spending the holidays in the hospital with their babies.