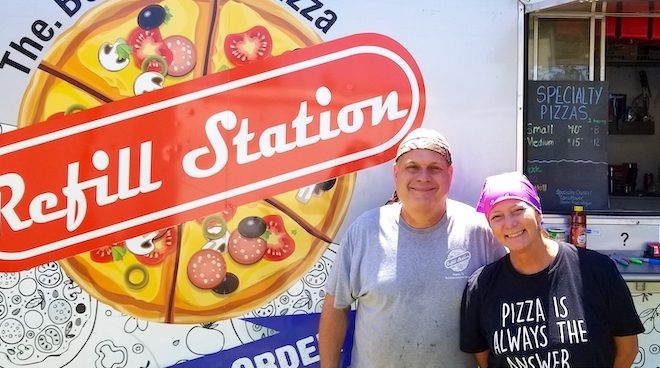 Photo by Nick Rama
Food & Drink
Food Truck of the Month: Refill Station
By |
Three years ago two friends, Mike Haseltine and Sharon Rightmer, decided to open a pizza shop on wheels and they haven't looked back. Serving up high quality ingredients and freshly made hand tossed pizza dough all made from within a food truck. The two long time residents of Montgomery County loved the idea of taking their business on wheels from event to event and popping up at local area breweries. Mike and Sharon love having new views and new guests to serve, and they love turning those guests from first timers into regular patrons.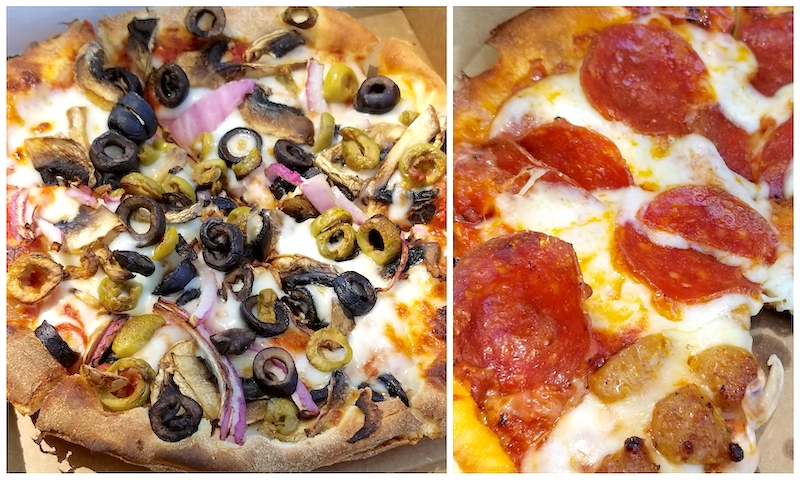 Weather it's a create-your-own custom pizza or one of their ever popular and original creations like a Chili Dog Pizza (a beef and bean chili base, topped with diced dogs, cheese, onion, and jalapeño, topped with a Sriracha ketchup drizzle), you're definitely in for a great, and great service with smile. Refill Station also caters events and has even done late night bites at weddings.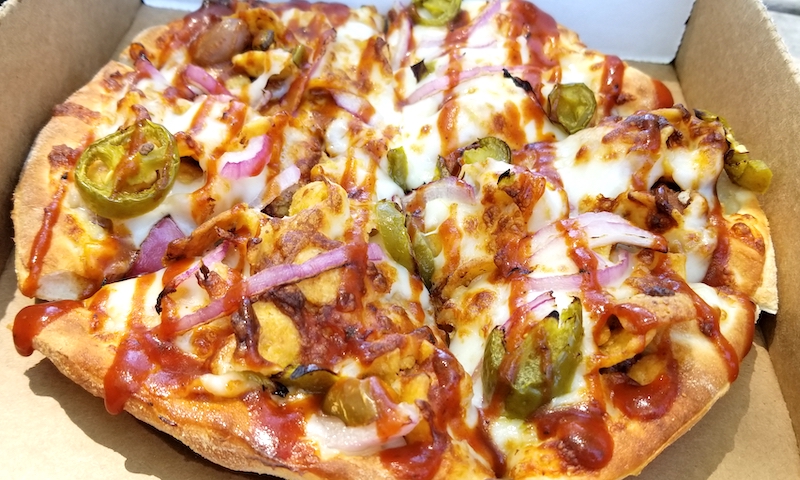 More highlights from their menu include:
Specialty
Frito Pie Pizza – Beef and bean chili, Fritos, cheese, onion, jalapeño.
Pickle Pizza – Homemade roasted garlic base. Salami, grilled chicken, cheese, dill pickle chips. Topped with a drizzle of Louisiana ranch.
Muffuletta Pizza – Homemade Olive salad, pepperoni, salami, ham, cheese and a drizzle of Louisiana ranch.
Refill Special – Pepperoni, beef, sausage, mushroom, onion, bell pepper, black olive.
Road Kill – Pepperoni, beef, bacon, ham, pork sausage, Italian sausage
Herbivore – Mushroom, onion, bell pepper, black and green olive.
Dessert Pizza
S'more pizza – Nutella, chocolate chips, cinnamon toast cereal, marshmallows. Topped with a white chocolate drizzle.
Betty pizza – Cinnamon apple filling, topped with Brown sugar, oatmeal and butter. Topped with a white chocolate drizzle.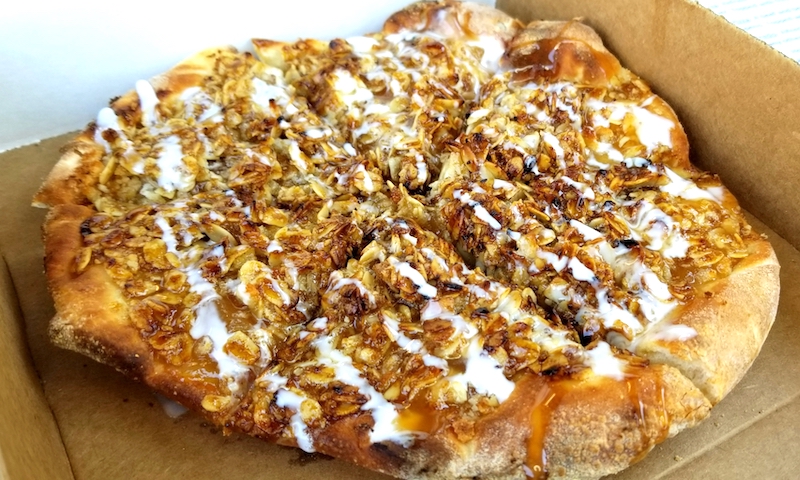 Refill Station has been known to be at Back Pew Brewing in Porter, B-52 Brewing Company in Conroe, Southern Star, and other area breweries on a fairly regular basis. You can also follow them on their Facebook page to find their next stop.
THE INTERVIEW
Where did the name Refill Station come from?
"While we thought about coming in to get your tummy refilled, we also considered that this daunting task of starting a food truck would be refilling a hole in our lives that needed filled. So while we love filling customers needs, It is also a journey of satisfying our needs as well."

Mike
What made you open a pizza food truck?
"Before we opened, we had seen a few food trucks around Houston. Mike was at a point of possibly opening a second shop at that time, and we both were ready for a change in our lives. We visited quite a few trucks, and a decision was made that we wanted to move forward as a mobile unit."

Sharon
Where did you learn the art of pizza making?
"I have been cooking my whole life and have loved it. I decided to start a pizza place because of a need in my community for a restaurant that could feed the everyday folks.. Most of my learning has come through trial and error. As well as a gnashing drive to put out the best pizza that I can. If I am not satisfied with it, I won't sell it. They say that cooking, and thus feeding people, is a way to make people happy. The satisfaction of making someone's day by providing a satisfying meal is a great honor."

Mike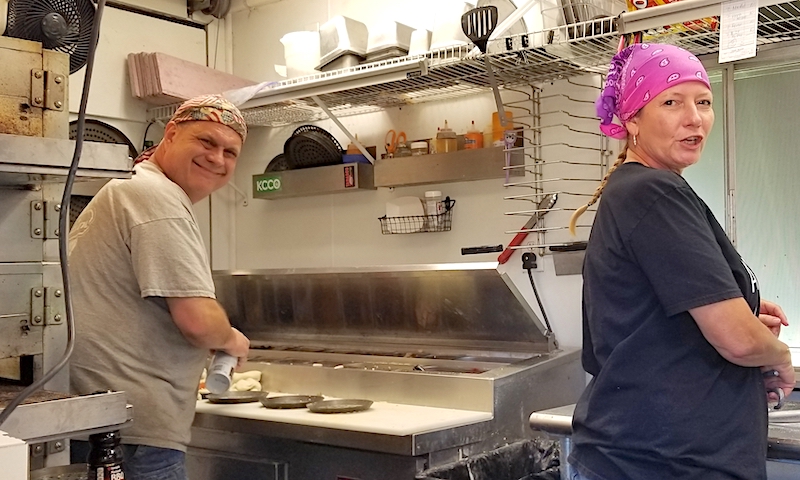 What should someone expect for their first time to Refill Station?
"First of all, I will make it as painless as possible, I might try to convince you to add jalapeños to your pie, or try something you've never had before. Our customers are as important to us as the food we prepare, we enjoy talking to each and every one, and if you aren't smiling when you get there, I will do all I can to put a smile on your face. It is our hope that you will remember the experience with us as a pleasant experience, we hope you will come again, and we hope you are able to try something new that you won't soon forget!"

Sharon
What big events has Refill Station been part of?
"We have been fortunate to be invited to many events in the Houston area, we work as many Inspire Production events we can fit into our calendar, we've worked Mardi Gras in Galveston, and a few local artists events and concerts."

Mike
What are your most popular menu items?
"Our S'more dessert pizza is our most popular, quickly followed by all of the rest. We are often asked this question, but honestly, we have a variety that includes something for everyone, and that makes each one popular depending on the crowd we are serving. Currently, our gluten free and cauliflower crusts are very popular, and after trying several variations and using many test subjects, our newest menu items were added recently. You have got to try the pickle pizza if you like pickles at all, as well as our muffuletta if olives are your passion. Each have in house ingredients you will not find anywhere else. Our BBQ Chicken, Herbivore, Refill, and Roadkill are always popular."

Sharon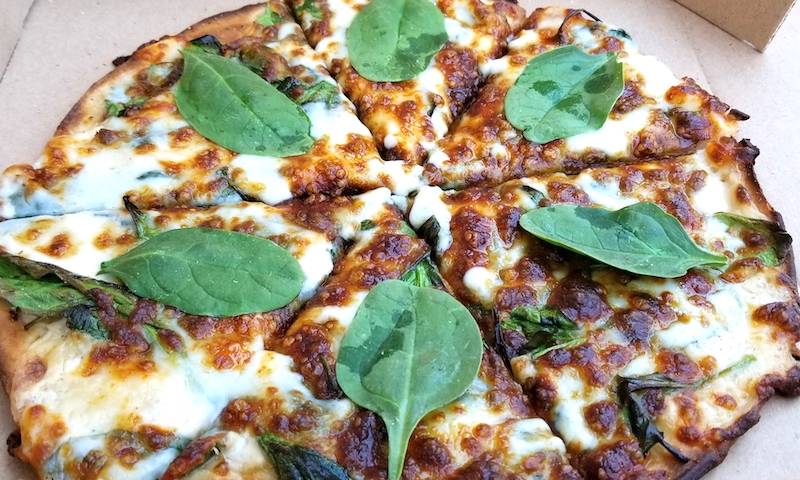 What sets your Pizza apart from the rest?
"The saying of "better ingredients is better pizza" is definitely true. That's why we are definitely not the cheapest pizza. However this gets back to the fact that I can't send something out unless I am proud of it, and am happy to serve it to a customer. This takes care in choosing ingredients, pride in the composition of the product, and the best presentation possible. All in a timely fashion. I don't remember who said it… "it's not fast food. Its good food as fast as we can make it"

Mike
What is the next step for Refill Station… Brick and Mortar? Franchise?
We considered a second unit, but with that comes double the challenges we already face. We do have a few things we are working on to continue our growth, that we will happily announce when finalized, but they do not include a Brick and Mortar nor Franchise.

Sharon
What are some of the challenges of making pizzas on a food truck?
"It's as hot as an oven in the summer, cold as a freezer in the winter. Equipment doesn't like bouncing around the roads. Mainly maintenance issues that occur when your place of business moves a couple of times a day!"

Mike
What drives you?
"Every day when we leave for a job, we are happy. Every single day we have a different view from our 'office'. Every single day we touch lives. We love the interaction with every single one of our customers, they are the reason we do this. Our hearts smile when they leave us with a smile on their faces that wasn't there before. The gravy is when the customer makes a point of returning, to let us know how much they enjoyed the meal. We have an opportunity to be a positive force in lives, every single day, and THAT is our heartbeat."

Sharon
Five words to describe Refill Station?
You're gonna enjoy the experience!

Sharon
Learn more about Refill Station by visiting their website athttps://refillstation.us/ and Facebook page at https://www.facebook.com/Refillstation2016/
Nick Rama is a food writer, contributor of Hello Woodlands, and shares his restaurant experiences on Nick's Local Eats at NicksLocalEats.com and the Q Up The Burgers Facebook page. Nick enjoys helping the small business owner, supporting his community with fundraising for food banks, and plans tasting events with locally owned mom and pop restaurants.