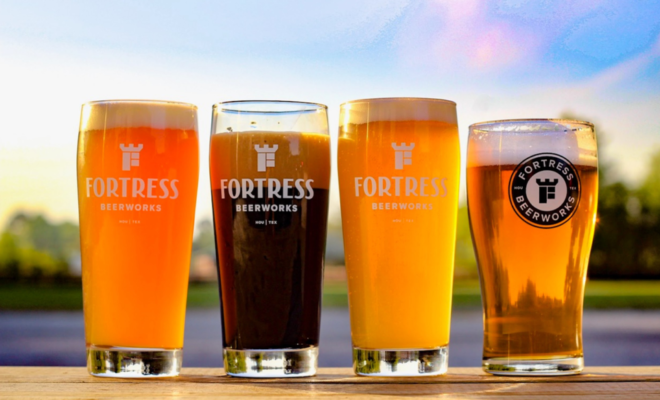 Photo by Randy Burton
Food & Drink
Fortress BeerWorks now open in Spring
By |
Fortress BeerWorks, a family-friendly craft brewery, is now open and in its soft opening stage as of Thursday night, March 21, 2019.
Run by four friends who met at their day job, they together decided to open the first brewery in Spring, Texas. The tap room and brewery is a 6,620-square-foot space at 2606 Spring Cypress Road in Spring, about 1.5 miles west of Interstate 45 North and less than a mile south of the Grand Parkway. Partners Robert Fleming, John O'Hara, Shawn Stasiuk, and Dion Billard, all beer aficionados, are excited to start sharing their love of brewing with the community.
The taproom seats 90 people, has a long bar area with roll up doors and an outside area with picnic tables that seats another 50. From the bar  and outside area, one can see all the tanks where the magic happens to make all of their brews. Fortress BeerWorks is also family and pet friendly.
Houston and surrounding areas has over 50 breweries, so Fortress Beerworks is a big welcome to the beer loving area. Fortress Beerworks will start operating for now Thursday – Saturday with rotating food trucks for hungry visitors to their spacious taproom. Already on their schedule is Rollin' Local, Twisted Catfish, Ray's Texas Smoke Barbecue, Cafe Dala and Jamaican Pondi Rd Food Truck.
Head brewer Dion will be serving a Double India Pale Ale, Blonde Ale, Witbier and the brewery's signature Smash IPA along with seasonal and specialty releases throughout the year. Fortress offers growlers of beer, and may also enter the 16-ounce can sale arena in the future.
Fortress recently had their "Grand Opening-ish" party on April 13th with live music by the Christopher Crow Band, Axe Throwing with Epic Axe, Cafe Dala food truck and fun and fit parties to entertain the kids. Currently Fortress Beerworks is open Thursday – Sunday. For more information on their operating times, visit the Fortress Beerworks Facebook page.
THE INTERVIEW
Where did the name Fortress Beerworks come from?
Robert: "Our name took quite a bit of time and effort as we went through several options along the way.  We started as Crazy Monk Brewing which we all liked and had a really cool logo designed out of Romania.  However, over time we decided we didn't want our brand or beer to specific and looked for other alternatives.  We also like Cicada Brewing but some folks to the North already had the name and rightfully so wanted to keep it.  It's a great name for a Brew Pub and we wish them the best."

"Four of us sat down one day brainstorming on names and got to talking around the 4 big trees by the 4 big garage doors to our Brew Pub.  So we thought maybe Four Trees. Further discussion lead to one of our guys liking to ski at a mountain in Alberta, Canada called Fortress Mountain.  That had a good ring to it and Fortress Beerworks stuck and we haven't looked back."
Where did you learn the craft of making beer?
Dion: "You could say I was introduced at a very young age through my mother, who brewed very basic extract beer in 5-gal pails. I started doing the same during college (early 20's). I was on and off again through most of my early professional years. After moving to Texas in 2010 and meeting a coworker who was an avid brewer, I decided to get back to something I love to do…. Brew Beer. This time, full steam, all-grain brewing. I quickly built my own 20-gal HERMS system (Heat Exchange Recirculating Mash System), and control panel, which I can control from my phone. I then started brewing nearly every weekend. Starting off with simple, ready to go kits, quickly modifying and building out my own recipes. The results got better and better with time, and experience.  My Garage turned into a common hangout for friends, Family and the neighborhood to enjoy cold beer and their input helped me improve by each batch."
Who designed your logo?
John: "We used an amazing design company out of Austin, Texas – Steven Wolfe Designs.  From the first call to collaborating on the logo it was a phenomenal experience."
Why did you decide to bring in food trucks, instead of having your own kitchen on site?
Shawn: "We liked the idea of having a mix of food to bring to our customers as they know the food business well and many have a loyal customer following.  We wanted our focus on the craft beer and build relationships with the food truck vendors so we both have a win win relationship."
Why did you decide to open a brewery in Spring, TX?
Robert: "We felt a Craft Brew Pub in this area was needed and compliment the other great establishments in the area including but not limited to Tapped, Thistle Draft Shop, Bearded Fox, 11 Below, Fire Ant and Southern Yankee Brew Company, etc. We also looked at 20+ locations before finding this gem of a location which we all knew was a keeper as soon as we pulled up through the gates."
What is the most difficult aspect of brewing beer?
Dion: "Finding time! Once we started our family, time became a more precious commodity, thus less time for brewing. I managed to squeeze it in when possible thanks to my caring and understanding wife that knew brewing was something I love to do.  She has an amazing talent for writing and music so we support each other so we both can enjoy our passions."
What was your inspiration of the design of the taproom?
John: "We wanted to have a taproom that gave us plenty of space, had a large bar area that allowed for seating, and to have a rustic feel that matched our secluded-type, country feel environment."
Do you have plans to make the green space more kid friendly?
Shawn: "Making our place Family/kid friendly was a key component of our location.  The green space is a great place for kids to do what they do….have fun.  We already have fenced in an area so that kids can have a safe place to play and plan on adding some kid friendly things to that area."
Why bring Nitro Coffee to a brewery?
Robert: "We haven't yet but it is in discussions for the future.  We would like to and the feedback when we mention it is always positive. But not everyone drinks beer and we want to cater to everyone in the family unit, or individuals, hence the Root Beer, Wine, and Cider options as well and the craft beer. Coffee would be a nice addition… plus, we also like it!"
What do you have lined up for some limited edition/seasonal beer releases?
Dion: "To start, our original focus is to have 4 quality anchor beers to open the doors to our customers.  We feel we have done that and are just making minor tweaks to our first 4 beers.  We do have plans on limited edition etc. and currently looking to locate some barrels for some barrel aged beer.  As our Brewer I have a lot of recipes that I have designed over the years and we plan to add some as we get a bit farther along."
Does Fortress Beerworks plan to have more live music or special or events?
John: "Yes, we do plan on and have had live music a few times since opening.  Our location has a good set up for this and so far our customers response has been very good.  We are also getting lots of request for special events so please stay tuned to our social media Instagram and Facebook feeds.  Our website is also under construction and hope to have online very soon."
Working with close friends, easy or difficult?
Shawn: "Overall working with close friends has worked out very well.  We all have our strengths and weaknesses and we all know each other well enough to know what they are.  So we ensure we utilize everyone's strengths for the best of our customers and the company.  We are all learning from each other and hopefully we can pick up each other's good habits and not the bad ones. (laughs)"
What is everyone's favorite beer at the brewery? Where do you like to drink beer when you're not drinking Fortress Beerworks beers?
Robert: "Battering Ram IPA is the one for me!  There are so many good local breweries…but if I have to pick one favorite its 11 Below's Hipster Sauce.  There is always a case in my personal fridge."

Dion: "I like them all. My normal go-to is the Watchtower Wit. I have a lot of favorite craft beer and tend to lean towards the Hazy NEIPA style beer. Houston Haze from Spindle Tap is a favorite. I also like Voodoo Ranger Juicy IPA by New Belgium. We are looking at brewing our first Hazy IPA very soon."

John: "I like all our Fortress beers, no way to pick just one.  I tend to drink Hipster Sauce from 11 Below, Yellow Rose from Lone Pint, and just about anything from Brash."

Shawn: "I really like our Fortress Blonde and Battering Ram IPA.  Other favorites are 10 Barrell Brewing Co – Cucumber Sour, New Belgium – La Foli – Sour Brown Ale, and Oyster Stout from Dandy Brewing Company in Calgary…..oh and almost forgot…Plainbreaker Pail Wheat Ale from Banded Peak.  I'm working it hard for us to brew an Oyster Stout!"
5 Words to describe Fortress Beerworks?
Robert: "Local, Friendly, Variety, Immaculate, Cool."
Learn more about Fortress Beerworks located at 2606 Spring Cypress Rd, Spring, TX 77388 by visiting their Facebook page at Facebook.com/fortressbeerworks/.
Nick Rama is a food writer, contributor of Hello Woodlands, and shares his restaurant experiences on Nick's Local Eats at NicksLocalEats.com and the Q Up The Burgers Facebook page. Nick enjoys helping the small business owner, supporting his community with fundraising for food banks, and plans tasting events with locally owned mom and pop restaurants.