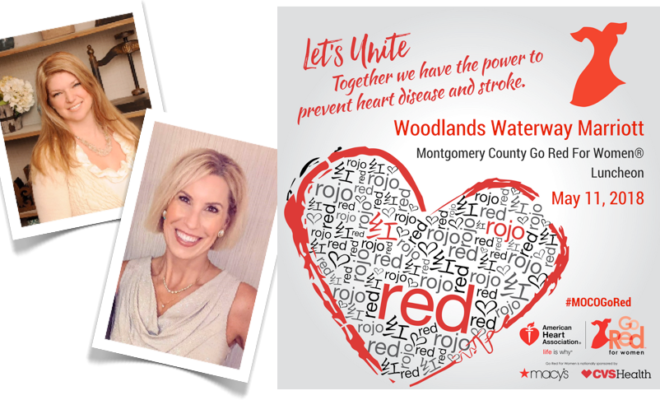 Events
Go Red For Women Luncheon set for May 11
By |
THE WOODLANDS, TX —  The American Heart Association's Montgomery County Go Red For Women® Luncheon is set to welcome 900 dressed-in-red guests to this year's highly anticipated event on Friday, May 11, at The Woodlands Waterway Marriott.
"Last year, the Montgomery County Go Red For Women® Luncheon was recognized as the fourth largest in the country," said Kelsey Casey, senior director of development for the AHA.  "The Montgomery County community and its leaders continue to prove themselves when it comes to promoting better heart health and philanthropically supporting what matters most."
AHA has chosen Market Street, a mixed-use town center featuring retail, hotel, restaurant, cinema, and office venue, as the 2018 event honoree for its continued commitment and dedication to the Montgomery County community. "We are grateful to have been selected by the American Heart Association for this honor and look forward to many more opportunities to partner with them in the future," said Market Street General Manager, Jenny Taylor. "We have learned through our involvement with the AHA that educating our community is the key to saving lives in the event of an emergency, which is why it is so important that we help provide those lifesaving tools through awareness events."
Why Go Red? As the No. 1 killer of women – claiming the lives of one in three women – cardiovascular diseases affect women of all ages, races and ethnicities. While cardiovascular diseases kill nearly 1 woman every 80 seconds, 80 percent of these cases may be prevented with education and action, research shows.
This year, the luncheon is chaired by Tiffany MacPherson with The Mike Seder Group RE/MAX The Woodlands and Spring. "As someone who has been personally affected by heart disease, I am very passionate about making a difference and helping those in and around my community with this disease. I believe wholeheartedly that the prevention of heart disease starts with maintaining a healthy lifestyle, good eating habits, and an exercise regimen.  The Go Red Movement has personally influenced me to make changes in my own life and being a part of sharing that message with our community is something I am proud to do. I am enthusiastic about raising awareness and helping AHA with a successful event in May."
The American Heart Association and its national sponsors Macy's and CVS Health support this year's campaign, along with top local sponsors Tiffany MacPherson, Gemini Midstream, Devin Greer & Andrew Snyder with Northwestern Mutual, Houston Methodist The Woodlands Hospital, Memorial Hermann The Woodlands Medical Center, Northside Imports Houston, Shirley & Ralph Alexander and U.S. Anesthesia Partners.  ABC13 reporter Erica Simon will emcee the event.
Each year at the luncheon, AHA volunteers highlight the story of a survivor, helping to bring awareness to the seriousness of heart disease. This year, Carla McDaniel, who was born with a congenital heart defect and had her first heart surgery at age four, will share her story as the Open Your Heart honoree. "I live a life filled with the love of my family, a strong passion for fitness, and working with rescue animals, but I carry the fear of wondering each day if something will happen with my heart," she said. "It's only a matter of time until I need another surgery."
Cardiovascular disease, listed as the underlying cause of death, accounts for nearly 801,000 deaths in the US. That's about 1 of every 3 deaths in the US.  About 2,200 Americans die of cardiovascular disease each day, an average of 1 death every 40 seconds.  Cardiovascular diseases claim more lives each year than all forms of cancer and Chronic Lower Respiratory Disease combined.   About 92.1 million American adults are living with some form of cardiovascular disease or the after-effects of stroke.
Tables are going fast for the upcoming luncheon. Individual ticket sales will be available starting April 11 for $300.  For more information, contact Kelsey.Casey@heart.org or visit montgomerycountygored.heart.org.