Art & Culture
Greater Conroe Arts Festival Entertains all at Free Event March 19 in Conroe
By |
CONROE, TX – The Greater Conroe Arts Festival, presented by the Greater Conroe Arts Alliance, is a collaborative nonprofit organization whose mission is to actively promote and support the arts and cultural organizations and events throughout the Greater Conroe area. The one-day FREE event is Saturday, March 19 from 10:00 am until 5:00 pm at Founder's Plaza Park in Downtown Conroe with live performances from both members of the organization and many special guests to entertain and bring interactive activities for everyone.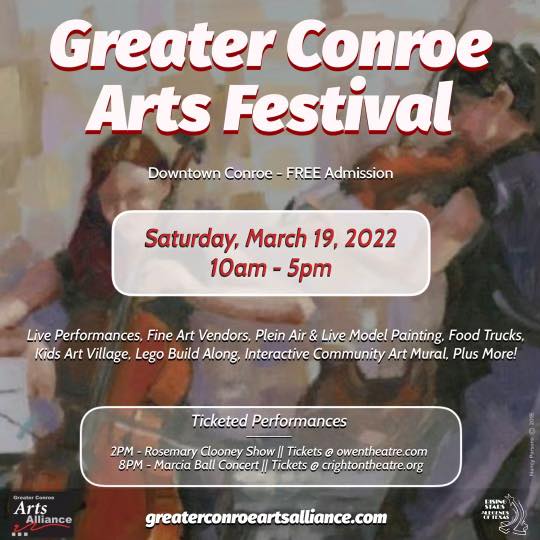 The Greater Conroe Arts Alliance represents 18 organizations in the Conroe area: Christian Youth Theatre, Conroe Art League, Conroe Live, Conroe Symphony Orchestra, Crighton Theatre Foundation, Friends of the Flag Foundation, Heritage Museum of Montgomery County, Indie Films Foundation, Jazz Connection, Montgomery County Choral Society, Montgomery County Genealogical and Historical Society, Montgomery County Historical Commission, Montgomery County Literary Arts Council, The Players Theatre Company, Stage Right of Texas, The Art of Music Studio, The Woodlands Show Chorus, and the Young Texas Artists Music Competition.
The family event will have performances from member organizations including the Conroe Symphony Orchestra ensemble, the Conroe Art League, Jazz Connection, Indie Film Foundation, and the Art of Music Studio. The community is invited to participate in a kid's art mural, a Kid's Art Village, a pottery making activity, the Music Petting Zoo with the Art of Music Studio, photos with Anna and Elsa from Frozen with Christian Youth Theatre, and to help to build a giant Lego sculpture with Lego Build-a-Long. The Main Street Market in the Jury Parking Lot will be open during the entire time of the festival until 5:00 pm.
There are two ticketed events as part of the Greater Conroe Arts Festival: "Tenderly, the Rosemary Clooney Story" and Marcia Ball. "Tenderly, the Rosemary Clooney Musical" will be at the Owen Theatre at 2:00 pm during the festival hosted by The Players Theatre Company. Tickets can be purchased online at www.OwenTheatre.com.
The second ticketed performance for the festival will be legendary Texas-born, Louisiana-raised pianist, songwriter, and R&B vocalist Marcia Ball at 8:00 pm Saturday, March 19 at the Crighton Theatre. This concert has been postponed since 2020 has limited tickets are available. Get your ticket for this highly sought-after performance online at www.CrightonTheatre.org or calling the theatre 3:00 pm-6:00 pm weekdays at (936) 441-7469.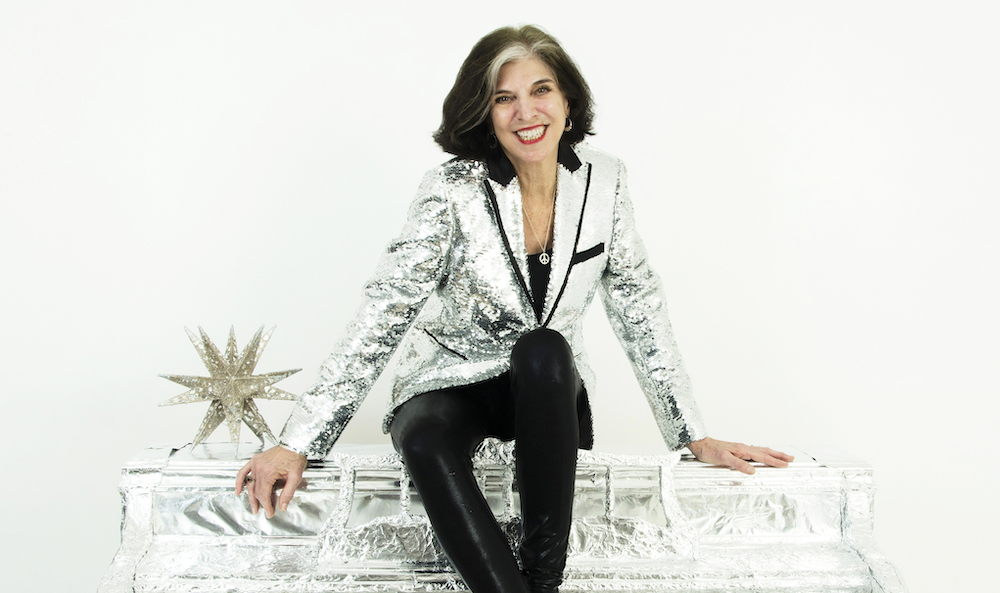 Highlighted Participants:
The CAL National Art Show at the Conroe Art League Madeley Gallery- 127 Simonton, Conroe
Poetry by Lupe Mendez, the 2022 Texas State Poet Laureate Winner 4:00pm at CAL Gallery
Live performances on stage all day at Founders Plaza with the Conroe Symphony Orchestra Ensemble, Jazz Connection, The Art of Music Studio, Indie Films Foundation and Guitarist Sean Chilson
Art Vendors
Heritage Museum displays and activities
Community Participation Art Mural – Paint with award winning Artist Vickie Hayes
Live Model painting with Award winning artists Juan Cantavella, Susan Hotard, Hilda Lockley, Lenore Prudhomme, and Hannah Wu
Live Model Painting & Tent Gallery with Art for sale
Live painted scenes during the festival with Award winning Plein Air Artists Nancy Paris Pruden and Impressionist Painter Fran Ellisor
Silent Auction with Art Painted at the Festival
Pottery Demonstrations with Artist Carol Berger
Pottery Bowl making activity with Artist Carol Roach at the Kid's Art Village
Kids Art take home project with Rebekah Billings
Kid's 8 ft. x 4 ft Art Mural
Music petting zoo with The Art of Music Studio
Lego Build-a-Long
Pictures with Anna & Elsa from Frozen with Christian Youth Theater
Street Chalk Artists- Sylvia Blanco, Claudia Cepeda & Elizabeth Umanzor
Photography Contest from the Festival with Indie Films Foundation
Raffle
Main Street Market
Food Trucks
"The Greater Conroe Arts Festival on Saturday, March 19th is an exciting event for the entire family in one location all day shining the light on many talented individuals and organizations in our community", said Judi Lanza, President of the Greater Conroe Arts Alliance. "We have amazing Visual and Performing Artists participating from Conroe, Montgomery County and Texas! Join us for the event during the day and stay for the event at the Crighton Theatre that night. You will leave with a smile and a love for the Conroe Artistic and Performing Community."
Learn more about Greater Conroe Arts Alliance by visiting their website at www.GreaterConroeArtsAlliance.com or follow them on Facebook at www.Facebook.com/GreaterConroeArtsAlliance.