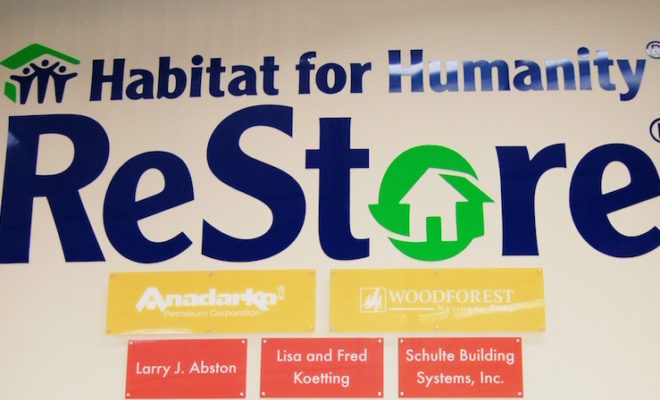 News
Habitat for Humanity unveils Donor Wall at "ReStore" Resale Shop
By |
Montgomery County, Texas (Oct 10, 2017) Habitat for Humanity of Montgomery County, TX recently hosted a reception to unveil the new donor wall featured at its ReStore home improvement resale shop. The wall showcases colorful plaques with the names of the generous donors who have supported the new and expanded non-profit home improvement resale store and donation center.  Officially named "ReStore at the Woodforest Center" the new facility opened in February of 2016 at 9407 S.H. 242 in Conroe, approximately one and a half miles east from I-45, near The Woodlands.
During the reception, Habitat for Humanity of Montgomery County's executive director Barbara Smith said, "We are so grateful for the commitment and vision of these individuals and organizations that has allowed us to construct a brand new ReStore at a prime location. Since its opening, ReStore has successfully generated important sustainable funding which in turn enhances Habitat for Humanity's ability to build strong and safe homes and provide families with a life changing opportunity. We are extremely thankful for our donors."
The donors recognized on the wall include: Pacesetters -Anadarko Petroleum Company and Woodforest National Bank; Cornerstone – Larry J. Abston, Lisa and Fred Koetting, Schulte Building Systems, Inc., Strike, Allison and Michael Wortley; Benefactor – Barbara and Stephen Crain, Megan and Cole Pate, SLI Group, Inc.; Patron – Colleen and Stephen Brown, Patricia and Travis Brown, Nikki and Eric Hird, Gail and Chris Osborne Family, Waste Management; Friends – Cyndi and Ron Brandt, Chevron Corporation, ConocoPhillips, Dominion Foundation, Duferco Steel, Huntsman, Suzanne and Dennis Millet, Brenda and John Mizell, Diane and Hal Novak, Sharon and Steven Primeau, Revenew International, In Memory of Tammy Roberts, Barbara and Michael Smith, Wells Fargo Bank.
The HabitatMCTX ReStore sells new and gently-used furniture, home accessories, building materials, appliances and more to the public at a fraction of the retail price. The ReStore concept reduces sub-standard housing, helps improve living conditions, and is environmentally friendly by re-purposing items for reuse and recycling. Proceeds from the sale of donated items are used by HabitatMCTX towards its mission of bringing people together to build homes, communities and hope.  Through Habitat for Humanity, a faith-based nonprofit ministry, they are offered hope for a better future through a self-help solution. In an effort to facilitate decent, affordable homes in partnership with those in need, Habitat for Humanity provides permanent housing solutions to very low-income working families, helping them to become homeowners and break the cycle of poverty.  www.HabitatMCTX.org