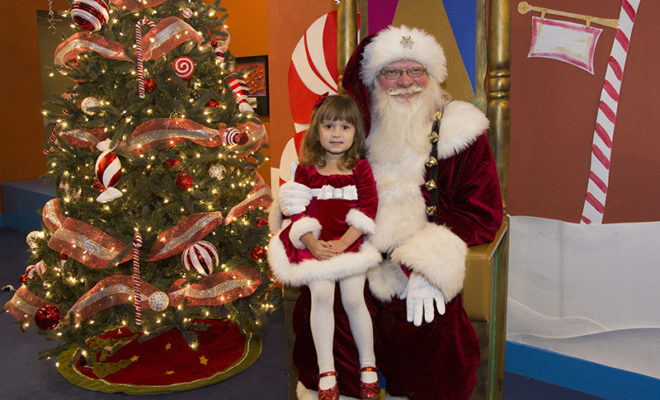 Art & Culture
Holiday Celebrations Around Town
By |
Get into the holiday spirit with these plays, musicals, festivals, special performances, and time with Santa! There's something for everyone and plenty of family friendly events.
December 1 – January 6 – The Enchanted Forest – The Enchanted Forest is a multi-sensory light, dance and theatre installation at the Glade Arts Foundation that invites audiences to experience a magical winter forest in and around the Glade Arts Foundation building on Woodlands Parkway. Inspired by the book The Fox and The Star by Coralie Bickford-Smith, it tells a story of timeless friendship and the magic of nature. Audiences will move through the indoor-outdoor installation as they encounter an enchanting, interactive world of lights, acrobatics and dance. The experience is family-friendly and welcomes audiences of all ages. It is wheelchair accessible and offer some sensory-friendly performances.
December 7 – Market Street 12 Days of Christmas Celebrations – Boni's Dance studio will perform excerpts from Swan Lake near the Christmas tree at Market Street. Catch the dance performance from 6:00 – 7:00 pm.
December 7-9 – Tomball German Festival Christmas Market – There will be over 200 vendors, live music, entertainment, food and drinks for the family. The Market will also have a petting zoo, carnival and pony rides. Admission, parking and shuttle are free.
December 8 – Santa Social with a Peppermint Twist – Mingle the morning away while meeting Santa for a photo and enjoying a light breakfast, experiencing an imaginary journey to the North Pole, delighting in discoveries during a scavenger hunt with Santa's elves, and decorating Gingerbread Houses with Mrs. Claus. Be amazed by LeTheatre de Marionette's performance of Peppermint Twist. Create holiday art projects and more. Reservations required. Recommended for ages 7 and under.
December 8 & 9 – Come Let Us Adore Him: The Christmas Musical – Discover the wonder of Christmas through the beautiful music of The Woodlands UMC Chancel Choir and Sanctuary Orchestra. Join us in the Main Sanctuary either night and prepare your heart for Christmas.
December 9 – 4th Annual Christmas in The Woods – The event is open to the public, and everyone is encouraged to come and enjoy this English tradition of Christmas lessons and carols accompanied by live tableaus that replicate famous paintings. The Woodlands Boys Choir, Lone Star Chorale, HopePointe Choir and Chamber Orchestra combine for glorious choral settings and congregational singing of carols. This is an event for the entire family that focuses hearts on the reason for this holiday season and gets everyone in the Christmas Spirit. There will be cookies after the production, as well as cookie decorating for kids.
December 13-15 – Red Door Theatre – La Nativite – Come enjoy this modern retelling of the birth & first few years of Jesus' life; with a modern electro soundtrack & a steam punk feel; this uniquely envisioned tale delves into the spiritual message of the traditional Nativity story while bringing an artistically bold statement to the stage.
December 14 -16 – It's a Wonderful Life – Based on the beloved 1946 film starring Jimmy Stewart, this musical faithfully follows George Bailey's life from his childhood dreams to his midlife disappointments and beyond, as we all take a journey to discover whether his life has mattered at all. Cinematically scored and theatrically staged, this adaptation breathes musical life into a familiar story, while retaining the warmth, humor, and pathos of the original. Join Class Act as we celebrate the holidays with this new holiday musical classic featuring an all–age cast with professional orchestra, sets and lighting.
December 15 – Hope for The Holidays – Hope For The Holidays presents its first musical holiday stage show, benefiting the Cassidy Joined For Hope Foundation. The show features local performers and combines singing, dancing, and humor with traditional scenes. The star performers are local professional singer-songwriters, as well as students and dancers representing high schools in Montgomery County. All proceeds benefit the Cassidy Joined For Hope Foundation, a local 501(c)3 non-profit foundation focused on teen suicide awareness and prevention throughout the schools and community.
December 16 – Feliz Navi Dog – Bring your fur baby out to Bear Branch Dog Park from 3:00 – 5:00 p.m. for a treat hunt and holiday pooch pageant! Enjoy hot cocoa while your pets socialize. Choose two out of the six categories: best behaved, best trick, smallest, largest, and best costume. The fee is $5 per dog and pre-registration is required.
December 20 – Glade Chamber Concert Series – Glade Arts Foundation is honored to announce a multi-disciplinary and collaborative chamber concert series delivered by The Woodlands Symphony Orchestra under the artistic direction of Darryl Bayer. The chamber series will consist of four concerts held on the third Thursday of each month. The 2018 Chamber Series concludes December 20th with the festive sounds of The Woodlands Symphony Brass in a casual atmosphere to celebrate the season with a Christmas party. Doors open at 6:30 p.m. Cash bar available. Concert starts at 7:30 p.m. sharp.
December 21 – Santa Social – Get your pajamas on and get the family together for some holiday fun for all ages! Enjoy a holiday movie while you do crafts, make garlands, and play games. Pizza and drinks will be provided. Don't forget to bring a camera for a photo with Santa!