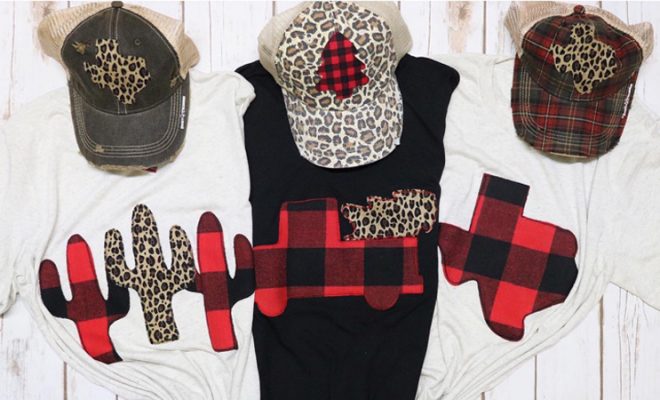 Fashion
Holiday Fashions Available at Local Boutiques
By |
Show off your Christmas spirit in holiday-themed outfits and accessories conveniently available at these local boutiques. Support local business while you spread holiday cheer at these fashion-forward shops in The Woodlands, Conroe, Magnolia, Montgomery, Old Town Spring, Spring, Tomball, and online.
---
THE WOODLANDS
---
31 Roots – Owned by two local moms, 31 Roots is a modern-vintage inspired boutique offering pieces that are feminine, authentic, classic, affordable, light, and fashion-forward. Available at Tumbleweeds & Notions, local events, and at local trunk shows.
---
Diva Boutique – Diva Boutique has been dressing the women of Montgomery County for over 20 years and is the exclusive retailer for Joseph Ribkoff in The Woodlands. The store aims to be the one stop shop for career, casual, cruise to cocktail or for just that right outfit for a night on the town. This specialty boutique is geared toward for the young mom and her mom with fabulous tops, bottoms, dresses, jeans and accessories with many designers that are exclusive to Diva Boutique. Customers can experience the atmosphere of old world tuscan charm in-store or order online.
---
---
Gina Tees – All items at Gina Tees are handmade in Texas, using the finest blends to create ultra soft, comfortable casual graphic tees and accessories for any style. Shop a variety of fun, western, travel, glamping, Indian, concert, sports shirts and more.
---
Mainstream Boutique – Mainstream Boutique has two local locations: one in The Woodlands and one in Spring. Both locations are stocked with Christmas apparel and both get frequent new arrivals. Mainstream Boutique carries trendy, fashion forward designs at affordable prices.
---
Style Encore – Style Encore is the perfect place to find your favorite gently used or previously owned but never worn brands. The shop caters to the sophisticated 25-55 year-old woman and maintains an inventory that is sure to reflect the current styles of the community. Fashion forward and trendy, its inventory reflects the styles of contemporary and up-to-the minute sense of customers.
---
CONROE
---
Apricot Lane Boutique – Apricot Lane is a unique boutique offering affordable great designer apparel, jewelry, accessories, and gifts. The shop also offers personal styling, personal service, and personal parties.
---
Hello Beautiful Boutique – Located in downtown Conroe, Hello Beautiful Boutique carries designers such as Kendra Scott, Brighton, Makeup Junkie, Pandora accessories, and more name brands.
---
---
MAGNOLIA
---
Cactus Flower Boutique – This boutique supports other local businesses by carrying clothing and jewelry by local designers, in addition to a wide variety of brands. Cactus Flower also now carries gifts and clothes for tweens.
---
Jayden Layne Boutique – Jayden Layne features infant, children's, women's and men's boutique clothing & accessories.
---
Rhinestone Leopard Boutique – Rhinestone Leopard is owned by a mother daughter duo who love fashion. Their passion is to help others feel beautiful in their own skin. They can be found in-store helping customers get just the right look with accessories to match their outfits, or help finding just the right gift.
---
---
MONTGOMERY
---
The Rancher's Daughter – In addition to the eclectic selection of home accessories and gifts, The Rancher's Daughter is home to over 70 different Texas wineries and represents over 200 different Texas wines calling itself "Texas' Only Texas Only Wine Shop."
---
Sweet Texas Treasures – The owner of Sweet Texas Treasures, Morgan, started out with a love for vintage and thrift finds. She believes that every piece has a story and a greater purpose. Her boutique is filled with women's, children's, and men's, clothing, with home decor and gifting items too. Sweet Texas Treasures designs are also now found in boutiques nationwide, while all the production is done in Morgan's hometown of Montgomery, Texas. On the website, customers can custom create hats and clothing, choosing from a selection of patterns, fabrics and styles.
---
---
OLD TOWN SPRING
---
Outlaws and Angels – With a large selection of graphic tees (some classy, some trashy!), trendy country girl clothing and unique accessories and gifts – the shop has something for every attitude!
---
SPRING
French Violet Boutique – This boutique in Spring is focused on finding affordable and unique items for women of all ages, especially things that are "a touch out of the box."
---
Robyn's Nest Boutique – Robyn's Nest Boutique is a women's boutique and gift shop that carries clothes, shoes, accessories, and more.
---
---
TOMBALL
---
Kid's Anthem – Kid's Anthem is a stylish children's boutique devoted to bringing you the best clothing, accessories, and toys for your child's everyday adventures. Whether you have a little darling who wants to twirl in ruffly dresses, a tween who wants to express her free spirit with boho-chic styles, or a sporty athlete who wants to bounce and play in the latest workout gear, this shop has got you covered!
---
The Turquoise Door – In the heart of Tomball, right on Main Street, The Turquoise Door can't be missed. This colorful boutique is filled with clothing for women and children, jewelry, gifts, home décor, and seasonal items. The Turquoise Door offers online shopping, or visit the store for the bright and fun atmosphere.
---
ONLINE ONLY BOUTIQUES
---
Fern Home and Fashion – Drawing in her degree in Fashion Merchandising and Design and inspiration from nature, owner Cecille Wright uses natural beads, cording and stones to create jewelry pieces that have character and style.
---
Janie & Grace – Janie & Grace is the collaboration of 2 busy moms on a quest to have a stylish, updated wardrobe without the hassle of driving around, trying clothes on, and lugging children and strollers around town. The boutique owners are constantly scouring various brands and new styles so that you don't have to.
---
Lilies of the Field – Local designer Melissa Krenz, together with her husband Andy, believe in creating beautifully designed dresses that glorify God. With a new dress debuting every month, there's always something exciting.
---
---
My Feathered Arrow – My Feathered Arrow owner is dedicated to helping women feel beautiful in their daily lives with bring fun clothing and options to women of all shapes and sizes. Everyone has their own story and style, which is what led me to start my own store. The right outfit has the power to change my mood at any given moment, dressy or casual, The store provides boutique style and flair at affordable prices. Most sizing runs S (0-4), M (6-8), L (10-12).
---
Symmetry Boutique – After years of frustrated shopping to find quality apparel that could be worn more than one season, Symmetry's owner, Kristina Scarborough, decided to start her own boutique. She strives to find items that are comfortable enough to wear all day – taking you from the workplace to a special night out with friends and associates. Symmetry Boutique clothing will appeal to anyone wanting to look and feel amazing whether beginning or ending their day.