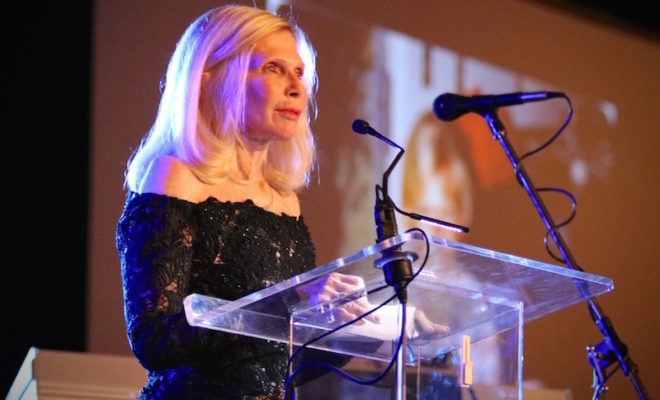 Calendar
Honoring Dr. Ann Snyder in Casino Royale Style
By |
The Casino Royale Wine Dinner presented by Mercedes-Benz of The Woodlands and produced by the Rotary Club of The Woodlands was held on Saturday, March 4, 2017 to honor Dr. Ann Snyder and benefit the Rotary Club Foundation.
The 11th annual event took place at The Woodlands Waterway Marriott with Showgirls, Casino tables, and James Bond inspired activities and decor greeted guests prior to the dinner and presentation.

During the event, Hello Woodlands took Facebook fans on a LIVE tour to get a behind-the-scenes look:

Dr. Ann Snyder's longtime service to The Woodlands community was recognized during the program where event co-chairs Amy Lampman and Mitzi Fox kicked off the presentation and were joined by special guests Congressman Kevin Brady, Debbie Sukin, Nelda Blair, Mario Coll, the Rotary Club's President Clay McCollor and President Elect Judy Olson. The program included a heart-warming speech from a recent Rotary Foundation Scholarship recipient, live auction, and Henri Paul Jewelers diamond necklace raffle winner.
A touching toast was made by Dr. Snyder's husband, Jerry, and son as well as a "Thank You" video produced by the Hello Woodlands team featuring Principal Lindsay Ardoin, students of Snyder Elementary, and her two grandchildren, Voss and Nolan.

View more moments, photos and videos from the event by visiting the Hello Woodlands Facebook page!

The main objective of Rotary is service in the community and throughout the world. Rotarians build goodwill and peace, provide humanitarian service, and encourage high ethical standards in all vocations. The Rotary motto is "Service Above Self." The mission of The Rotary Foundation is to enable Rotarians to advance world understanding, goodwill, and peace through the improvement of health, the support of education, and the alleviation of poverty. Learn more about the Rotary Club of The Woodlands and the Foundation at www.woodlandsrotary.org.