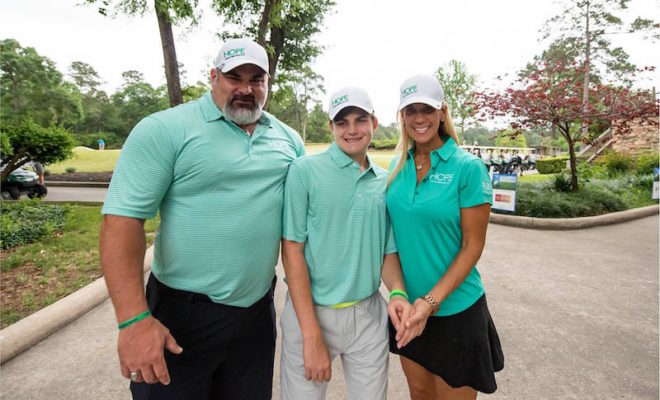 Events
Hope on the Green Golf Tournament to Fight Batten Disease
By |
The Woodlands, TX – The annual HOPE on the Green tournament benefiting HOPE: The Will Herndon Research Fund at the Beyond Batten Disease Foundation is teeing off Monday, April 9, 2018 at The Woodlands County Club Palmer Course.  This annual event was started in 2010 to raise critical funds for Batten disease research, a rare degenerative brain disease affecting then 6 year Woodlands resident, Will Herndon.  Now, nine years later, the foundation is on the verge of a clinical trial with the most promising treatment in the history of this disease.  At 15 years old, Will's life depends on this discovery.  Batten disease is always fatal, but with treatment his life could be saved.
The HOPE on the Green Golf Tournament will features unlimited food and beverages on the course, pre-game contests, fabulous Hole-In-One prizes, the Blindfold Hole, a Helicopter Ball drop and plenty of HOPE hospitality.
"In the years since Will's diagnosis, we have never been more filled with HOPE then we are now.  Collaborative research efforts have led us to potentially one of the most promising treatments in the history of juvenile Batten disease, a medication to slow the progression of the disease," states Missy Herndon, Will's mother and HOPE co-founder. "With the support of The Woodlands community, we are truly making a difference in the lives of Batten children all over the world."
Check-in begins at 10 am, while the driving range is open and contests are underway.  The Helicopter Ball Drop is scheduled for Noon, with a shot gun start promptly at 12:30 pm.  A Dinner and post play celebration will begin immediately following the Tournament.  Players must pre-register and a Foursome is $1,000.  Sponsorship opportunities begin at $1,500. Online registration is open at www.willherndon.org.
The Will Herndon Research Fund (HOPE) was established in 2009 in The Woodlands to raise funds for research into finding a cure for juvenile Batten disease. This effort began in honor of Will Herndon, who was diagnosed with juvenile Batten disease at the age of 6.  This rare, fatal, genetic disease attacks an otherwise healthy child beginning with vision loss, declined cognitive skills, and seizures.  Progressively, children suffer loss of memory and speech until they are mentally and physically incapacitated, eventually leaving them wheel-chair bound, then bedridden. With no current treatment or cure, Batten disease is always fatal, often by the late teens or early twenties. The Will Herndon Research Fund's goal is to SAVE WILL, and the hundreds of other children stricken with juvenile Batten disease.  To learn more or to get involved visit willherndon.org.