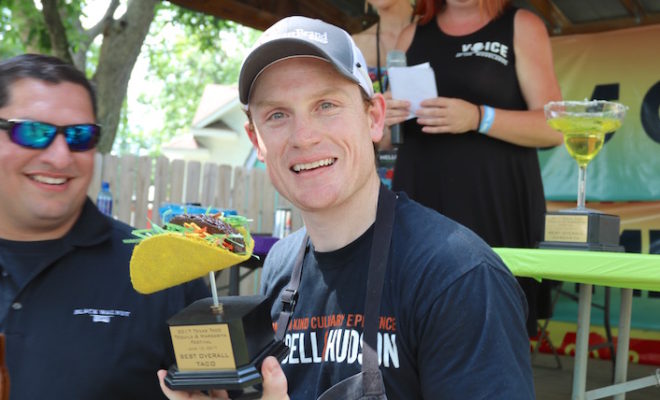 Photo by HelloWoodlands.com
Calendar
Hubbell & Hudson wins "Best Taco" at Texas Taco, Tequila and Margarita Festival
By |
Inspire Productions hosted their first ever Texas Taco, Tequila and Margarita Festival on Saturday, June 10 in Old Town Spring at Preservation Park from 12 p.m. to 11 p.m.
The event featured taco, tequila and margarita vendors, gourmet restaurants, taco and margarita competitions, live music, tequila tastings, live music, private cabanas, VIP tents, vendors, kids area with inflatables and rides, and much more!
Take a tour of the festival with Hello Woodlands:

Hosted by Jenny Kelley of HelloWoodlands.com and WoodlandsHits.com's Holly Boss, judging for the "Best Taco" and "Best Margarita" took place on the "Taco Stage" during the early afternoon hours of the festival. Taco and Margarita Competitors were judged by a panel of 12 based on presentation, uniqueness, and taste. Congratulations to the winners of The Texas Taco, Tequila and Margarita Festival's Best Taco and Margarita Competition!
Best Taco:
1st Place – Hubbell & Hudson Bistro
2nd Place – Black Walnut Cafe
3rd Place – El Topo Food Truck
Best Margarita:
Best Overall – Cassandra Shultz
View the competing tacos, margaritas, and meet the judges on the "Taco Stage":

View photos and videos from the event on the Hello Woodlands Facebook page!

Learn more about the Texas Taco, Tequila and Margarita Festival at www.thetexastacofestival.com