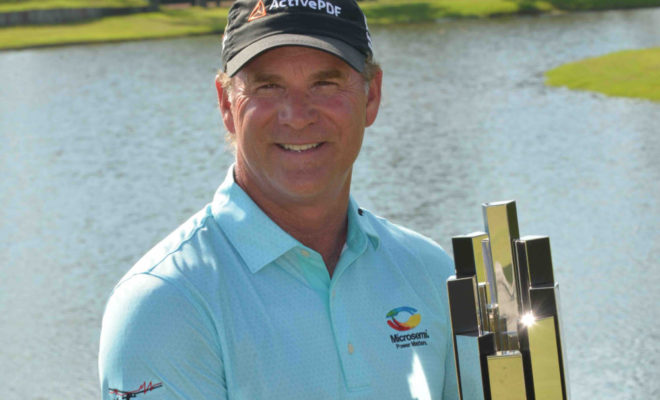 Fitness & Sports
Insperity Invitational Final Round & Player Interviews
By |
THE WOODLANDS, TX – The Insperity Invitational final round was held Sunday, May 5, 2019 at The Woodlands Country Club, with a course setup of par 72 / 7,002 yards. The weather was mostly sunny with a high in the mid-80s and wind from the SE at 5-10 mph.
Three back-nine birdies lifted Scott McCarron to a two-stroke victory over Scott Parel at the Insperity Invitational. It was his second win of the season, extending his streak to four straight years with multiple victories, and he became the 38th player with at least 10 wins on PGA TOUR Champions.
OVERVIEW: Scott McCarron, 67-65-67 – 199 (-17)
After Parel birdied Nos. 11 and 12 to even the score at 14-under, McCarron responded with back-to-back birdies of his own to rebuild a two-shot lead through 14. McCarron birdied the 185-yard 16th, hitting an 8-iron to a foot, and regained a two-shot lead with two holes to play. A par-par finish secured his second win of the season.
McCarron is the 38th player with at least 10 wins on PGA TOUR Champions. The other players with 10 wins are Jack Nicklaus, Arnold Palmer, Tom Kite, Al Geiberger, Kenny Perry, John Cook and Bob Gilder.
McCarron's 10th win came in his 93rd career start, giving him a winning percentage of 10.75%. By comparison, Bernhard Langer has 39 wins in 239 starts (16.32%).
In his 10 victories, McCarron's final-round scoring average is 66.60.
This is the sixth time McCarron has finished with a 54-hole score below 200 (Best: 20-under 196 at the 2017 DICK'S Sporting Goods Open).
McCarron becomes the first player with multiple wins this season. He has at least two wins each year since 2016.
McCarron is the Charles Schwab Cup leader for the third week in a row, and he extended his lead to $326,572 over Kirk Triplett.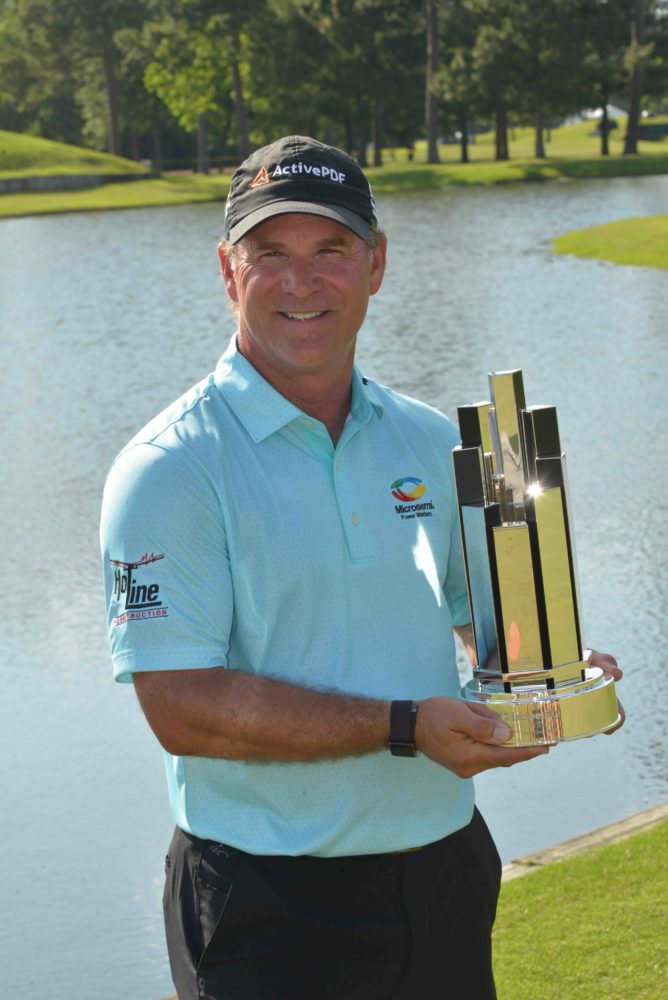 INTERVIEW: Scott McCarron
Q. Scott, 10th win on PGA TOUR Champions.
SCOTT McCARRON: Yeah. I heard there's a couple other guys that have 10 wins.
Q. Jack Nicklaus, Arnold Palmer, Tom Kite.
SCOTT McCARRON: I know those guys.
Q. What's it mean to you to be in that kind of company?
SCOTT McCARRON: You know, I can't believe it. You know, Jack Nicklaus told me two years ago that he loved the PGA TOUR Champions and he wished he would have played more because it was so much fun and because there is an end in sight, and once you're done, you're done. Coming out here and not being able to play anymore, that's no fun. So I really took that to heart as I'm going to put everything I can into this and try to win as many tournaments as I can, try to compete, have fun, be in good shape, be healthy and see what we can do. You know, I'm shocked I've won 10 times out here tying those guys and John Cook, and John Cook. I'm not done yet. I want to win a lot more and I want to win the Schwab Cup. That was my goal at the start of this year, which has been the goal the start of the last few years. We're trying to get that done and today helps.

Q. That was your second straight individual win. What's been the key to this long streak of awesome play?
SCOTT McCARRON: You know, I played pretty solid. One, we've had just terrible weather both times. I guess I'm kind of a mudder. It seems a lot of my wins are when the weather's really bad. But I've got — I've been working with my teacher, E.A. Tischler, pretty hard over the winter and I'm sending him videos, even though he wasn't out here this week, and just trying to dial stuff in. I thought I dialed some stuff in with my putting this week after the first day when I played one hole and three-putted from about 30 feet. I kind of changed a few things and talked with E.A. and got it figured out and sort of started making some putts, which was good. I also changed some of the lies on my irons going into this week. I felt like some of the irons 2 were a little upright. The guys in the trailer, they have a thing that if you win, you're not allowed to adjust anything the next week, so I had to wait a week and they wouldn't touch my clubs. This week we were able to kind of adjust them, make them a little bit flatter with the short irons and it felt much better.
Q. Scott, I'm shocked that you've won 10 times, too. I always thought you would win more. You played really well.
SCOTT McCARRON: Thank you. I played solid. You know, Scott Parel was playing some good golf, he was pushing me along. He was making birdies, didn't make many mistakes, so I had to keep the pedal down. He tied it up there in the middle of the round, and I kind of got him on that par 5 when I made birdie there and he didn't make birdie on 13. That was big. And then I hit a really nice little carving 6-iron in the par 3 14th, made birdie there and that kind of at least got me over the hump. But he came right back out of the bunker and hit a fairway bunker shot to about 25 feet for eagle and almost made that. My hat's off to him, he pushed me hard today.
Q. On 16, how close was that?
SCOTT McCARRON: It was very close. It was about six, eight inches. Yeah, it was pretty close. It looked like it was going in and that was big. Scott was one shot back after birdieing 15 and he hit it just right of the green. I thought that was just a perfect opportunity for me to get it in there and hit one close. And it was an 8-iron, I had to get all over it, it was probably like 184 or something like that, 187 into the wind and I had to hit it hard. I hit it just a little bit thin, one groove low, but I caught a lot of it. It almost went in.
Q. Like you said, though, he pushed you.
SCOTT McCARRON: He did. He played great and he always does. He's a really good player and he's having a great career out here and he's going to win a bunch, too. For us to go head to head like that, it was a lot of fun.
Q. We've got two majors coming up. It's hard to imagine you bringing any more momentum into major season. What does the next couple weeks look like for you?

SCOTT McCARRON: Well, next week, Greystone, it's a golf course I like. I played in the final group there a couple times now and finished seconds and thirds and top-10s, so I like that golf course. I feel like I've got a good chance there. Obviously I'm playing well. Then going to Oak Hill. Man, I played the Championship when Shaun Micheel won there. I thought it was one of the toughest golf courses I had played. So that's going to be a lot of fun to see how they set that golf course up. But I'm playing well, and going into the major season, this is where you want to be, playing some of your best golf, see if I can knock off a major or two.
Q. When we have weather like we did, how do you focus and how do you get back into the flow stopping and starting?
SCOTT McCARRON: Well, one of the things, you've got to be very patient. You've got to conserve your energy. When we have rain delays like that, try to find a quiet corner and get some rest because you never now how long you're going to go. I had a little thing, we played one hole on that Friday, then Saturday I hurt my neck in the morning and I wasn't even sure I was going to be able to play, so to go 35 holes and my neck was just killing me. But it started loosening up, and the guys in the fitness truck did a phenomenal job getting me ready to be able to play. I was lucky that they had another delay from 7:30 to 9:30, it gave me some more time to get therapy on that so I was able to tee it up, because if we had to go at 7:30 I might not have been able to hit drivers at that point.
Q. Thank you, Scott. Congrats.
SCOTT McCARRON: Thank you, guys. Appreciate it.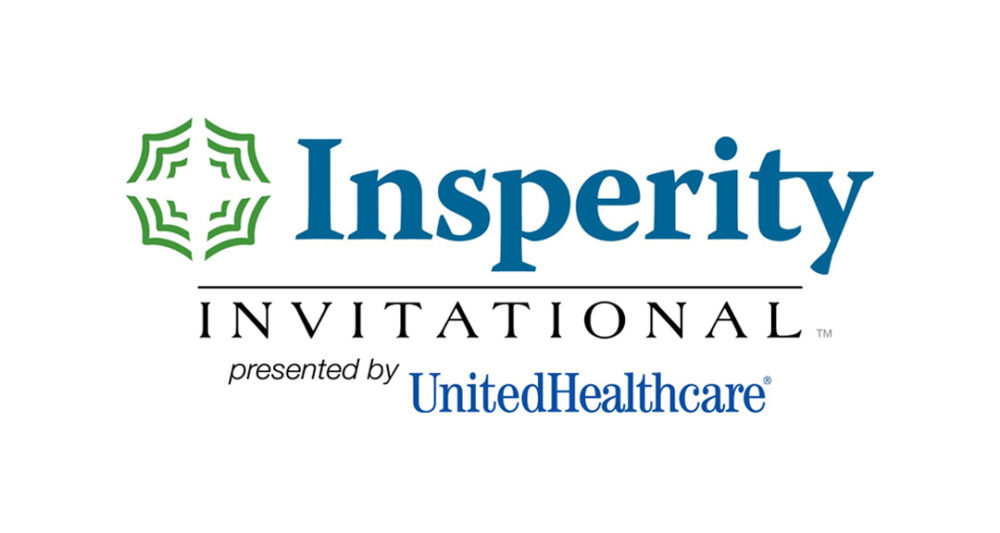 OVERVIEW: Scott Parel, 67-68-66 –201 (-15)
Parel, who started the day three shots behind McCarron, birdied Nos. 11 and 12 to even the score with McCarron at 14-under. After McCarron birdied three of the next four holes, Parel had a chance to cut the lead to one on No. 17, but he missed a six-foot birdie putt.
Parel turned in one of three bogey-free final rounds. On the week, he made just three bogeys, tied for fifth-fewest.
It was Parel's seventh career runner-up finish and second of the season (lost on the seventh hole of a sudden-death playoff at the Rapiscan Systems Classic).
INTERVIEW: Scott Parel
Q. Great back nine battle that you just fell a couple short on.
SCOTT PAREL: Yeah. The par 3s were the key. He hit two fabulous shots, almost makes the one on 16 and hit a great shot on 14, and I'm struggling to make par. I think that was kind of what it came down to today. You know, overall I played good. I think I put a little pressure on him and he certainly was up to the challenge.
Q. You definitely put some pressure on him because I guess you guys were both minus 14 and he had to really get his game going to keep up with what you were doing.
SCOTT PAREL: Yeah, he hit two really good shots on 13 on the par 5 and got it in there in two and two-putted for birdie. I had to lay up. Hit a great shot about 10 feet and completely misread the putt. 17, same thing, I thought I made that putt. I'm going to take it out of the hole and it breaks to the left and it's just one of those things.
Q. So 17, the break was what you —
SCOTT PAREL: I thought it was a straight putt, and five inches from the hole it was straight in the middle of the hole and then out of nowhere it goes to the left. Nobody in our group saw that coming. It's just one of those things.
Q. Second place finish, I know you want to win and all that, but you've got to be pleased with how you did this week?
SCOTT PAREL: Yeah. I mean, obviously I played well to come in second. To shoot 15 under for three days is pretty good. Now we've got the major coming up next week, so my game's in a good spot and we'll see how I can carry it on next week.
OTHER FINAL ROUND NOTES:
Lee Janzen closed with a back-nine 32, including a holing a wedge for eagle on the par-5 15th, en route to a final-round 67 and a third-place finish. It was his fourth top-10 of the season and first top-three finish since the 2018 Chubb Classic.
Paul Goydos played with Scott McCarron and Scott Parel in the final threesome. Goydos was 3-under a bogey-free through 14 holes, but he was no closer than four shots of the lead on the back nine. He carded a final-round 70 and finished T4 with Marco Dawson.
Four-time Insperity Invitational champion Bernhard Langer carded rounds of 69-70-71 and finished T15 at 6-under. The five-time Charles Schwab Cup champion is currently No. 3 in the standings.
In his PGA TOUR Champions debut, Paul Lawrie finished T53 at 2-over.
Tom Pernice Jr. tallied seven consecutive birdies (Nos. 13-18, 1) en route to a 6-under 66. Pernice finished T48 and his final-round 66 was tied for the day's best round withScott Parel (2nd), David Frost (T15) and Tommy Armour III (T27).
Rocco Mediate withdrew prior to the final round.