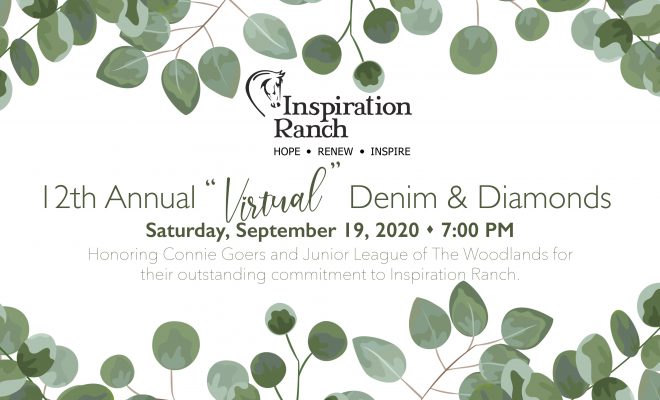 Events
Inspiration Ranch Takes its 12th Annual Denim & Diamonds Gala Virtual
By |
MAGNOLIA, TX – Amid a pandemic, Inspiration Ranch finds much to celebrate! The equine therapy organization announces that its 12th Annual Denim and Diamonds Gala will go virtual at 7:00 p.m. on September 19, 2020.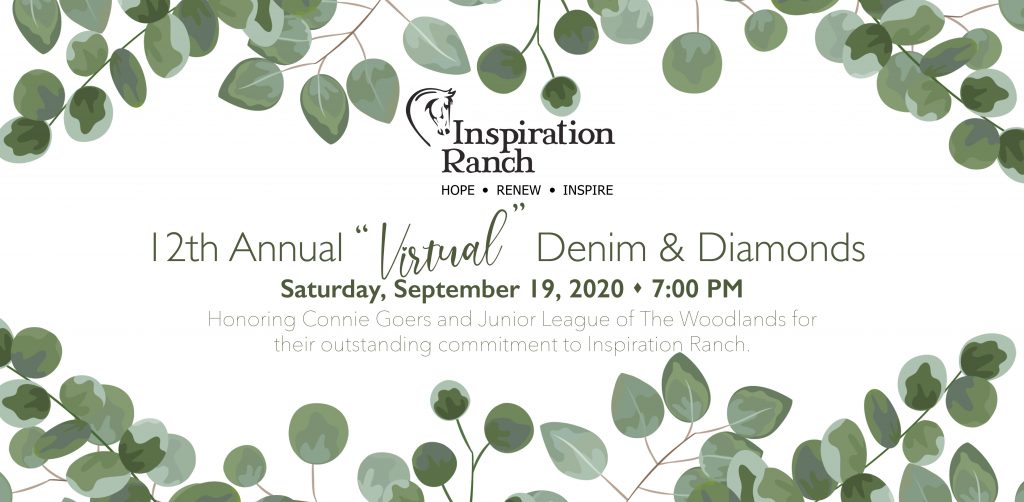 "Faith over fear has been our driver the past few months," says Inspiration Ranch President and CEO, MG Tindall. "Our staff has pushed tirelessly to continue to serve those who need us, and despite COVID-19, we feel that we have a lot to celebrate."
After lengthy discussion, Inspiration Ranch decided to go innovative and virtual for its 2020 gala. Seasoned event planner Kali Moxley is preparing an event that will bring Ranch clients and supporters together to showcase its programs and horses and celebrate with laughter and creativity.
"This is the first time that many of our clients and their families will get to see what our gala is about," says Tindall. "It's an opportunity to open the door for more people to experience all of the work we do at Inspiration Ranch."
Inspiration Ranch is accustomed to being innovative. It uses the intuitive nature and physical motions of the horse to improve the lives of those it serves through equine-assisted activities and therapies. While the pandemic has disrupted operations, the Ranch continues to focus on its mission as it eases back into therapeutic riding lessons in ways that ensure safety. The effects of trauma from COVID-19 has created a surge in demand for the Ranch's mental health program, and staff has expanded the capacity of that program significantly since March.
Because safety is a top priority, the Ranch is looking for community members to become "Home Hosts" and host small gatherings rather than purchase tables at an in-person event. Moxley is preparing catering options and charcuterie deliveries that will give back to the Ranch, or hosts can opt to prepare their own refreshments. The event will be held to 45 minutes of on-screen time.
This year, Inspiration Ranch honors Connie Goers and the Junior League of The Woodlands through its gala for their outstanding commitment to the Ranch.
Inspiration Ranch needs the community's support now more than ever. All proceeds from the gala directly support scholarships that make sure Ranch services are available to everyone, regardless of their financial situation. Becoming a sponsor or home host for this virtual celebration will help children overcome physical, cognitive, and emotional challenges, and lift up those suffering from the trauma caused by sex-trafficking, domestic abuse, and COVID-19. Find out more at www.inspirationranch.org.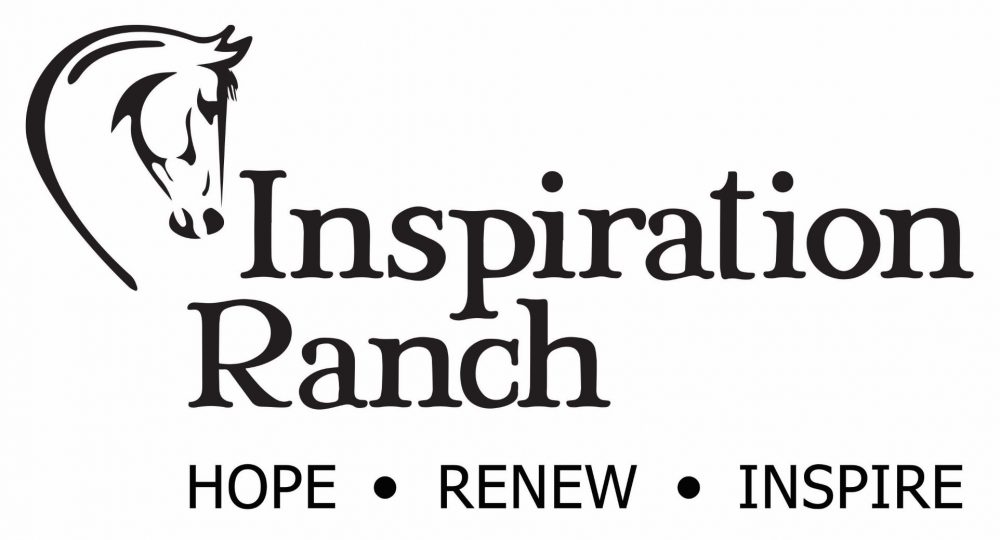 Inspiration Ranch provides hope and improves the lives of those with physical, mental, and emotional challenges through equine-assisted activities and therapies. The 501(c)3 nonprofit offers Equine-Assisted Therapeutic Riding for special needs children and Equine-Assisted Mental Health Services to the community at large and victims of sex-trafficking, domestic abuse, and those with severe emotional trauma. For information on riding or mental health services, visit www.inspirationranch.org.