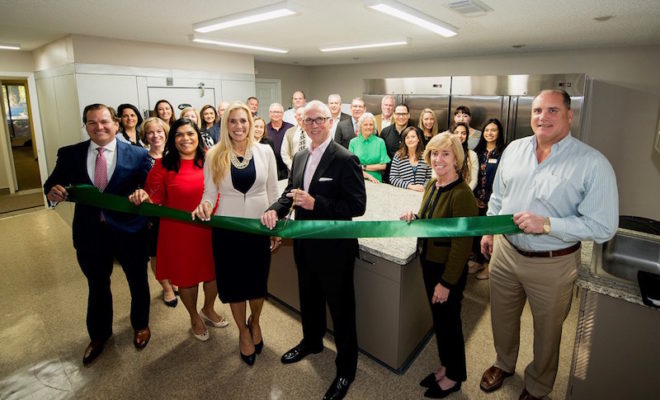 News
Interfaith Food Pantry to offer Perishable Foods
By |
THE WOODLANDS, TX – The Interfaith Food Pantry has recently remodeled and upgraded their refrigeration area to accommodate protein rich perishable foods, such as frozen meats and dairy foods along with fresh produce harvested at two Veggie Village Community Donation Gardens. With seed money raised at the 2016 Celebration of Excellence Gala, Interfaith installed a 392 cubic feet walk-in freezer and two 47 cubic feet of commercial refrigerators.
"The Food Pantry follows Interfaith's long standing policy to operate at a level of excellence by providing high quality foods that anyone of us would serve our own families. We are excited to be able to offer this new addition to our neighbors facing food insecurity," shared Missy Herndon, President and CEO of Interfaith of The Woodlands.
The Interfaith Food Pantry served more than 18,800 individuals and harvested over 3,000 pounds of fresh produce from the Community Gardens in 2017. Interfaith of The Woodlands continues to see a steady growth in clients served. Following the addition of the new refrigerators and freezer, Interfaith received overwhelmingly positive feedback from clients.
"I love the fresh produce and veggies. I tell all my friends about Interfaith, everyone in the senior complexes, because they need it," shared Betty, Interfaith Senior Services Client.
Celebrating its 45th year this fall, Interfaith Food Pantry is open to anyone needing assistance. The Food Pantry is generously supported by various community food drives and donations. Many volunteers donate their time to organize and shelve the food, while also inspecting the donations for expiration dates to ensuring the food is of the highest quality.
Interfaith of The Woodlands is a non-profit social service agency providing numerous programs and services to meet the needs of The Woodlands and the surrounding area. For more information on Interfaith's programs and services, or to become a volunteer, please visit woodlandsinterfaith.org or call 281-367-1230.