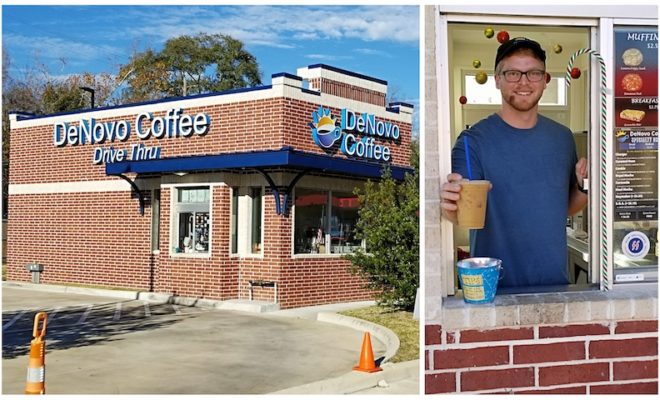 Photo by Nick Rama
Food & Drink
Every Day is a New Day at DeNovo Coffee
By |
Judging by the morning rush at co-owners Caleb Tommasini and Nolan Holland's fast-paced, double drive-thru coffee shop, DeNovo Coffee, they are quickly gaining fans looking for their caffeine fix before starting their daily commute.  The first location has been in operation in Spring, Texas since May 2015 and demand from die hard coffee addicts have allowed DeNovo Coffee to open their second location on Main St. (FM 2920) in Tomball, Texas in December 2016, adding some much needed options to the coffee experience in the area.
DeNovo's slogan is, "Every Day is a New Day," which ties into their company's goal to ensure that every customers day is made better through the interaction they have at DeNovo via excellent customer service, a genuinely caring staff, and an awesome drink to kick off your day with a positive start. DeNovo's baristas and their staff are all friendly, enthusiastic and knowledgeable about all things coffee.
DeNovo offers an array of hot and iced coffee beverages, including mochas, lattes and breves, as well as smoothies, shakes and raptors (their original energy drinks). DeNovo even has your kids covered with smoothies, shakes and hot chocolate available in a mini size. Have your dog in the car with you? DeNovo will give them a free puppy latte (whipped cream in a cup with a couple of small milk bones dog biscuits in it).
The Charger is an Irish Crème Breve with four shots of coffee is one of their signature coffee concoctions. You'll immediately notice that it does not taste burnt or over roasted like most of the national chains, no bitterness and has very low acidity; which makes for a better cup of coffee. More signature Breve's include The Cookie – White Chocolate Macadamia Nut and Cafe Novo – a velvety vanilla and orange breve dusted with Cinnamon.
Popular Mocha drinks include the Caramoola – a rich caramel mocha, Maui mocha – an island inspired mocha, Royal mocha – a rich dark chocolate mocha and the Hayday – a velvety vanilla mocha.
Espressos, cold brew iced coffee, chai lattes, matcha tea lattes and a variety of hot teas, seasonal  drinks are also on the menu. Food options like oatmeal, muffins, jammer bars for a quick breakfast or snack are ready to go also.
Read the Hello Woodlands interview below with DeNovo Coffee co-owners Caleb Tommasini and Nolan Holland.
Where did the name come from?
Caleb: "DeNovo means "of new", "new beginnings", "awaken" in latin.  I figured that coffee was a symbol of something new and helps you wake up and start your day.  DeNovo seemed to encompass this well."
Tell us about the coffee that you use and what separates you from the chains?
Nolan: "As far as our Blend goes, we start off with a premium quality Honduran bean, this gives our espresso a good bold body to start off with. We then use brighter coffees from Central American countries such as Guatemala and Costa Rica to bring out some amazing flavors in our drinks!"
Why did you choose Spring, TX to open your first location and what led you to Tomball for your second location?
Caleb: "One of my good friends was living in downtown Houston and I used to come visit him periodically.One day we were driving around and I really wanted a cup of good coffee, but I needed to get it quickly because we had a meeting that we were pushing being late to.I am from Oregon, where drive through coffee is king.I was amazed that Houston, a driving community similar to most of Oregon, wasn't flush with drive through coffee stands.That led to the opportunity.Spring eventually became the leading place for us as we really liked the community and the people with dealt with along the way.Once Spring was up and operating, we realized we had something big. Tomball reminded me a lot more of my hometown and it was natural second location given its proximity."
What are the most popular beverages on your menu and/or your favorite?
Nolan: "The most popular drinks vary between the locations. The most popular drink at the Spring location seems to be the blended Charger. And the most popular drink at the Tomball location is the Iced Cookie! But the overall winner of the most popular drink between both shops is the Charger, we call it the 'Original crowd pleaser' for a reason!"
Caleb: "I have two favorites.  First, the SOS (Save our Souls) is jam packed with 6 shots of espresso (yes 6!).  And people who know me know I love to be excited and amped.  Second would be our cold brew.  I spent hundreds of hours trekking to a roasting collective an hour away trying every type of roast to get something that fit out profile.  The beans we use provide a creamy low acidic heavily caffeinated punch that doesn't need milk or sugar.  We are working on canning or bottling this at the moment and hope to have a product ready soon."
Do you have plans to open more locations, and if so, where?
Caleb: "We are always looking, we almost pulled the trigger a little bit back on a third spot.  Where we open is so dependent on how it fits into our customers' daily drive given the double drive through concept.  We literally get asked daily if we are going to franchise or if people can.  We are currently working on vertical integration of our supply chain and once we perfect that and scale it, we would be interested in allowing people to.  We are very obsessed with the customer experience so that is something we would need to maintain if we do eventually go that route."
What does DeNovo bring to each community you are in?
Nolan: "Our staff at both locations become very close with our regular customers. Something that we bring to the community that no other coffee shop seems to bring is the genuine friendship we have with our customers. We go beyond a simple 'how is your day' and actually invest in our customers lives, to the point where we have had customers come through the drive through just to talk."
The customer experience is very important to you, what does DeNovo bring that many others don't?
Caleb: "This is the core of our philosophy.  We think about every element of what a customer feels when they arrive.  For example, when you go to get coffee at DeNovo, you want a high quality product, friendly upbeat people and to get that product in a timely manner.  The double drive through definitely is different and I don't think I have seen many others around Houston.  The wait time is a big deal, I hate waiting in line and I am sure you do too.  We try to keep it to 1 minute a car a window (so 30 seconds a car with two windows).  For context, the next time you go to a different coffee shop, keep track of how long it takes.  I have spent countless hours counting what our competitors are doing and this is something I think that differentiates us.  We are always working on staffing to accomplish this but occasionally we have windows with 1 person working during a rush, but even then we shoot for 1.5 minutes in those scenarios.  Another thing that we focus on is who we hire, we want our customers to talk to people who brighten their day and make them smile while delivering an excellent product in a timely manner."
What is the craziest requested drink you have ever made?
Nolan: "I had a first time customer come in and asked if our drinks were sweet, because she didn't like sweet coffee. We discussed the different drinks and finally came to a conclusion, she ordered a medium Charger, half sweet, with almond milk. I asked her to try it and she immediately made a disgusted face. After 3 modifications and remaking her drink entirely, we found 'the perfect drink.' Her final drink was a Medium Charger, full sweetness, with vanilla added, extra shot of espresso, 3 sweet-n-lows, and half whole milk and half almond milk."
5 Words to describe DeNovo Coffee?
Caleb: "Customer, Family, Quality, Community, and of course Coffee"
DeNovo Coffee is located at 4880 Louetta Road in Spring, Texas and at 520 W Main St. in Tomball, Texas. Visit the local coffee shop Monday through Sunday from 5:30 a.m. to 8 p.m. Learn more by visiting their website at www.denovocoffee.com and their Facebook pages at (Spring) https://www.facebook.com/denovocoffee/ and (Tomball) https://www.facebook.com/Denovocoffeetomball/

Nick Rama is a food writer, contributor of Hello Woodlands, and shares his restaurant experiences on Nick's Local Eats at NicksLocalEats.com and the Q Up The Burgers Facebook page. Nick enjoys helping the small business owner, supporting his community with fundraising for food banks, and plans tasting events with locally owned mom and pop restaurants.