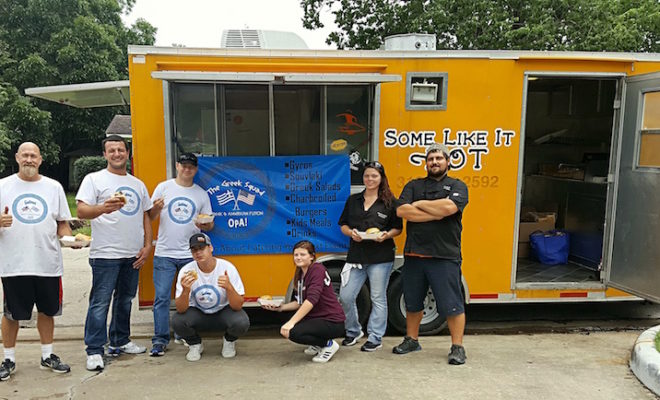 Food & Drink
An Interview with The Greek Squad's Jesse Mallas
By |
The Greek Squad has been serving up Greek and American Fusion cooking since July 2016. Owner Jessy Mallas, using his Greek heritage along with family recipes, opened his food truck with a little help from his mother, father and brother.
Starting out near a Walmart on Highway 105, The Greek Squad gained a following and fans wanted more of his authentic Greek recipes – including the ever popular Gyros. Customers loved the Gyros, Gyro Salads, Gyro topped burgers and Roasted Garlic Hummus. Jessy even Texas-fied some menu items like Olympus Fries topped with Gyro, Tzatziki sauce and pico de gallo and the Tejas Gyro with a spicy Tzatziki sauce, Feta and Pico De Gallo, and last but not least the Cilantro Burger, a half pound beef patty topped with roasted pico, pepper jack cheese, chipotle mayo and finished with fresh cilantro.
On January 1, 2017, the opportunity to open a permanent, featured spot at the newly opened Deacon Baldy's Food Truck Park on FM 1488 in Magnolia came Jessy's way and was too good of an opportunity to pass up. Deacon Baldy's usually has four trucks on the weekdays and six on the weekends in front of a large seating area with a full bar and an impressive draught beer list. Since nearly everything is freshly made, it is not unusual for many of the food trucks, including Greek Squad, to sell out of items – especially on weekends.
Jessy had ambitions to grow the business and bought another fully stocked trailer for the grand opening of 403 EATS Tomball's first Food Truck Park in June 2017. He stayed at the food park for close to four months, but Hurricane Harvey coupled with rainy weather and some extremely hot months proved challenging so Jessy decided to leave and find business elsewhere. The Greek Squad took the trailer to events, private parties, and charity events, and recently started catering two to three days a week for lunch in downtown office buildings. Since Jessy had an abundance of food, he helped Nick's Local Eats efforts in feeding displaced families at shelters and churches, alongside his new friend Lynnette Cruz of Tonadas Catering.
Once again opportunities came knocking in November 2017 when Jessy decided to dabble in the chicken wings business by purchasing the Wings on Wheels food truck.
Recently, both the Greek Squad and Wings in Wheels were at Inspire Productions 2nd Annual Woodlands Shamrock Shindig St. Paddy's Festival. The Greek Squad will be competing at the Texas Taco, Tequila and Margarita Festival May 5th, 2018 in Old Town Spring the 3rd Annual Throwdown Texas Burger and Music Fest on June 9th at Town Green Park in The Woodlands. You'll also be able to catch them at Beyond The Pints Craft Beer Festival on May 19th at Town Green Park in The Woodlands.
Jessy was named Best Restaurant Owner for Conroe, Magnolia, Willis area and the #2 Best Restaurant both on Nick's Local Eats Year End awards 2017.
Hello Woodlands got to sit down with Jessy Mallas to talk about The Greek Squad:
Where did the name The Greek Squad come from?
My brother, John Mallas, and I were sitting at the table trying to come up with ideas for the truck. We started talking about how we thought it would be cool to work with people we loved and that we close to us. You know, like building a squad. And that's when it hit us. The Greek Squad. Where you can have a great meal among the people you love the most.
What made you open a food truck?
I've worked in many kitchens for other owners and managers, including a few where I was the head chef or general manager. But, I always ran into the same issues. I never got to truly do what I wanted to do. I've always wanted to share my passion for greek cuisine with the styles of american flavors. I started to do research, and I found the food truck industry to be a fast growing concept. And, as most think at first, the overhead was low. I found out real quick that wasn't true. But, I wouldn't change it for the world. I love what I do.
What should someone expect for their first time to The Greek Squad?
When you come to The Greek Squad, you will be greeted with a smile, and someone who has a passion for what they are doing. Each and every person in the trailer has fun together which helps us all to enjoy our jobs and love what we do. Being in a food truck is like a party every day. But, at this party, everyone is welcome. If you have never had a Gyro, we strive to point you into the right direction and give you flavor options to allow your mind to wonder straight to the islands of Greece.
Who taught you to cook Greek food?
My yaiyai and papouli (Grandma, and Grandpa) owned a restaurant in California when they were alive called The Fire House. Every time we would go visit, it was a tradition to go eat at the restaurant, considering it was within walking distance from the house. When we would walk into their home, the smells of the fresh greek cooking would instantly fill your nose. Everything was always made by hand. I would sit and watch what she would do for hours. Everything she would make would take hours, with each and every ingredient picked fresh and made with love. As I started to work in restaurants and would be allowed to make some of my own things, I would take what I remembered and add my own twists to it. As time continued, the response from people was very accepting.
What drives Jessy Mallas?
My passion. My love for cooking. And, most of all, my customers. Each and every day, I get to wake up and do something I love to do. My customers are loyal and love to come and see us which makes this job worth it in every way. My passion for cooking great food is what drives me, but the main drive comes from the smiles and reactions of our customers. So many people are so warm and welcoming at each and every place we set up at. The fact that our customers are so excited to have us there is the most amazing feeling in the world. So, long story short, our AMAZING customers are what drives me every day!
What big events has The Greek Squad been part of?
Montgomery Wine and Music Festival
All of the Inspire Productions Events
Lone Star Car Show
Super Bowl Events in Houston
What are your most popular menu items?
Our most popular items include:
The Greek Gyro
The Tejas Gyro
The Philly Gyro
The Gyro Burger
The Cilantro Burger
The Greek Salad
The Olympus Fries
What sets your Gyro meat apart from the rest?
Our gyro meat is created by a recipe that my brother and I came up with. We used the recipe of our family, and tweaked it to a flavor that we liked. We use Devanco Foods to create out custom cones, and we receive them at The Squad.
Why do you decide to buy Wings on Wheels?
I purchased wing because I loved Garrett's (the previous owner) concept. The fresh made sauces were the selling point. I knew that I could take it to the next level. So we moved forward with it.
What are Wings on Wheels most popular sauce flavors:
House made buffalo, Garlic Parmesan, Sweet chili, Mango Habanero and Triple threat.
What is the next step for The Greek Squad… Brick and Mortar? Franchise?
We had an original plan to be in a brick and mortar by 3 years, but that plan has changed. We love being able to go to different places and share our passion with new people. Every weekend, we get to enjoy the company of amazing people on a new place.
What are some of the challenges of working on a food truck?
There are three major challenges.

Storage: The demand of our food is so high that we run into problems with being able to store enough food for the total amount of service. Everything we make is fresh and not pre-packaged.

Demand: Sometimes, demand can be so high that we can get backed up. Without the full amount of room as you would get in a full scale commercial kitchen, the ability to cook the amount of food that comes on the orders can back us up and cause ticket times to be longer than needed. But, our customers are great and understand this.

Employees: We are very strict on the people we want to allow to work with us. We consider everyone to be a part of our family, but we want to make sure each person will treat you as family.
Do you cater or do private parties?
We can cater any type of party of event you have. We also have a catering menu full of items from Greek to American and everything in between.
How important is giving back to the community for you?
Giving back to the community is everything to us. The community is the reason why we are in business today. Without y'all, we would be nothing. Any time the community need us, we will be there for you!
Let's pretend this is the Grammy's, which three people would you thank for getting you here this far?
I give a huge shout out to my family. Without them by my side, I would not be able to do what I am doing today.

My Dad (Spiros Mallas):

My dad gave me the initial investment to get things rolling. Since then, he has been there every step of the way. If I ever need to talk to him, he is there. Making multiple runs to Restaurant Depot for me to make sure I have what I need and supplied. With any expansion that we have done, he has always been there to help. Thank you Dad, I Love You!

My Mom (Theresa Ward):

My mom has been my mental support system. Working with family can be hard, as you all know. Any time I need to talk about anything, my mom always picks up her phone. Even at 2am. (she hates me after) If I didn't have her to talk to, I don't know where I would be today. Thank you Mom. I love you!

My Brother (John Mallas):

My brother was there in the beginning, and is still here today. Although we have our differences, I couldn't do it without him. He helped me with the name, and helped me create the recipes we use today. We fight and argue just like any sibling, but it's only because we have a passion for what we do, and we hate to see things wrong. Keep an eye out for him having his own location one day. I look forward to working with you for a long time to come. I love you bro!
Five words to describe The Greek Squad?
Best Greek Gyro In Texas!
Learn more about The Greek Squad and follow the food truck's delicious adventures by visiting their Facebook page at https://www.facebook.com/thegreeksquad/.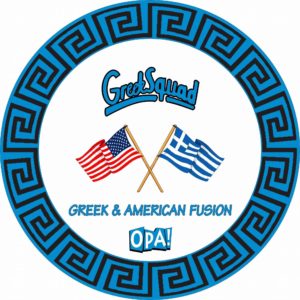 Nick Rama is a food writer, contributor of Hello Woodlands, and shares his restaurant experiences on Nick's Local Eats at NicksLocalEats.com and the Q Up The Burgers Facebook page. Nick enjoys helping the small business owner, supporting his community with fundraising for food banks, and plans tasting events with locally owned mom and pop restaurants.