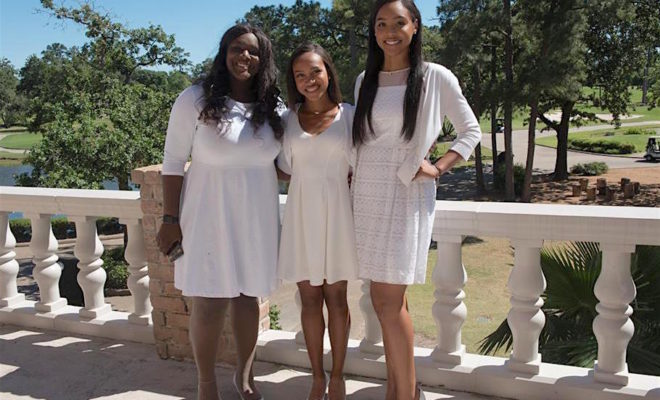 News
Jack and Jill of America Celebrates Graduating Seniors
By |
On Sunday, April 30th The Woodlands Chapter of Jack and Jill of America celebrated three of its graduating high school seniors at the Raveneaux Country Club. Each year the organization honors seniors and their families. This year The Woodlands chapter recognized Sydney Jackson, Mia Moore and Tiarra Moore.
Sydney Jackson, the daughter of Gilbert and Lisa Jackson, is a student at The Woodlands High school. Throughout her school years in the area, Sydney has participated in several leadership programs with the CISD Leadership Camp, the Hampton University A+ Program and Education in Action. Also, Sydney is a Varsity volleyball player and she has played at The Woodlands High School for all four years. In her senior year, she was awarded Defensive Player of the Year, Academic All District, and 2nd team All District for 6A. Sydney has traveled all over the US with her Houston Juniors Club Volleyball team. This Fall, Sydney will attend Howard University in Washington, DC and major in business and computer based information systems. Sydney is a member of the Windsor Village United Methodist Church.
Mia Moore, the daughter of Peter Moore, Jr. and Nicole Olivier Moore, is a student at The Woodlands College Park High School. Mia is a member of the National Honor Society, National English Honor Society, Science National Honor Society, National Art Honor Society, National Spanish Honor Society and is a Distinguished Achievement Program Scholar Candidate. She is an active member of The Woodlands College Park Varsity Track and Field team where she is a four-year Varsity Track Letterman and holds several school records as well as being a Regional qualifier. Mia is a Girl Scout Ambassador and 2017 recipient of the Girl Scout Emerald Circle College Scholarship. Mia will also attend Howard University in Washington, DC as a Capstone Scholarship recipient where she will major in Biology and minor in art. After graduation, she plans to attend medical school.
Tiarra Moore, the daughter of Germaine and Charvette Brown, is a student at Conroe High School. Tiarra is involved in various activities on campus. She has been on the varsity volleyball team as a starter since her freshman season and was team captain during her senior year. Some of her volleyball accomplishments include, 2016 Varsity MVP, Offensive Player of the Year, 1st Team All-District, All District Academic Team and 1st Team All Montgomery County Volleyball. During high school, Tiarra also participated in basketball, track and was on the powerlifting team. She finished the season ranked in the top 5 of female power lifters in the State. Tiarra is an active volunteer at Fallbrook Church and the Willowbrook Sports Complex where she has served as a volunteer coach for the developmental program. Tiarra will attend Texas Southern University on a full volleyball scholarship and will major in Biology. Her career goal is to be a nurse practitioner.
The members of The Woodlands Chapter of Jack and Jill of America congratulate these students on their accomplishments inside out and out of the organization and wish them well with their future endeavors.
Jack and Jill of America, Inc. is an African-American organization of mothers who nurture future leaders by strengthening children ages 2-19 through chapter programming, community service, legislative advocacy and philanthropic giving. They are a nationwide organization with over 225 chapters in seven geographic regions encompassing 35 states and the District of Columbia. Learn more at www.jackandjillthewoodlands.com.