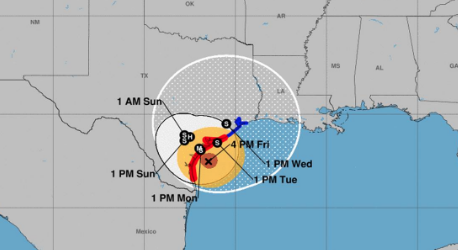 Photo by US National Weather Service Houston-Galveston Texas
Hurricane Harvey
Judge Doyal issues county disaster declaration
By |
CONROE, TX Aug. 25, 2017 – Due to the potential for extensive flooding and damages to homes in Montgomery County from Hurricane Harvey, County Judge Craig Doyal 
has made a local disaster declaration and submitted a request for the same at the state level to Gov. Greg Abbott.
The declaration is designed to ensure the county has put itself in a position to speed any recovery aid should the county experience significant damage from Hurricane Harvey.
"As our county prepares for Hurricane Harvey, I wanted to issue this declaration in advance, so that the county doesn't lose a step in obtaining any assistance it would normally be due," said County Judge Craig Doyal.
In anticipation of Tropical Depression Harvey making landfall in the Gulf Coast region, Governor Greg Abbott Wednesday preemptively declared a State of Disaster   for Aransas, Austin, Bee, Calhoun, Chambers, Colorado, Brazoria, DeWitt, Fayette, Fort Bend, Galveston, Goliad, Gonzales, Harris, Jackson, Jefferson, Jim Wells, Karnes, Kleberg, Lavaca, Liberty, Live Oak, Matagorda, Nueces, Refugio, San Patricio, Victoria, Waller, Wharton and Wilson counties. Montgomery County has not yet been added to that preemptive declaration.
Meanwhile, county officials, including the four precinct commissioners, law enforcement, and the Office of Homeland Security and Emergency Management, are finishing preparations for Hurricane Harvey.
"Darren Hess, Director of Homeland Security and Emergency Management, is working with other agencies to assist and coordinate local emergency and rescue efforts for this storm, and has activated our Emergency Operations Center to support those efforts," Judge Doyal said.
The Office of Homeland Security and Emergency Management stated today that Montgomery County will start seeing rainfall beginning today and winds could increase as the day progresses. Rainfall predictions between Friday and Wednesday are between 15 and 25 inches for our area and to the south. Over the weekend through Tuesday we can expect localized flooding and road closures.
"I urge residents to please monitor storm conditions, and watch for updates that will be provide through our Office of Emergency Management at https://mctxoem.org/ ."
To receive emergency alerts to your phone or email from Montgomery County Office of Emergency Management, register at https://www.smart911.com/. When you are creating your profile, you must check the box next to Share my Smart911 Profile with TX-Montgomery-County-911 to support emergency preparedness.
In addition, residents with smart phones may download the ReadyMCTX app to receive updated alerts and have access to other emergency related information.< The ReadyMCTX app is available for download for both Android and iPhones.< Source: Office of  County Judge Craig Doyal