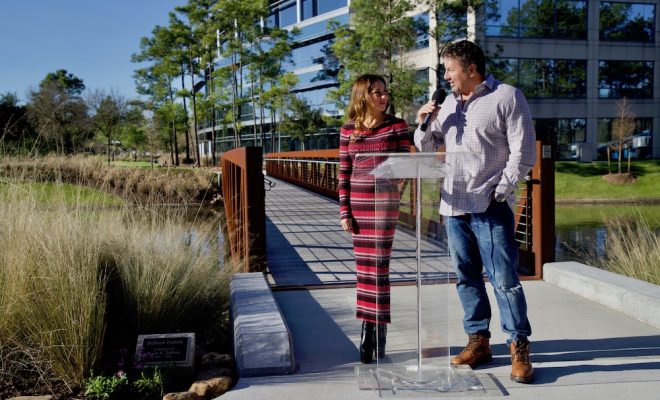 Photography by Rod Prado, Hello Woodlands
News
Lake Front North Bridge dedicated in Memory of Bryan. K. Dubose
By |
THE WOODLANDS, TX – The Howard Hughes Corporation® recently dedicated the new pedestrian bridge at Lake Front North in Hughes Landing® to the DuBose family who named it in memory of Bryan K. DuBose. The naming rights were granted from an auction item purchased by the DuBose family at The Woodlands® Celebration of Excellence Gala, which honored the 2019 Hometown Heroes, and benefitted Interfaith of The Woodlands.
Officers from The Howard Hughes Corporation, The Woodlands Township, Interfaith of The Woodlands and community leaders gathered on Friday, January 24, with members of the DuBose family during the dedication ceremony to commemorate the opening of the newly named, Bryan K. DuBose pedestrian bridge.
The pedestrian bridge at Lake Front North is situated across a tip of the northeastern portion of 200-acre Lake Woodlands and now connects all of Hughes Landing to The Woodlands Town Center® in The Woodlands.  
View photos taken by Rod Prado of Hello Woodlands at the event on our Facebook page:
"The new pedestrian bridge is a wonderful addition to Hughes Landing as it provides direct connectivity from Lake Front North to Restaurant Row and the other amenities within our nearly 80-acre, award-winning development as well as Town Center," said Jim Carman, President, Houston Region, The Howard Hughes Corporation. "The walkway offers convenient passage for pedestrians who live, work and visit Hughes Landing. We are honored to participate in this special dedication ceremony to officially dedicate the bridge in Bryan DuBose's memory and help raise funds for Interfaith of The Woodlands."
As the longest footbridge in The Woodlands Town Center, the steel passage way spans 135-feet across with a 10-foot pedestrian portion and features aesthetic decking and surrounding landscape improvements. The bridge project was jointly funded through the Comprehensive Community Services Agreement with The Woodlands Township.
"This new bridge is part of the overall pedestrian pathway system that is a key component of allowing runs and races to be part of the scenic views Lake Woodlands has to offer," said Gordy Bunch, Chairman of The Woodlands Township. "This will be highly beneficial for our residents and various walking and running events going forward. The Woodlands is known for its world-class pathway system and this is another milestone addition."
For more information, visit www.thewoodlands.com.