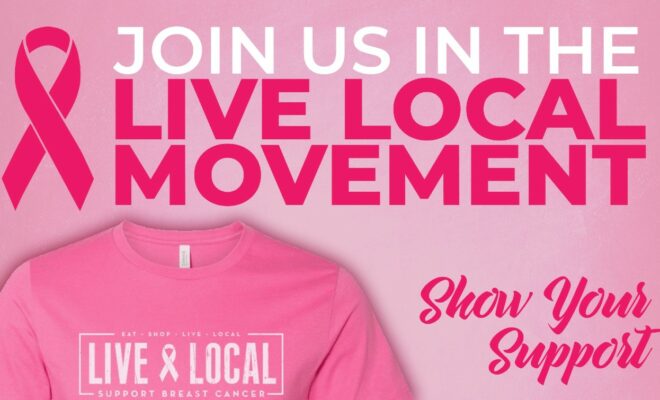 News
Live Local supports Breast Cancer by donating T-shirt proceeds to Canopy
By |
In honor of Breast Cancer Awareness Month, Live Local Movement is donating $10 from every pink t-shirt purchase during the month of October to Canopy Cancer Survivorship Center.
Local business owners Russell Kalousek and Matt Kalousek are honored to spread awareness for breast cancer and give back t-shirt sales to benefit the Canopy Cancer Survivorship Center, a nonprofit that supports cancer patients, survivors and their families and caretakers, during Breast Cancer Awareness Month. When purchasing the Breast Cancer Unisex Tee (Charity Pink Blend) t-shirt through the Live Local Movement website, 100% of the proceeds go directly back to the local nonprofit.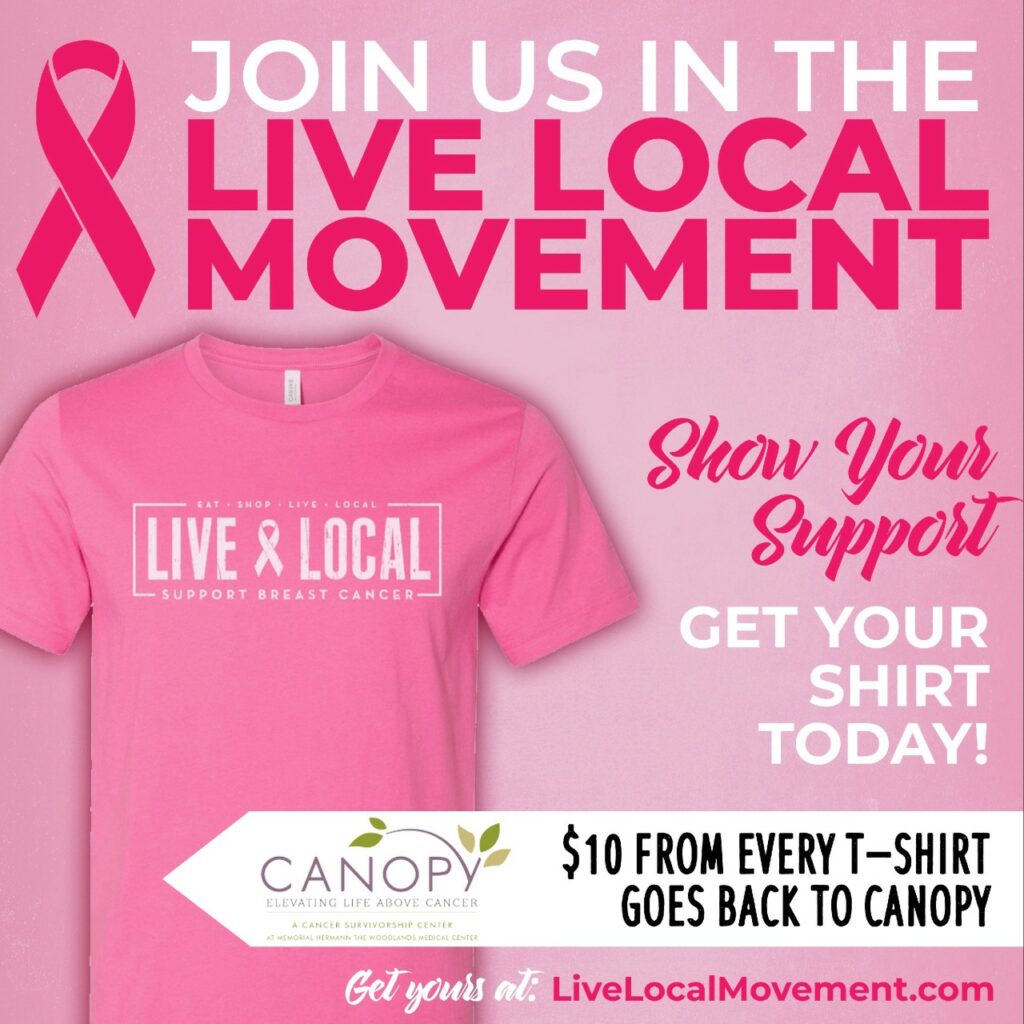 "Living and working in Montgomery County, it's vital that we support each other and give back to local charities and nonprofit organizations. It's time to come together, give back, and support patients, survivors and those touched by breast cancer living right here in our own community. We are honored raise awareness and give back during the month of October to a local nonprofit that does so much for our community. That's what the Live Local is all about," said Russell Kalousek.
For the Kalousek brothers it is not just business, it's personal. As a small local business based in The Woodlands, Texas, they know that their work touches lives and improves the local community. Helping local businesses and nonprofits keep their doors open and grow is the passion and fuel behind their business as they continue their mission of #EatShopLiveLocal and giving back in Montgomery County.
From surviving to thriving, Canopy Cancer Survivorship Center is dedicated to shifting the conversation from experiencing cancer to living and celebrating life at every stage of cancer treatment. As a caring community of hope, healing and empowerment, Canopy enhances the quality of life for individuals affected by cancer and for those who support them during their journeys. Memorial Hermann The Woodlands Medical Center is proud to introduce Canopy – a first-of-its-kind cancer survivorship center in the greater Houston area. At Canopy, there are a wide variety of programs and services addressing the emotional, physical and social needs of those touched by cancer. For more information about Canopy visit https://cancer.memorialhermann.org/canopy/
To purchase your Live Local Pink t-shirt and give back to the local community, visit https://livelocaloutfitters.com/product/live-local-support-breast-cancer-unisex-tee-charity-pink-blend/. $10 of every Pink Breast Cancer t-shirt will go back to Canopy Cancer Survivorship Center.